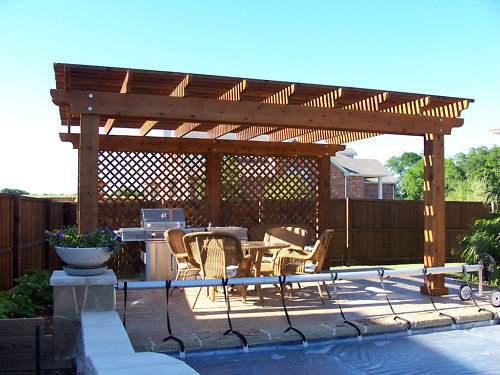 A well designed outdoor patio extends living space from inside the home to the outdoors and allows for expanded entertaining possibilities. The usual design elements like colour and texture come into play, augmented by the environment and available materials to produce an ideal combination of the comforts of the indoors with the beauty and atmosphere of the outdoors. Considering the various components lets homeowners build an appealing and functional patio design.
Consider the Space
The first step in designing a patio is considering the available space. There are many factors that determine the eventual result beyond the dimensions of the space. The amount of sun and shade should also be a major consideration, along with the view. Where privacy and noise are factors, such as a small yard in an urban area, a fence is a wise first step. The site should have proper drainage to avoid mildew and water stains on the flooring material, as well as buckling under tiles or stones.
Flooring Materials
It is best to consider the flooring materials first because they dictate the overall style and feel of the whole patio design. It also affects the choice of furniture or other fixtures. A homeowner's use of the patio, the desired look, and the budget are the determining factors in choosing the right base material. Matching the materials of the home itself in colour and texture allows the patio to blend into the overall design scheme.
Furniture
wrought iron outdoor furniture, and sofa arrangements that rival those found in a living room. Advances in materials have produced weatherproof fabrics that mean an outdoor space is as stylish as any indoor room and it means furniture adds a colour pop to the outdoor décor. An outdoor rug is an option that pulls together the look of a seating area over a larger space, just as it does indoors.
Covered or Uncovered
A small, enclosed space that gets a lot of sun and little breeze should have at least some opportunity for shade cover, while a more open, breezier space does not need the addition of shade. There are various options when it comes to providing shade cover. A pergola – a freestanding structure with a simple four-post frame and overhang – or a gazebo adds elegance and atmosphere along with respite from the sun. Other options include an awning or a trellis planted with climbing plants. Large bushes or container plantings often provide shade too.
Light and Heat
Adding light and heat sources mean more time spent in comfort on an outdoor patio, making it accessible virtually 365 days a year. Although light sources are more or less decorative, they should always add enough light to see without tripping over the table. Overhanging patio lights on a rope or string add a whimsical touch while lighting set into the ground provides atmosphere.
When it comes to heat, a fire pit or fireplace is a major design element, likely located in or near the centre of the patio, or near the major seating areas. Electrical outdoor heating is available in various configurations for a strictly functional heating operation.
Other Options
Retaining walls, stone steps, and pathways help to define the space. If entertaining is one of the primary reasons for designing the patio and space is available, homeowners should consider installing a full outdoor kitchen and bar with gas appliances and wet plumbing. For a relaxing, spa atmosphere and if the budget allows for it, a hot tub or swimming pool turns a backyard into a private resort.
How to Buy Patio Items on eBay
The design of an outdoor patio involves many components that you easily find available on eBay simply by searching on specific words and applicable phrases. Browsing through categories gives you an abundance of ideas but when it comes time to buy, it is essential to decide on the particular elements you want to incorporate and search for them individually. The reputable sellers are available when it comes to bigger ticket items, as well as the many interesting smaller design elements for sale.