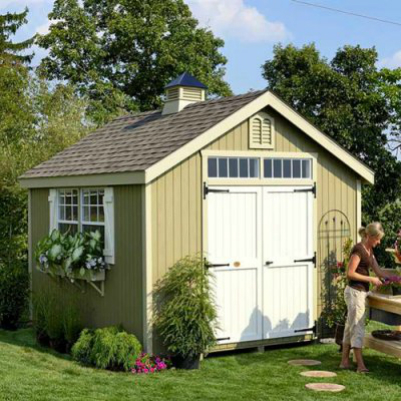 Whether a gardener only needs to store away a few tools, or keep a large riding mower out of the rain, a garden shed is a highly useful item. Sheds can be used to store all kinds of gardening equipment, while larger sheds can serve as a small workshop, or to store larger pieces of equipment. There are a number of elements to consider when determining the right size of garden shed, and this not only includes the equipment and items that need to be stored, but also the size of the garden, and the available space within a garden. A wide range of garden sheds can be found on eBay.
Consider Where the Shed will be Placed
It is important to consider where in a garden the shed will be placed. A shed that is too large for a garden will not leave enough space for other uses, and dominate the space.
· Bear in mind any flowers, plants or shrubbery which are in the garden. A shed could be placed to fit alongside the gardens other aesthetically pleasing components, and prevent it from sticking out too much in a garden.
· The way sunlight falls on the garden may also have to be taken into account. A large shed may block the sunlight to flowers or shrubs, and some types of plant which require a great deal of sunlight may fail to thrive. Alternatively, a larger shed may block the sunlight which falls on a neighbours garden.
· An important element to consider is what the garden is used for. A garden which is used as a play space for children may need a larger, unobstructed space than one which is used for less physical activities, and so may require the use of a smaller shed, if a larger one cannot be placed out of the way.
· Some people choose to place a garden shed so that it is flush with any fencing, ensuring that the shed is no taller than the fence.
· Remember to check with any planning laws which may cover garden sheds within a given jurisdiction. Some areas may have limits on the height or size of an outdoor structure such as a garden shed, or may require a form of building permit.
What Needs to Be Stored
Perhaps one of the most important factors in deciding upon a size of shed is what needs to be stored.
· Many gardeners simply use a shed as a place to store tools and pieces of gardening equipment, such as rakes, shovels and forks. These can easily fit into a small tool or storage shed, which will take little space in a garden.
· A more sizeable shed may be required if larger gardening equipment, such as a lawn mower, is to be stored. Larger sheds may also be useful if bicycles or similar items need to be stored out of the rain.
· If the shed is to be used as a workshop space, then a larger shed will be needed to accommodate any tools and workbenches, as well as leave space to work.
· The largest garden sheds will need a very spacious garden to comfortably accommodate them, and can be used to store a wide array of items and vehicles. These may include double doors, so that riding mowers may easily be driven in and out.
Planning Out a Garden Shed
One way to establish how much space will be needed in a garden shed, and what size shed may fit in a garden, is to plan it out on the ground.
· Some gardeners choose to tape or paint the perimeter of a potential shed size onto the grass of their garden, so that they can more easily visualise how large a shed would be.
· In addition, try placing any larger items onto the ground in an arrangement that they may be put in a shed. This can give an idea of how much space will be needed, including any additional floor space which may be required to allow movement though a shed.
· Consider where any shelves may be hung, as well as where doors and windows should be placed.
· Keep in mind any pieces of gardening equipment which may be purchased in the future, and how this might fit into the shed.
Types of Garden Shed
There are a number of different types of shed available, which offer different sizes useful for different needs and sizes of garden.
| | |
| --- | --- |
| Standard Shed | The standard sized shed often features single door access, and has space to fit a number of tools as well as some large items, such as a lawn mower or bicycle. They can vary somewhat in size, and most will fit into a moderately sized garden. |
| Tool Shed | A small tool shed or garden cabinet offers among the smallest size of garden shed. These can fit easily into a small garden, or be placed out of the way in a larger garden, but offer little storage space. These are ideal for storing small, frequently used tools and items such as watering cans, and some gardeners pair a cabinet with a larger shed. |
| Double Door Shed | Some of the larger garden sheds feature opening double doors. These allow for easy access to larger items, as well as the shed itself, and frequently offer a great deal of storage space. However, a great deal of space will be needed to accommodate such a shed. |
| Greenhouse Shed | Greenhouse sheds can be used as greenhouses, growing plants which require greater warmth than the outside climate can provide. These can be made of plastic or glass, while some may appear similar to a traditional wooden shed, with larger windows in one side. |
| Workshop Shed | Among the larger types of shed is the workshop shed. These sheds offer ample storage space for tools, equipment and other items, as well as room to work in. |
| Garage Shed | The largest sheds are garage sheds, some of which offer an upwards opening, garage style door. These can offer a great deal of storage space, and may also be used to keep a motorbike, or even a full sized car, sheltered. |
How to Buy a Garden Shed on eBay
A wide range of garden sheds of all sizes, along with a variety of gardening tools and equipment, can be found on eBay.
· The full listing of available garden sheds can be found through the Home & Garden portal, in the Garden Sheds section of Gardening category.
· Available sheds can be listed by categories such as price, condition and item location.
· Key information about a garden shed, such as the size or type of shed, will often be prominently displayed in the item listing.
· More detailed information can be found on the item page, along with information about the seller, such as item ratings and feedback reviews, which help to ensure that a purchase can be made with confidence.
· If a specific shed is required, it may be easier to use the search function. Searches can be made to return results from across the site, or from within a specified category.
· Look out for any deals which may be available on sheds in the Gardening category.
Conclusion
Garden sheds can be used to store all kinds of items, from small gardening tools such as shovels and watering cans, to riding mowers and even motorbikes and automobiles. A wide variety of different sizes of shed are also available, which can meet the needs of different gardeners. This includes small garden cabinets and tool sheds, to larger workshop sheds which can provide workspace for a gardener. A wide range of garden sheds, and other gardening items, can be found on eBay.