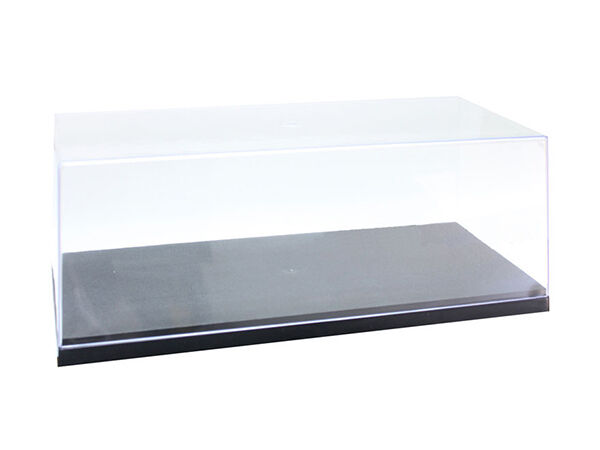 Model cars have been around almost as long as real cars. Designers of all types consider cars works of art, so it's no surprise there are people who love to collect model cars. To make decision-making and purchasing easier, there are model car catalogs that will give you an idea of what is available. Owning a pristine set of model cars is exciting and interesting if they are displayed properly and not just set out on some dusty bookshelf. There is an art to properly displaying any collection, this guide will show you the best options.
Model Car Sizes
The first decision is about whether you want to keep all model cars that are the same size together. It's not essential, but may make it easier to display the cars in an attractive manner. If you own a variety of sizes and want to display them together, that will also work. You will end up buying different display blocks and creating a different type of arrangement or display.
Although there are several sizes, the most common scales are the 1:18 (roughly 24.13 centimeters long), the 1:24 (about 17.78 centimeters long) and the 1:43 scale with is the smallest at around 10.16 centimeters. Make sure you know the size or sizes you own and plan to display so you can purchase the appropriate display units.
Model Car Displays
Before buying your displays, you will need to determine the following:
Where you want the model car display.
How much room you are able to allocate for it.
Which size models you plan to display.
The number of cars you want to display.
After those decisions have been made, you can start shopping. One of the best places to find everything you will need for all things pertaining to model cars is eBay. Better than toy stores or collector's shops, eBay has everything you need all on one site, so it's a real time saver.
Since, there are a few types of model car displays to choose from, your selection should be based on your answers to the bullet points above. Are you displaying three or 30? Are they large or small? Do you have a dedicated area or is the wall the best place to keep them safe and out of the way? Think it through while you browse through the options.
Wall Case Model Car Displays
There are several attractive-looking wall cases that will keep your model cars organized and easy to admire. They may still collect dust if the case is not enclosed but will be easy to clean with a feather duster. Wall cases come in wood, plastic and hard acrylic, such as Plexiglas. Many are open cases, so you can take the cars out or rearrange to suit your needs and others are closed to avoid too much sun-exposure, dust and other elements.
Individual Model Car Displays
If you own the larger 1:18 scale size models and only have a few, you may want to purchase the individual clear plastic displays that enclose each model by itself. This is a classic way to display vintage sports cars. They can be purchased as wall displays or surface displays, but generally the larger size model cars are displayed in a more individual setting. You might put one or two on a coffee table, a couple more on a book shelf and a couple more elsewhere. Sprinkle them around so no matter where you go in your house, your model cars can be admired.
Table Top Displays for Model Cars
If you plan to display more than a dozen model cars, the wall units would be the best bet if the model cars are the smaller scale and if space is an issue. If that is not the case, then using table top displays will work as well. Table top displays come in different sized, enclosed, hard acrylic cases. The other option is to look at model car stands, which give tiered levels on which you can place the model cars. Both methods work and will display the model cars beautifully.
How to Buy Model Car Displays on eBay
Buying all of your supplies for displaying your models cars is simple when you are on eBay. Not do they have catalogs for future model car purchases, you will not find another store that offers the variety of stands and display units at a variety of prices. eBay shopping always saves time and money. Always remember to search under more than one word or phrase and you will find all of the available ideas and options before making your decisions.