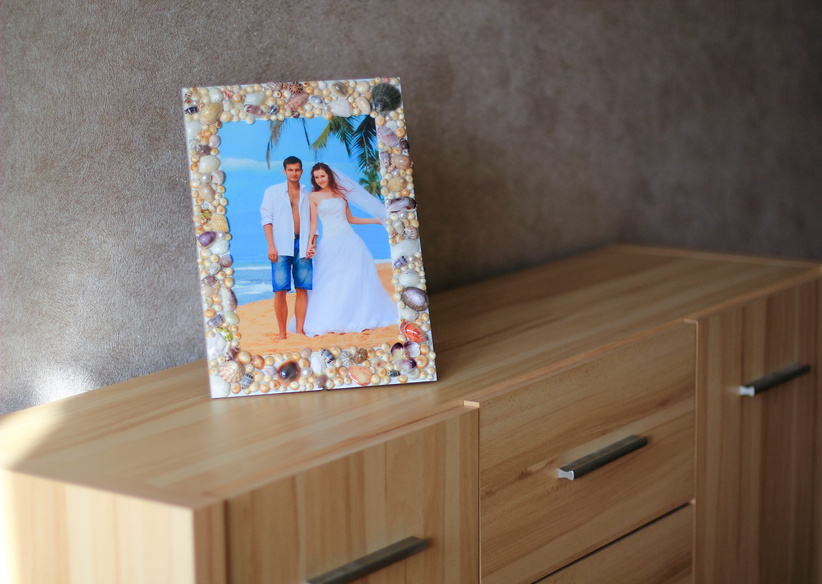 Wedding photos are a special, precious record of one of the most important day of one's life, and it's important to display them attractively in the home as a constant reminder of that wonderful day. There are many ways of doing just that, whether images are being shown off at home digitally or in printed format. There is so much room for imagination and creativity! Wedding photography doesn't come cheap and so there's great incentive to show off the best photos to their very best advantage! What's more, some of these ideas also make great gifts for friends or family members.
Digital Displays
Of course, images from the happy day can be stored electronically, perhaps on the computer, a DVD, or in a digital picture frame. Guests will especially enjoy having reminders of the wedding day on display in the background with digital photo albums. But there are myriad ways to store physical images so that they're easier to look at and enjoy without the need to plug anything in.
Showing off Print Weddings Photographs
There are many ways to show off print wedding photographs.
Photo Display Table
Have a photo display coffee table in the sitting room, perhaps under a sheet of glass. This is an attractive focal point for a lounge. The display can be changed often and easily.
Photobooks
Gather up the very best images from the day and have a photobook on permanent display on a coffee table. It can be displayed open to a favourite page and surrounded by some other souvenirs of the occasion. If a coffee table seems too prominent, one could use a sideboard or bookshelf. People will love flicking through the photobook when they come to visit. Of course, once a photobook is made up, the images can't be switched around, so maybe combine with some other display methods where images can be swapped and changed.
Pegs and Clips
With rows of string, and brightly coloured pegs or hooks, it's possible to rig up a selection of wedding photos in an informal, attractive and flexible way. And, again, images can be swapped around easily.
Photo Frames
When it comes to photo frames for displaying wedding pictures at home, there are so many options. Here are a couple of great ideas.
Find some antique frames and fill them with photos of the wedding of both the parents and grandparents of the groom and bride, as well as one's own wedding ceremony. Museum mattes will add elegance to the images.
Black and white images in elegant black frames look especially stunning and dramatic. Coloured photos in coloured frames can also look amazing. It looks especially striking when all of the frames are identical, level, and hung at the same height.
Other creative ideas
Use mason jars to display photos to elegant and unusual effect - with one photo inside each jar -- this is a great one for vintage fans!
Other ideas include a framed collage, a cork board or an eye-catching shape such as heart, created from some favourite wedding pictures, which could be unframed and displayed on the wall in a collage style.
Alternatively, use picture pockets, or laminated images in out of the way, unexpected places like the back of the bedroom door. And it's also possible to have photos as mugs, place mats and other daily household objects.
With so many exciting ways to show off wedding images, there's no need to stick to the conventional!