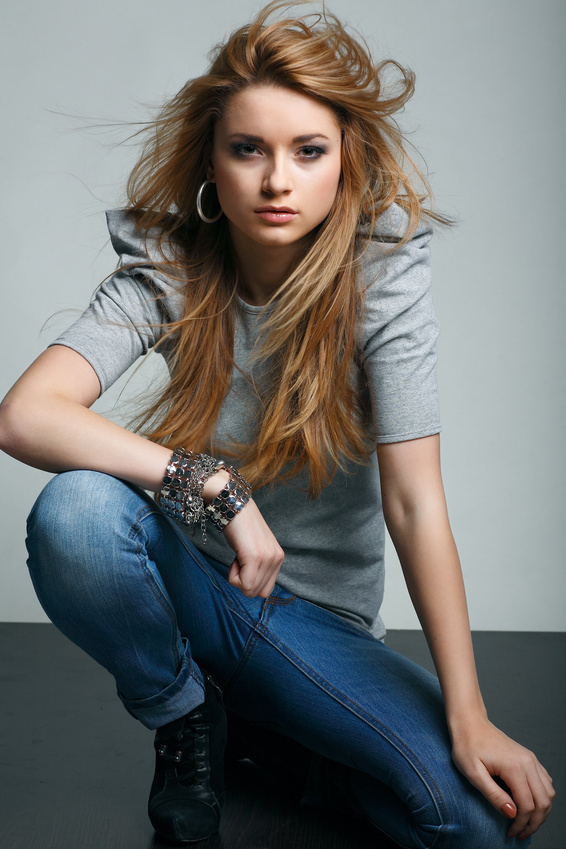 Jeans are one of the most durable and versatile pieces in a wardrobe, and buying well-fitted jeans can be an important step to owning jeans that can make the transition from daytime casual wear to chic and sophisticated evening wear. Jeans come in a multitude of different styles, colours and cuts and the right pair can greatly enhance the wearer's figure. This eBay guide will outline the large variety of jeans that are available and how to dress them up for a fashionable evening look.
What Are Jeans?
Jeans are a type of trousers made from a thick fabric, such as denim, corduroy or dungaree. They are believed to have been invented by Jacob Davis and Levi Strauss in 1873, with Levis Jeans still being sold to this day. Originally designed for cowboys and factory workers, and later popularised in the 1950s by James Dean in the movie Rebel Without A Cause as a symbol of youth rebellion, jeans were banned in theatres, restaurants and bars – the usual places where one might have an evening out. By the 1970s, jeans had become general fashion for casual wear, and it has steadily gained wardrobe-staple status. It is now used by many fashion brands for both casual and eveningwear.
Types of Jeans
Jeans are extensively available in various fits, colours and designs. Below is a list of some of the types of jeans available on eBay:
Jeans colours vary from black, very dark blue, to light blues, greys and whites. More recently, manufacturers have started making jeans in a rainbow of colours.
Jeans vary in appearance depending on the type of treatment they are given during manufacture. Some of these varieties include:
Stone/Acid Washed:Stone-/acid-washed denim gives a faded, worn-out appearance, and makes the fabric softer. In acid-washing, chlorine and pumice stones give a bleached effect, either in a pattern or in random splotches.
Distressed:Distressed denim appears incredibly worn or frayed, and the extensively faded jeans style is created using sandblasting.
Ripped:Ripped denim consists of pre-made holes, and abrasion is used to wear away fibres of the jeans at specific points to give a worn, ripped look.
How to Dress Up Your Jeans for an Evening Out
Although they are usually casual wear, jeans can be dressed up for eveningwear too. Here are ten ways to dress up those ever-versatile jeans for a stylish evening look:
1. Pick the Right Pair of Jeans
Buy jeans to suit your body type to ensure the jeans fit perfectly for the most stylish evening-look. Darker jeans are often better and more formal for an evening look and make the wearer look slimmer. Loose fit jeans detract from the evening look, whilst bootcut, classic straight leg and skinny jeans are perfect for evening chic.
2. Pick a Stylish Top
A girly evening top, such as a dressy chiffon blouse or an embellished tunic top, can instantly turn casual jeans into eveningwear. Sequinned tops can also be a great evening look. Take the rise of the jeans into account when choosing a top, as short tops with low-rise jeans can enhance wide hips and bottoms.
3. Try a Sculptured Sweater
A statement thickly knitted top, balloon-sleeve sweateror loose-knit sweater are all great ways of upgrading a casual jeans to evening wear. Subtle embellishments like a metallic knit, small sequins or gems can all dress up a plain look and add a stylish shimmer.
4. Add Bright, Statement Accessories
Distract from the casual jeans by adding glamorous statement necklaces, bracelets, rings and earrings to the outfit, without going overboard. For evening-wear, never over-accessorise. Instead, pick one element to highlight; for example, wear a dramatic long necklace with a simple pendant or choker without earrings and a simple bracelet and ring.
5. Add Heels
Well-fitting glamorous heels are better than flats for dressing up. They elongate the body, giving the appearance of longer legs and a sleeker silhouette. Trendy ankle or knee-high boots also work well, particularly with skinny and straight leg jeans. Metallic shades and bright colours work well.
6. Wear a Belted Coat
Belted coats, such as a trench coat or mackintosh, are a polished, eye-catching and flattering companion to eveningwear jeans, and work well when combined with high-heels. Wear a brighter shade of coat with dark jeans and matching heels for a fashionable contrast.
7. Add a Blazer
Well-structured blazers can instantly glam-up casual jeans. Most blazer styles can be used for eveningwear, with key things to look out for being strong shoulders, tuxedo cuts and peplum for showing off curves. Experiment with bright colours, dark jeans and a simple top to make the blazer the focal point.
8. Wear Monochromic Looks
Pair the colour of the jeans with the colour of the outerwear for a crisp, clean evening look. White jeans with a white blazer or structured cream coloured sweater, or a coat-like black cardigan with black jeans and boots are both great evening looks.
9. Salon-Perfect Hair and Make-Up
A simple way of dressing up jeans is by changing the hair and make-up. Evening hairstyles include simple chignons, topknots, or a braided up-do. Structured curls and frizz-free loose waves are also great styles. Enhance daytime make-up with shimmery eye shadow, striking mascara and darker shades of lipstick with a lip-gloss layer.
10.Finish Off With an Evening Clutch
Sparkling clutches are better than big bags for evening wear, and work well in black and white, neutral toned, snake-skin or leather look and metallic shades. Oversized clutches go in and out of fashion, so go for one that is just big enough to hold all the essentials.
How to Buy Jeans on eBay
To buy jeans on eBay for an evening look, follow these steps:
· For buyers who know exactly what they're looking for, type in as much detail as possible in the search bar at the top of the screen. Alternatively, type in 'jeans' for a general search.
· Use the 'Shop By Category' drop-down menu or the options on the left-hand sidebar to pick Fashion, which leads to 'Clothes & Accessories'. Pick Women's Clothing to be directed the main clothing page.
· Pick Jeans, from the sub-categories on the left, then type in the search bar for the preferred type of jeans, or browse the listings.
· The listings can be narrowed down in terms of 'Format', 'Size', 'Brand', 'Main Colour', 'Material', 'Product Type', 'Condition', 'Price' and 'Item Location'.
· Use the eBay deals page from the top of the screen, which is above the eBay logo, to access deals. Go to Fashion & Beauty, then Women's Clothing and browse the listings for denim. Click the 'Search more Denim on eBay' option to be redirected to general eBay listings for jeans.
Conclusion
A thoughtfully bought pair of jeans can easily be turned from casual wear to elegant evening wear with a few simple adjustments, additions and fashion-conscious steps. With eBay's great range of jeans and the immense versatility they allow, owning the perfect pair of jeans can be a wardrobe savoir, and learning how to wear it for particular occasions can help make a stunning fashion statement, night or day.
Additionally, always remember to purchase the jeans through PayPal, as the transaction will be covered by eBay's Buyer Protection Programme.