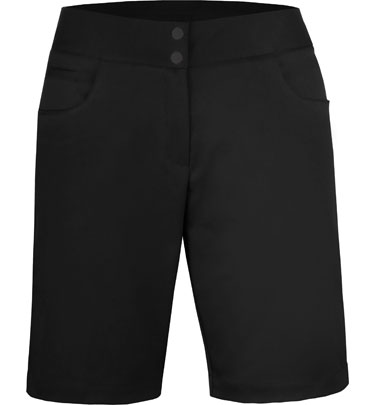 When it comes to dressing up for an event, women are not limited to just dresses and skirts. Shorts can be dressed up in the spring, summer, and autumn to create different looks that are both comfortable and stylish. Most people see shorts as casual wear, so it is important for a woman to know how to style shorts properly to ensure the look meets the standards of a dressier occasion. A woman should consider several factors when dressing up a pair of shorts. One needs to consider the type of shorts, as well as the choice of top, shoes, and accessories. A woman must choose each element of her ensemble wisely. Once a woman learns how to create a stylish look that includes shorts, she is able to dress up just about any pair of shorts. Whether looking for shorts, shoes, or tops, a shopper can find great deals on eBay.
Choose the Right Type of Shorts
The first step in determining how to dress up a pair of shorts involves choosing the right pair of shorts for the outfit. There are many styles and designs of shorts, but not all of them should be worn and accessorised the same way. The table below lists and describes the main types of women's shorts that a shopper encounters when shopping.
| | |
| --- | --- |
| Type | Description |
| | Waist of the shorts sits at the belly button; have a vintage look; gives the wearer an hourglass shape |
| | Long shorts that usually reach to the knee; have a loose and straight fit for a casual look |
| | Long shorts that usually reach just below the knee and end at the upper calf; can be loose or tight fitting; often worn for casual outings |
| | Shorts with large pockets on the sides of the legs; available in just about any length |
| | Shorts covered with fabric, giving the shorts the appearance of a skirt; may look like a skirt all the way round or just in the front |
| | Long pants that have been roughly cut to make shorts; usually have tattered ends |
| | Lightweight shorts with an elastic waistband for maximum movement and flexibility; usually made from synthetic fibres |
| | Quick-drying shorts often worn to the beach, pool, or for water activities; usually loose-fitting |
| | Shortest shorts available; very short inseam; usually tight fitting to accentuate the buttocks |
As seen in the table above, women have a variety of types of shorts and styles to choose from. When trying to dress up a pair of shorts, it is important to choose the right type of shorts. Because of their various designs, some shorts should be reserved for casual wear only. For example, a tattered pair of denim cut-offs cannot be dressed up no matter what tops and accessories are paired with the shorts. Once a woman determines which type of shorts she wishes to dress up, it is easier to find the rest of the elements for the outfit.
Choose the Right Length
When dressing up in a pair of shorts, the length is the second important factor to consider. If the shorts are too short or too long, they may not be suitable for a dressy occasion. Shorts that are too short are considered too revealing and too distracting. For most dressy occasions, very short shorts are inappropriate. However, shorts that are too long may be considered too casual. As seen in the table above, the longer Bermuda and Capri styles are usually worn for casual situations. The ideal length is about mid-thigh.
Choose the Right Material
The material that the shorts are made from can be the determining factor as to whether they are suitable for dressy or casual occasions. While it is possible to dress up a pair of denim shorts, it is much more difficult. The easiest fabrics to dress up are linen, silk, cotton, lace, and wool. However, shoppers should not discount man-made fibres such as polyester. Depending on the the style and design of the shorts, those made of synthetic materials can also be dressed up with the right accessories. Women should avoid lycra, fleece, and jersey knit fabrics as these fabrics are not appropriate for dressy occasions.
Choose the Right Top
Women can completely change the way their shorts look by simply choosing the right tops. Women should avoid t-shirts and go with fitted tops and button-up shirts instead. A button-up shirt tucked into a pair of Bermuda shorts creates a look that is dressy enough to wear to the office instead of a pencil skirt. For a dressy summer look, a woman can pair a bright-coloured tunic top with a light-coloured pair of mid-thigh shorts. When pairing a top with shorts, it is important to create a balance. If the shorts are tight-fitting, then a top with a looser fit can balance out the figure. Likewise, if the shorts have a loose fit, then a top with a tighter fit avoids a frumpy look.
Sweaters and Jackets
While shorts are usually worn in the summer time, evenings can still be chilly. Women in need of dressy jackets to wear with their shorts should opt for a blazer or a cropped jacket. Women need to avoid baggy jackets and sweaters when creating dressier looks. Additionally, bright colours and patterns should be avoided. Women should opt for conservative colours instead.
Choose the Right Shoes
The right shoes can also help dress up shorts for a dressy occasion. For many dressy occasions, tall high heels are the ideal choice. However, when it comes to shorts, it is possible for women to have heels that are too high. Heels that are too tall can turn an outfit from tasteful to vulgar. Women should stick to heels that are no more than 3 inches in height. The wedge sandal is a tasteful choice that works well for just about any dressy summer occasion. Flats are not a good option for dressing up shorts because they are too casual.
Choose the Right Accessories
The last factor to consider when dressing up a pair of shorts is the accessories. Long necklaces, sparkly bangles, and stud earrings are the best options. Women wearing conservative colours can make their outfits pop by wearing brightly-coloured chunky necklaces and bracelets.
When choosing a purse to wear with a dressy shorts outfit, a clutch or handbag is the best option. For an eye-catching look, a woman should choose a clutch that is a contrasting colour. This adds a bit of fun to a dressy outfit without taking away from the look. Handbags with sparkles and tassels are also fun choices.
How to Buy Shorts on eBay
You can find several deals on shorts on eBay. This is an online marketplace where people from all over the country can list their clothing for sale. Whether looking for new or used shorts, you can find them in all styles, colours, and sizes. Begin your search for shorts by performing a basic keyword search. Type keywords that describe the shorts that you want, such as "corduroy shorts", into the search bar. Once the search engine returns the first set of results, you can select other options, such as brand, size, material, and condition, to further narrow down the list. Be sure to read the item descriptions and view the images carefully to ensure you find the right pair of shorts.
Conclusion
Whether dressing up in the spring, summer, or autumn, shorts can take the place of a dress or a skirt. While women cannot expect to be able to wear their denim shorts to all occasions, they can dress up a tasteful pair of shorts for a comfortable look that still conforms to the dressier dress codes. Dressing up women's shorts requires that a woman knows how to choose the right pair of shorts and how to match appropriate tops, shoes, and accessories to create dressier outfits. Because there are so many styles of shorts, tops, jackets, and shoes to choose from, women have a nearly endless variety of options and combinations to choose from. When looking for new articles of clothing to add to their wardrobes, women can find a varied selection and great deals on eBay.
shorts|bermuda shorts|capri|high heels|fitted top