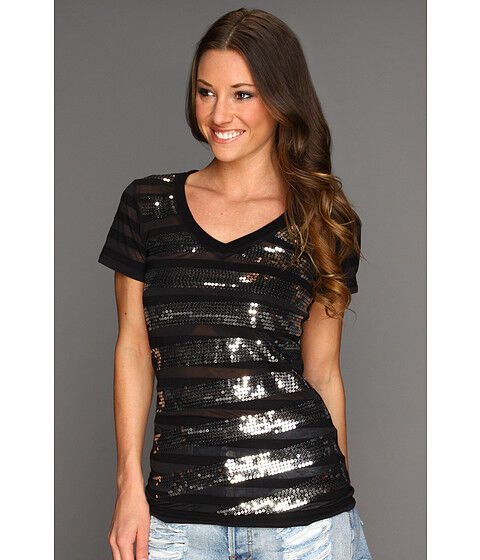 A T-shirt is a basic fashion staple that everyone has in his or her wardrobe. Even though the general perception of a T-shirt is that of a casual fashion item, there are multiple ways in which one can dress-up a T-shirt for an evening out. With a bit of imagination, this can be achieved with the most basic of T-shirts. Layers and accessories are two of the most popular ways to dress-up a T-shirt in order to look stunning for a fabulous night out with friends.
Buyers can choose from multiple styles of T-shirts when building up an evening style. T-shirts are actually very versatile and almost any item can be dressed up for an evening out if the wearer learns how to style it in different ways. Wearing a men's T-shirt in style is something that can be easily learned and mastered with a bit of patience and practice.
Dress Up a T-shirt with Layers
Layering is probably the easiest way to dress up a plain or printed T-shirt. This can be done in several ways, so men can choose the best option according to the occasion. For a special night out in the city, layering can be combined with a couple of accessories, whereas for a relaxed evening with friends, accessories are optional.
Blazers
Blazers are often regarded as the most sophisticated pieces in the wardrobe of a man. They come in a wide variety of styles and they can make any outfit look dressier. Men who want to dress up a T-shirt by wearing it with a blazer should pay close attention to the colour scheme. A good rule to follow is to wear a solid colour T-shirt with a patterned blazer or the other way round, in order to avoid pattern clashes. A combination of blazer and T-shirt can be further dressed up with a pair of corduroy pants for a more elegant look or jeans for a laid-back style.
Cardigans
Cardigans can bring a classic, stylish accent to any T-shirt. Moreover, this is a very versatile style, as it looks good with virtually any kind of trousers. The trousers and accessories can be chosen for both casual and elegant outfits. The final look is similar to the blazer look, but with a preppy twist.
Vests
A vest is a funkier alternative to a blazer or a cardigan and it is a good option for spring and summer. A neutral T-shirt goes well with a patterned vest or one in a loud colour. This look can be completed with corduroy pants, jeans, or even dress trousers for a more elegant look. When it comes to accessories, a fedora is a good choice for a vest and T-shirt look.
Dress Up a T-shirt with Accessories
Accessories are great additions to an evening look, so men should pay close attention to choosing them. Belts, scarfs, hats, and jewellery can all be used to dress-up a T-shirt. Coordinating the colour of the belt is one option, but clashing colours can also have a great effect. For jewellery, men can opt for leather or metallic bracelets and necklaces. Fashion rings are another option, even though in some cases they may be have a more casual effect. As for hats, fedoras are considered by many the epitome of a dressier look, but other kinds can also be worn to achieve a laid-back look for an evening out with friends.
Play with Colours
One very inspired way to dress up a casual T-shirt is to focus on neutral or solid colours, as they go great with any kind of dress trousers or khakis. T-shirts with prints and writing on them almost always spell 'casual', but this does not mean they cannot be dressed up for an evening out. One very inspired way to dress up a casual T-shirt is to focus on neutral or solid colours, as they go well with any kind of dress trousers or khakis. Buyers should simply make sure they pair them with a block-colour cardigan, blazer, or vest. Alternatively, they can wear a printed T-shirt on its own on a summer night, simply accessorised with jewellery such as rings, a bracelet, or a scarf. Men who are fans of blazers and vests in loud colours should make sure they have several plain T-shirts in their wardrobe, in every colour that would fit the blazers, in order to have several options when creating a dressier look. Some colour ideas include blacks, whites, blues, greys, and reds.
Tips for Finding a T-shirt in the Correct Size
When shopping for T-shirts that can be dressed up for an evening out, men should be careful about sizing. In order to look good, a T-shirt should be well-fitted and end just below the hips. As the T-shirt is the basis of one's look, wearing one that is too long or too big can give the impression of sloppiness. Men who choose to shop for T-shirts online should make sure they buy the T-shirt in the correct size. The chart below illustrates the main sizes for men's T-shirts.
| | | |
| --- | --- | --- |
| T-Shirt Size | Chest (cm) | Waist (cm) |
| S | 92 | 75–80 |
| M | 97 | 85–90 |
| L | 102 | 95–100 |
| XL | 107 | 105–110 |
| XXL | 112 | 115–120 |
In order to determine the correct size for a new T-shirt, buyers can use a tape measure to take accurate measurements of their chest and waist. When shopping for new T-shirt, buyers should remember that sizing may differ from one manufacturer to another. In order to be able to choose the correct size, buyers should read the sizing information carefully before making a purchase.
How to Buy a T-shirt on eBay
When looking to buy a men's T-shirt on eBay, you should simply type 'men's T-shirt' into the search bar of the website. This search allows you easy access to the entire selection of T-shirts available on eBay. In the vast majority of cases, the number of results is overwhelming, but you can refine the list to a more specific brand, style, size, or colour. Alternatively, you can search for a specific kind of T-shirt if you already know exactly what you want. For example, if you are looking for a Gap T-shirt, you can type these terms into the search bar.
By shopping for men's T-shirts on eBay, you can get the most out of your buying experience, especially because of the useful shopping tools designed by eBay to make the search for the perfect T-shirt easier. Remember to check the sizing description carefully, as well as the delivery fees, in order to be able to work out the final price of the product before paying for it.
Conclusion
Dressing up a T-shirt for an evening out is not very difficult if one is aware of a few combinations that work well together. Finding one's own style is key to sporting original looks and inspired fashion combinations. From accessorising to layering and playing with colours, there are multiple ways of making a casual, plain T-shirt look great for a night out with friends and even for a special occasion that requires more elegant attire.
Owning a few different T-shirts is key to creating original looks, so men should consider having more than five such items in their wardrobe. T-shirts are available in virtually any men's store on the high street, but shopping for them online at eBay makes the search much easier and quicker, as it allows shopper to browse through a huge selection with just a few clicks. Moreover, those who choose to shop for T-shirts on eBay can take advantage of some good deals in order to save some money.