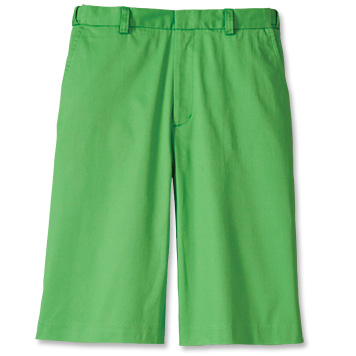 Bermuda shorts
originated on the island territory of Bermuda, which accounts for the name. Like other Caribbean island nations, Bermuda has a tropical climate. The wearing of traditional business attire, like long pants and jackets, is not practical in a tropical climate. For this reason, the wearing of Bermuda shorts is considered an appropriate alternative to long pants. Australian men wear Bermuda shorts for the same reason. However, it can be difficult for some men to wear Bermuda shorts in a way that flatters their bodies. Not all styles work for all men, so it is important for men to learn how to properly dress up a pair of Bermuda shorts. To do this, a man must choose shorts that are the right length and made from the right material. From there, he can begin looking for shirts, ties, jackets, and footwear to pair with the Bermuda shorts. By learning how to pair particular articles of clothing with a pair of Bermuda shorts, a man can put together several work outfits that he can wear through the summer.
Choose the Right Length
By definition, Bermuda shorts are longer than other types of shorts. They usually come down to the knee or fall slightly above or below the knee. Bermuda shorts that are appropriate for work attire should cover the knees slightly when standing upright, and the mid to upper portion of the thighs should never be visible, even when seated.
One also needs to consider how loosely the shorts fit. It is important that a man chooses shorts that are not too tight or too loose. The wearer should be able to move comfortably in his Bermuda shorts, and the shorts should not be too constricting in any area, especially across the legs or waist. Baggier styles are appropriate for the golf course, since the golfer requires more room for movement.
Choose the Right Material
Bermuda shorts for men can be made from a number of different types of fabric. Not all types of fabric are appropriate for all occasions. When trying to dress up a pair of shorts, it is important to consider the type of fabric. No matter what shirt and shoes are chosen for an outfit, there is no way to dress up a pair of
denim
Bermuda shorts. Men should choose
cotton
and cotton blend fabrics.
Linen
also works as a lightweight fabric that can be worn to outdoor events. When wearing Bermuda shorts with a suit jacket, it is possible to find shorts made from suit-like fabrics.
Colour and Design
It is important for men to stick to conservative colours. Men should choose
beiges
,
browns
,
blacks
, navy
blues
, and
greys
. Additionally, basic, solid colours are easier to match with a variety of shirts, which affords men a variety of outfit combinations.. Men should stay away from busy patterns when dressing up shorts. Tartan Bermuda shorts can be worn on the golf course, but one should avoid tartan shorts for most other occasions. While Bermuda shorts are traditional island attire, men should leave the floral and festive patterns for casual or party attire.
Wear the Right Shirt
The shirt that a man chooses to wear with his Bermuda shorts can make or break the outfit. When dressing up Bermuda shorts, men should avoid t-shirts and floral or Hawaiian shirts, as these appear too casual or too festive for most dressy occasions. Instead, men should opt for mellow colours and designs. Ideally, the shirt should be button down, as these types of shirts are the shirts traditionally worn with Bermuda shorts. To show off some personal style or to avoid appearing too stiff and formal, a man can leave a few of the top buttons on the shirt undone. However, the shirt should be tucked in neatly.
Ties and Blazers
In island regions, Bermuda shorts are considered appropriate dress attire for many occasions. However, in addition to the button down shirt, a man should wear Bermuda shorts with a tie and a
blazer
, too. Men should follow the same rules for ties and blazers paired with Bermuda shorts as they would when pairing a tie and jacket with a suit. The blazer does not have to match the colour of the shorts, and a dark-coloured blazer worn with light-coloured shorts works well.
Wear the Right Footwear
The choice of footwear can be particularly tricky for a man who is dressing up a pair of Bermuda shorts. Traditionally, dress attire with these shorts includes knee-length socks and a pair of loafers. However, unless a man is actually in or around Bermuda, this look appears out of place. Instead a man should opt for ankle-length socks with a pair of dark brown or black
boat shoes
.
Know When Shorts Are Not Appropriate
Although Bermuda shorts can be dressed up, they are not appropriate for all occasions. For the most part, unless a man is working and playing in a tropical setting, it is inappropriate to wear Bermuda shorts to any business dealings or meetings. Additionally, it is not appropriate to wear Bermuda shorts to weddings and other events that call for formal attire or black tie. Wearing Bermuda shorts to such events make the man appear out of place. When putting together an outfit, it is important for men to consider the type of event that they are attending before wearing Bermuda shorts. While Bermuda shorts can be dressed up or down as needed, one should not expect to wear such shorts all the time.
How to Buy Bermuda Shorts on eBay
If you need to add Bermuda shorts or other articles of clothing to your summer wardrobe, then you can find a large selection and competitive prices when you shop online. You can find a number of great deals on men's Bermuda shorts on eBay. With thousands of listings to choose from, you are sure to find a pair that matches your style and your budget.
Start on the eBay home page, and enter keywords into the search bar that describes the pair of Bermuda shorts that you are looking for. Be specific in your search to ensure that the local search engine returns relevant search results. For example, one receives better results with a search for '
navy bermuda shorts
' than with a search for just 'shorts'. Hone your search by narrowing the search parameters on the results page. You can specify the material, colour, price range, condition, and other options to narrow the listings further. If you are on a budget, be sure to look for
used Bermuda shorts
and look for sellers who offer
free postage
. Review the item descriptions and view pictures to help you make a purchasing decision.
Conclusion
While shorts are not typically worn by men for work or dressier occasions, one should not rule them out. By following a few simple rules and learning how to put together outfits, a man can dress up a pair of Bermuda shorts and create a number of stylish summer looks. When shopping for a new pair of Bermuda shorts, a man should start by finding a pair that is the right length and made of the right material. Using his Bermuda shorts as a starting point, he can then begin looking for the appropriate shirts, ties, jackets, and footwear to create several outfits. Dressing up a pair of men's Bermuda shorts is not difficult, and once a man understands the basics of putting together an outfit, he can create several outfits from just a few articles of clothing.