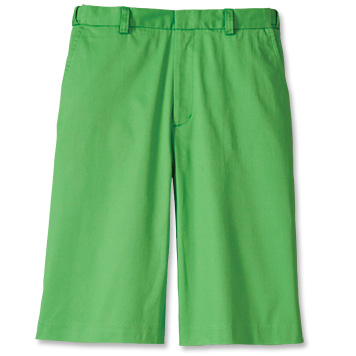 Bermuda
shorts
are longer than other styles of shorts. Because of the length of bermuda shorts, this style of shorts can easily be dressed up for many occasions. Dresses and skirts are typically worn for dressier occasions, but for some settings a pair of shorts can be just as attractive as a skirt and more comfortable. To fit the dress code of a dressier occasion, a woman needs to make sure that she puts her outfits together carefully. Not all shorts can be dressed up though, so a woman should first know the differences between the different types of shorts available so as to ensure that she chooses the right style and length of shorts. From there, she can begin putting together outfits that are not only flattering but also fun. Finding the right tops, shoes, and accessories is not difficult once a woman knows what to look for. When shopping for
Bermuda shorts
and other clothing, shoppers find that
eBay
offers shoppers a large selection of shorts, as well as great deals on other clothing.
Choose the Right Length
When women dress up, they often do not consider wearing shorts to dressier occasions. Dresses and skirts are staples when it comes to dressier clothes for women. However, the right pair of shorts can be dressed up to give a woman a classy look that is also comfortable. The key to dressing up a pair of shorts is to choose the right length. The table below shows the different lengths available, as well as describes what the different types of of shorts look like.
| | | |
| --- | --- | --- |
| Type of Shorts | Inseam Length | Description |
| Short | 5 to 8 cm | Shows off all of a woman's legs; not suitable for dressy occasions; not flattering to all women |
| Mid-range | 8 to 13 cm | Not too form-fitting but also not too baggy; sits at mid-thigh; flattering for most women |
| Bermuda | 28 to 33 cm | Cut right about the knee; slim fit with a straight leg; not too revealing |
A woman who is in excellent shape and enjoys showing off her legs may wish to wear a pair of short shorts. Unfortunately, these cannot be dressed up because they are too revealing. Mid-range shorts are flattering on most women, but Bermuda shorts are the ideal choice of shorts for dressing up. Because Bermuda shorts are longer than other types of shorts and hug a woman's legs, they can accentuate her legs without being too revealing.
Choose the Right Material
When choosing a pair of Bermuda shorts, a woman should be sure that that she chooses shorts in the right kind of material. While thin fabrics may be more comfortable in warm weather, such fabrics are not the best choice for dressier occasions. It is hard to find the right top to go along with
silk
and other lightweight fabrics. Additionally, these looser fabrics do not maintain the straight lines of the legs that more structured fabrics do. When choosing a pair of Bermuda shorts, a woman should look for shorts made from
linen
,
cotton
, or silk-cotton blends. These more structured fabrics are easier to pair with a variety of tops and flatter a woman's legs and rear.
Wear Bermuda Shorts With the Right Tops, Shoes, and Accessories
Once a woman has chosen the right pair of Bermuda shorts, she can start putting together different outfits to wear to dressy occasions. The difference between a casual pair of shorts and a dressy outfit with a pair of shorts lies in the choice of
top
,
shoes
, and
accessories
paired with the outfit. Putting together a few outfits allows a woman to introduce some versatility into her wardrobe.
Summer Dress
There is no better way to dress up a pair of Bermuda shorts than with a dress. For daytime outings, a tunic with a belt around the waist is a stylish choice. Choosing a bright colour or simple patterns helps to create a casual look that is sleek and stylish. For evening occasions, a short summer dress is all that a woman needs to dress up her Bermuda shorts. There is no need for a belt, and the flowing look of the bright dress helps to balance out the straight lines of the shorts.
High Heels and Sandals
When dressing up a pair of Bermuda shorts, women should always choose heels. Most flats are considered too casual and flats do not flatter the legs in the way that heels do. The ideal choice for footwear with Bermuda shorts is a pair of stacked sandals or open-toe wedge heels. Both of these lift the legs, show off the feet, and feminise the otherwise masculine look of the Bermuda shorts. For occasions where wearing heels is not practical, a pair of ballet slipper flats works fine.
Button-Up Shirt
A button-up shirt with a collar is a versatile top that can dress up many different types of outfits. Women most often wear these tops with their skirts or dress slacks, but button-up tops also work to dress up Bermuda shorts. To complete the look, the woman should wear a blazer or cropped jacket with a pair of high-heeled sandals.
V-Neck Top
A V-neck top works for situations where a woman wants to be comfortable but does not want to feel underdressed for the occasion. A V-neck top has an interesting neckline that is more flattering than the standard round collar, or crew collar, of a t-shirt. To pull off this look, a woman should wear dark-coloured Bermuda shorts with a top that is lightly coloured or has a spring pattern. For outdoor occasions, the outfit can be paired with a summer hat.
Summer Scarf
Sometimes all a woman needs to dress up an outfit is the right accessory, like a scarf. A woman who does not have the right top to wear with her Bermuda shorts can dress up the outfit by loosely tying a summer scarf around her neck. The focus should be on the scarf. A woman should choose dark-coloured Bermuda shorts with a plain or simple top. The scarf should be brightly coloured so that the viewer's eyes are drawn toward the scarf and away from the rest of the outfit.
Wear Contrasting Colours
One thing for a woman to keep in mind when dressing up a pair of Bermuda shorts is that she should avoid wearing too much of the same colour. A white pair of shorts paired with a white top does not make for a good combination, unless the occasion calls for all-white attire. Instead, contrasting colours are best. Dressy outfits work best with dark-coloured shorts and bright tops. These colours are eye-catching and work well for summer occasions in warm weather.
How to Buy Bermuda Shorts on eBay
If you need to add Bermuda shorts, summer tops, or accessories to your wardrobe, then you can find a large selection by shopping online. You can find great
deals on Bermuda shorts on eBay
. There are thousands of listings for shorts and other clothing in a variety colours, sizes, and styles.
To get started, enter keywords into the search bar on the homepage to describe the Bermuda shorts that you want. Be specific to ensure that the local search engine returns a focused set of results. For example, a search for '
black bermuda shorts
' returns more relevant results than a search for just 'bermuda shorts'. From there, narrow down the listings further by selecting the material, size, condition, and other options. If you are on a budget, be sure to specify a price range in the refinements menu. To save more money, refine the listings to show only sellers who offer
free postage
. Compare the listings, and then make your choice.
Conclusion
By following a few simple fashion guidelines, a woman can dress up a pair of Bermuda
shorts
. Along with summer
dresses
and
skirts
, a woman should include a few pairs of Bermuda shorts in her summer wardrobe. Dressing up Bermuda shorts is not difficult, and a woman can often incorporate articles of clothing from her existing wardrobes to dress up her Bermuda shorts. It is important that a woman has the proper type and length of shorts before she begins putting together an outfit. With the wrong shorts, it can be impossible to create an attractive outfit that fits within the dress code. With a large selection of tops, shoes, and other accessories to choose from, the style choices are endless. Women who want to spice up their wardrobes without spending too much money, can find great deals on all of the latest styles by shopping on
eBay
.