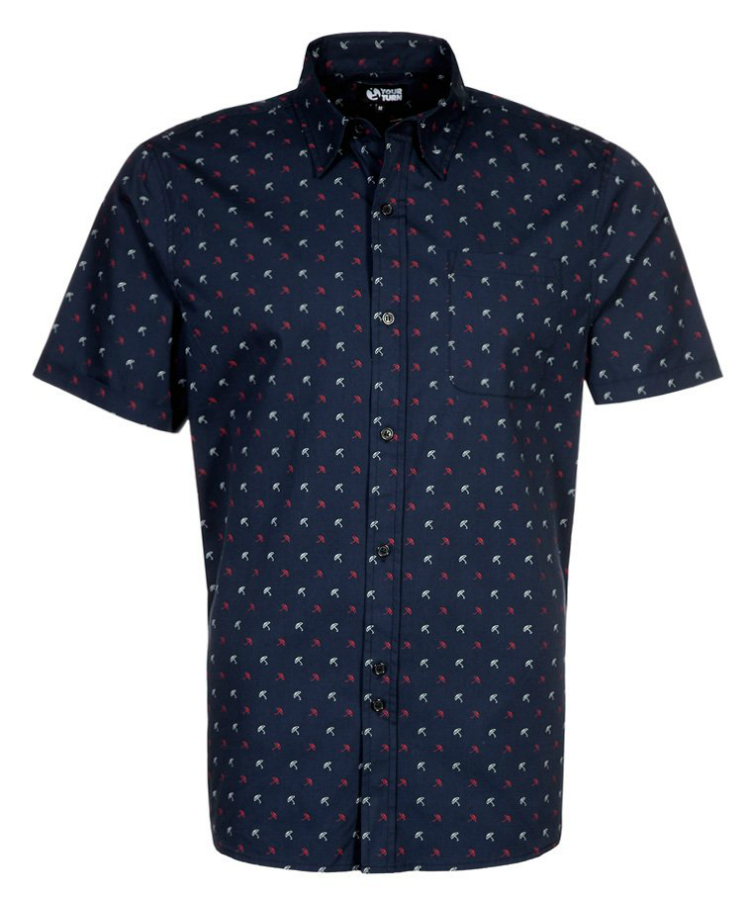 Dressing for life outside work is something few men take the time to consider, and even fewer know the tips and tricks to creating their own personal style. It is easy to oversimplify a man's wardrobe into suits and ties for work, and jeans and t-shirts for weekend wear. But there is a middle ground between these two extremes. Though the variety of men's clothing available may not equal that found in a woman's closet, men do have a wide selection of casual shirts that they can dress up or dress down for work, weekends, or evenings out on the town. Consider the different types of men's casual shirts and learn some tips to wear them in multiple ways, to expand any wardrobe and create a personal sense of style.
Types of Men's Casual Shirts
When it comes to fashion for the separate genders, there are far fewer choices in men's clothing than in women's. In many ways, this makes it easier for men to build a versatile, interchangeable wardrobe. By adding a few casual shirts to the mix, a boring and dated wardrobe quickly becomes modern and fresh.
Men's casual shirts come in a few basic styles. The chart below offers general descriptions of the styles commonly found in menswear.
| | |
| --- | --- |
| Type of Shirt | Description |
| | Knit shirt with short sleeves, a collar, and three or four buttons at the top |
| | Knit shirt with three or four buttons or a short zipper at the top, but without a collar; short or long sleeves |
| | Long sleeve, rugged knit shirt with a collar and buttons |
| Sports Shirt or Button-down Oxford | Resembles a men's long sleeve, button-down dress shirt, but has a looser fit and is made from more casual fabrics; oxfords have button-down collars |
| | Loose and straight cut with short sleeves, a front placket with buttons, and a camp collar |
The table above should help men decide which shirts they need to complete their wardrobe. One or two Henleys or sports shirts mixed in with closet basics such as rugby shirts and polo shirts can update a man's look and add interest to his personal style.
Dress up a Man's Casual Shirt
For a man, dressing up no longer means stuffy suits and starched shirts. The variety in men's fashions and more relaxed fashion rules make it easy to take casual wear to the office and beyond. Adding layers to an outfit is a foolproof way to dress up any casual shirt. And something as simple as pairing a casual shirt with less casual pants can change the look of the whole outfit.
Layer a Henley Under a Sweater
The lack of a collar makes Henleys the most casual men's shirts. They are comfortable and stylish, but some occasions call for something a bit dressier. Layering is an easy way to take a Henley up a notch. Simply pull a V-neck sweater over a Henley and go from Saturday loungewear to Friday night out.
Add a Blazer or Sport Coat to any Casual Shirt
Blazers and sport coats are versatile items, and every man needs at least one. Top a golf shirt or Henley with a blazer for a smart look. Or, pair a sports shirt with a sport coat and head out for a power lunch with that new client.
Pair a Casual Shirt with Chinos or Slacks
Sometimes dressing up a casual shirt is as simple as pairing it with different pants. Chinos or even dress pants work well with a number of men's casual shirts. Wear a camp shirt with chinos or try putting on slacks with a button-down oxford for an even dressier look.
Wear a Sports Shirt with a Tie
Although typically a button-down dress shirt is the best choice when wearing a tie, there are times when a sports shirt can be substituted. Adding a casual knit or woven tie to a sports shirt is an easy way to dress up the look without sacrificing comfort. Be sure the sports shirt fits well and coordinates with the tie.
Dress down a Men's Casual Shirt
Casual is a relative term, and is most apparent when it comes to clothing and fashion. Men's casual shirts are a few steps above the simple, solid coloured t-shirt that most people think of when they consider what defines casual dress. When a casual shirt still seems too formal for certain events or activities, try these tips for dressing it down a notch or two.
Roll up the Sleeves of a Sports Shirt
Give a button-down oxford or other long sleeve shirt a more relaxed look by rolling up the sleeves. Traditionally, rolled sleeves were the sign of a working man, and many still feel it imparts a look of ruggedness. Be sure to roll the sleeves neatly and to an accepted length. Most men wear rolled sleeves right at or just below the elbow. Only roll the sleeves higher if there truly is messy work to be done.
Layer a Camp Shirt over a Tee Shirt
Nothing says the weekend is here quite like a camp shirt and a pair of shorts. However, a buttoned up camp shirt can look stuffy and awkward with shorts. Dress this look down a bit by layering an unbuttoned camp shirt over a coloured t-shirt.
Pair a Button-down Oxford With Jeans
The button-down oxford is an iconic American shirt. To keep from looking like an American professor when wearing one, pair this comfortable and versatile shirt with jeans for a classic, casual look. In fact, any collared sport shirt can be paired with jeans for a relaxed look. Add a pair of loafers and matching belt for a fashionable, yet casual outfit.
Buy Men's Casual Shirts on eBay
Look to eBay for a wide selection of men's casual shirts in an array of colours and styles. eBay's user-friendly search features make it easy for shoppers to find sport shirts, Henleys, or camp shirts in the right size and at a fair price. Search filters allow shoppers to quickly sort results by size, brand, price, or item condition, such as new with tags, new without tags, or pre-owned.
Features such as seller ratings and feedback help shoppers buy with confidence on eBay. Top rated sellers have consistently high ratings from their customers. Both buyers and sellers can leave feedback after a transaction, which is a great way to let other eBay shoppers know that a seller provided excellent customer service.
The eBay Deals page offers shoppers the chance to purchase limited stock items at deep discounts. Prices are fixed and items are updated at least once a day. Shoppers can use the category selections to pull up all the Deals listings for men's shirts.
Conclusion
Dressing well is an art that every man should learn. From shirts and pants to sweaters and blazers, a few versatile pieces and some basic knowledge about layering and pairing is all that is required for a man to always look his best.
Knowing when and how to dress up or dress down a casual shirt ensures a man is always dressed appropriately and professionally. Casual shirts are versatile articles of clothing that, when paired with the right items, can go from office to evening out to Saturday excursion with ease. Whether dressed up or dressed down, casual shirts hit the mark when it comes to dressing with style and ease. Buyers can find casual shirts for any occasion on eBay.
casual shirt|Henley|camp shirt|rugby shirt|polo shirt