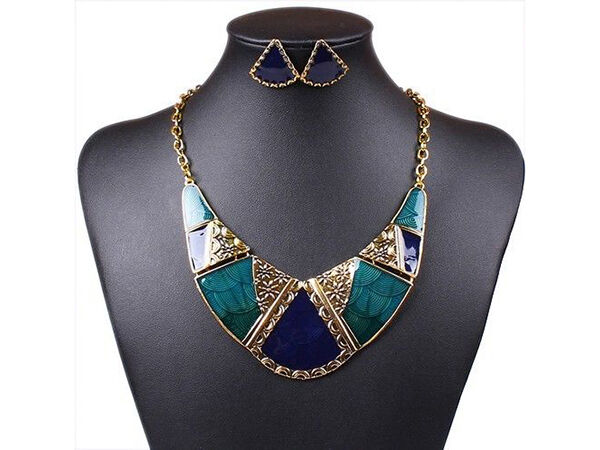 Women who love colour in their jewellery will find cold enamelling a wonderful way to bring excitement into their work. Crafting beautiful jewellery is a wonderful form of art. With the technique learned, many can accomplish professionally finished pieces right at home. Cold enamelling is the process of applying colour to metal and then sealing it with a glass like substance. The substance used in this guide is enamel paint (resin). Every step of the way is done without heat.
Quick Facts on Enamel Jewellery
The term "enamel" is often restricted to work on metal. Enamelling is an old technology, still widely used today in decorative art. Two types of the art form are commonly used in jewellery enamelling–vitreous enamel and cold enamel.
Vitreous Enamel: is a material developed by fusing powdered glass to metal through a process called firing. Firing is the application of heat at very high temperatures between 750 and 850 degrees Celsius. A specialized oven, torch or kiln is used to obtain necessary temperatures. Vitreous enamel is also referred to as porcelain enamel; this is glass jewellery-making technology dating as far back as ancient man.
Cold enamel: is on the other hand a modern technique that mimics the look of glass jewellery or vitreous enamel. It does not involve the application of heat. Cold enamel is distinguished from glass jewellery by the technique involved. Artists of the craft are quick to underscore the distinction of the two processes. Cold enamel is a less expensive way to add color to metal. It looks a lot like glass jewellery, but is lighter in weight and is easier to get scratched.
How cold enamel is made. Cold enamel jewellery is created by adding a colorant to epoxy resin or gum, and then painting the colored resin on selected metal ornaments.
Items Needed to Enamel Jewellery
With cold enamelling, use layers to build texture, glitter and colour unto the metal ornament. Individuals can create dimensional and beautiful finished pieces right in their home. The items required are listed below; however, enamelling starter kits or packs with all the needed items in one place can be found in most craft stores.
Cold enamel colours -at least two different kinds
Cold enamel hardener
Plastic mixing cups
Mixing sticks
Bracelet or a set of jewellery blanks (clean with methylated spirits or alcohol)
Instructions to Crafting Cold Enamel Jewellery
Enamel jewellery making is quite easy and fun to do. Before starting any work, apply barrier cream to hands. This will protect the skin from any sensitization to the products.
Before beginning the process, it's very important that the ratio of the cold enamel to the hardener is accurate. Otherwise the enamel will not set and remain sticky throughout. Make use of graded markers on the side of the mixing cups to ensure correct volume. From there, complete the following steps:
Set a timer. Materials are time sensitive. Crafters have about thirty minutes working time. When using two colours on the same piece of jewellery, it is a good idea to prepare both at the same time, each mixed with the hardener and ready for decorating.
Mix cold enamel to hardener. 2 parts cold enamel to 1 part hardener. Mix slowly and thoroughly. Avoid introducing air bubbles in the mixture.
Once mixed, immediately start decorating the jewellery.
Use mixing stick to dab enamel unto the surface and push out to edges.
Once the surface is covered, set it aside to dry. If the jewellery has raised edges, pour the enamel unto the surface and then use the mixing stick to push into position.
Two (or more) separately mixed colours can be applied to blanks to create multi-coloured patterns. Use the mixing stick to draw interesting marbled effects. Set aside to dry.
After 24 hours, the enamel jewellery will be set hard and ready to wear.
How to buy it on eBay
To get these products on eBay, first go to "Craft Beads." This page features an array of products for jewellery-making. To select an enamel kit, look to the left of the page under the categories section. In the Search Tab type in the phrase "Enamel Paint" to get a variety of enamel applications to choose from.
Conclusion
Cold jewellery enamelling is a modern form of art that is distinct from vitreous enamelling. It can be easily accomplished at home. Beautifully crafted and polished pieces are achieved with the most basic of instructions with the end results providing the wearer with the ultimate sense of satisfaction. Products are available on eBay.