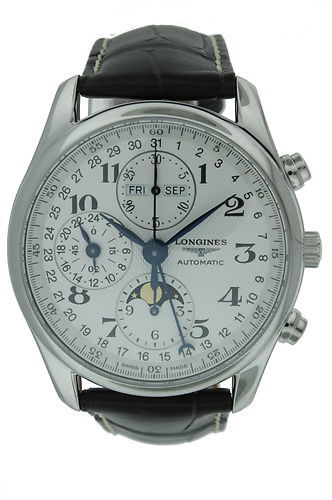 A good watch is an heirloom that fathers and sons can pass down for generations, and the Swiss make some of the finest timepieces in the world. The only concern is that this quality comes at a cost. For many buyers, a good Swiss timepiece is not just a purchase, but an investment. As with any investment, the key lies in finding the right deal. Anyone can buy a Swiss watch or other timepiece, but it takes a little effort and research to get a deal on one. The first step in finding a deal is learning enough about Swiss timepieces to recognise one.
Benefits of Owning a Swiss Timepiece
While Swiss timepieces are not without their cost, owning one offers a number of benefits. The first is accuracy; Swiss timepieces are famous for their accurate timekeeping. A good Swiss watch is a marvel of precision engineering on the smallest scale, making it just as reliable as it is accurate. Owning a Swiss timepiece also makes a statement about a person, saying that he or she prizes reliability, accuracy, precision, and style.
Recognising a Good Deal on a Swiss Timepiece
The most important thing about looking for a deal on a Swiss timepiece lies in being able to recognise the deal when it appears. That means that buyers should know how to judge the value of the watch or other piece they want so that they can recognise a deal when it becomes available. The more a person knows about Swiss timepieces, the easier it becomes to both recognise and find a deal because they know what they are looking for.
Looking for Deals on Swiss Timepieces
The first thing to remember when looking for deals on Swiss timepieces is that the more it costs a seller to do business, the greater the amount they have to charge for the product. Thus, finding a deal often involves looking for sellers who have the lowest overhead, so that they can pass those savings on to the buyer.
Buying Swiss Timepieces Online
One place to look for deals is at online marketplaces such as eBay. The advantage of shopping online is that with no need to maintain a physical storefront, the sellers can lower their own costs dramatically. This lets them offer the finest Swiss watches at affordable prices. They also offer a wide variety of timepieces, making it easy for buyers to shop around and find the best deal on their favourite Swiss watch.
Looking for Used Swiss Timepieces
Another way to find a deal on Swiss timepieces is to look for used and previously owned models. A good Swiss watch can last for generations, so there is no reason to discount an item simply because someone else has already worn it. Buying a used timepiece can lower the cost, or let buyers find rare, unavailable models. At the very least, considering a Swiss timepiece gives buyers more options, which make it easier to find a great deal.
Swiss Timepieces to Look for
Swiss timepieces include many of the most famous watch brands in the world. A list reads like a watchmaker's honour roll:Rolex,Patek Philippe,Longines,TAG Heuer,Omega, and Breitling to name a few. Rolex is the most well known brand of Swiss watch, but it is a relative newcomer, especially in comparison to Blancpain, which at 300 years, is the oldest watchmaker in the world.
Rolex Watches
Rolex is renowned the world over for its luxury watches. The best-known Rolex is the Oyster, which does not use quartz movement, but rather the classic Rolex perpetual movement. It is a mechanical movement so precise that it not only keeps exquisite time, but also draws on an almost inexhaustible source of energy: the wearer's movements. There are no batteries to wear out, and the watch keeps running as long as the owner wears it regularly.
TAG Heuer Watches
TAG Heuer brings precision engineering to the sports watch. The TAG Heuer Carrera is an example of peerless design. It marries a precise automatic movement with clean features, and seals everything in a case that withstands water up to 100 metres. It is a good choice for those who live an active lifestyle and want the stylishness the Swiss are so famous for.
Patek Philippe Watches
To wear a Patek Philippe watch is to put handmade elegance on one's wrist. The Patek Philippe seal is a mark that says that the quality of construction is so high that the watch is worthy of lifetime maintenance. These are the watches owners hand down from one generation to the next, because the company's commitment is that of a lifetime.
Watch Brand

Description

Known for the Oyster

Self-winding, perpetual motion

Never needs batteries

Tag Heuer

Precision engineering

Great for active lifestyles

Stylish

Patek Phillippe

Elegant

Lifetime maintenance guarantee
The watches listed above are not the only great Swiss timepieces. Buyers have many other brands to choose from, as well, such as Longines, Breitling, Blancpain, and Omega.
How to Buy Swiss Timepieces on eBay
Finding a deal on a Swiss timepiece on eBay is easy. All you have to do is enter the keywords you seek into the search box, which you can find on every eBay page. Then watch as results appear on your screen. A simple search like "Rolex" or " Longines" returns a wealth of watches to your attention in a matter of moments. Then all you have to do is choose the timepiece you want, and the seller you wish to do business with. Anyone can wear a watch, but a person wearing a Swiss timepiece knows the difference between average and excellence. eBay is the perfect place to find the deal you want on any Swiss timepiece.