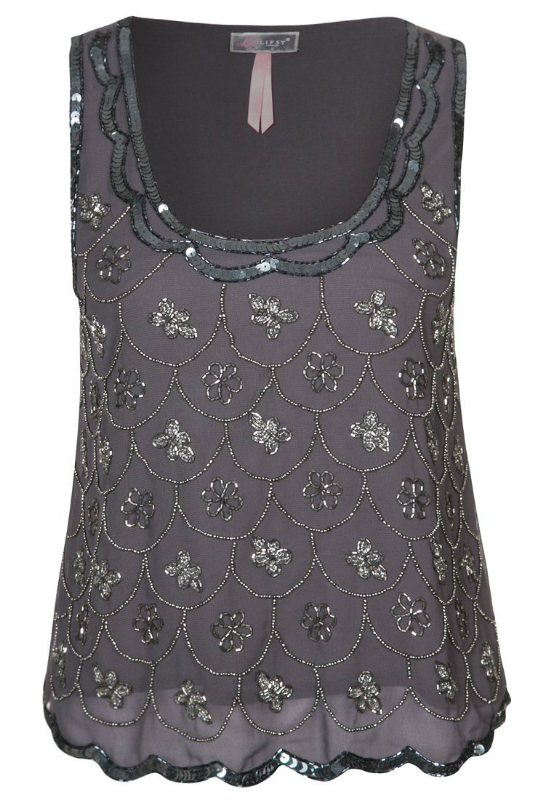 It is easy to understand why finding clothes that fit well and flatter your figure is so difficult when you consider that clothes designers do not make clothes to fit the average woman. The majority of women have straight or apple shaped figures, but clothing manufacturers design women's clothes for the rare hourglass-shaped body.
Perfectly proportioned mannequins and models look great in almost any off-the-rack top, but the average woman has a more challenging time finding tops and blouses that accentuate her figure. However, successful shopping takes little more than some knowledge about figure types and the clothing styles that flatter each. By identifying your figure type and learning the styles and patterns that are best suited to it, every shopping adventure can end with success.
Identify Your Figure Type
Finding the right clothes for a particular body type means finding clothes that create the illusion of a balanced figure. Though few women have a perfect hourglass shape, the majority can easily create the appearance of one by simply wearing the right tops and blouses for their particular figure.
Many women have a difficult time determining which body type they are. The table below lists the most common figure types, and gives a brief description of each along with some basic recommendations on dressing to enhance each one.
| | | |
| --- | --- | --- |
| Figure Shape | Description | Recommendations |
| Inverted Triangle | Characterised by a heavy or wide upper body; narrow hips and wider shoulders | Clothing should add volume to the hips and define the waist to balance the wider bust and shoulders |
| Pear or Triangle | Hips are wider than shoulders | Clothing should add volume to the bust and shoulders, emphasise the waist, and minimise the hips |
| Rectangle or Straight | Little or no waist definition, straight torso | Clothing should enhance the waist while keeping hips and upper torso proportional |
| Hourglass | Proportional throughout, with balanced hips and bust and a defined waist | Clothing should accentuate the natural waistline and keep hips and bust proportional |
| Oval | Wide midsection with undefined waist, large bust and slightly narrower hips | Clothing should draw attention away from the midsection by defining the waist and adding fullness to the hips |
| Diamond | Full midsection with broader hips and narrower bust and shoulders | Clothing should balance bust and shoulders, slim the hips, and define the waist |
Comparing hip, waist, and bust measurements is the most common way to determine figure shape. Another trick is to take a snapshot wearing a swimsuit and then trace the outline of the torso and hip region and match that shape to the choices above.
Choose Tops that Flatter Your Figure
With the abundance of different bustlines, necklines, waistlines, and sleeve choices, it is little wonder so many women struggle to find tops and blouses that flatter their figures and camouflage their problem areas. Finding tops that accentuate the best features on any figure and downplay any imperfections is easier for women who understand which styles work for and against them.
Tops for Inverted Triangle Body Types
To dress an inverted triangle body, look for dark coloured tops that nip at the waist and flair out below it. Deep, narrow V-necks and wrap style tops are great choices. Shirts with empire waistlines or banding at the waistline also enhance inverted triangle figures. Inverted triangle figures are enhanced by deep, shawl-collared tops or lightly cowled tops. Long, form-fitting sleeves or sleeveless tops look great. Avoid shoulders that flare or are puffy, as well as tops with spaghetti straps or narrow straps.
Tops for Pear Body Types
Pear body types look best in tops with wide necklines, darted or belted waists, and structured shoulders. Tops with full, flowing busts or with embellishments that add volume to the bust help create a defined waistline. Pear body shapes look good in boat-neck or off-the-shoulder tops or tops with wide V-necks or U-necks. Blouses with princess or flutter sleeves are particularly flattering on pear shapes. Avoid form-fitting shirts, as they accentuate the imbalance between hips and bust.
Tops for Straight Body Types
Similar to pear body types, straight figures need tops that define the waistline and add volume to the bust. Belts or gathered waistlines, wide necklines, and embellishments that draw attention to the bust and shoulders are great choices. Ruching and gathers in the bust area and princess or flutter sleeves create volume on the upper torso. Wide V-neck tops and tops with boat necks or that rest off the shoulders help create the illusion of an hourglass shape.
Tops for Hourglass Body types
Women with hourglass figures need only find tops that maintain the natural balance of their shape. Form-fitting tops are great for hourglass shapes, as are wrap-style or belted tops. To keep the balance, be sure to add volume to the lower half when wearing a top with full sleeves such as princess or flutter sleeves. Avoid boxy and shapeless cuts such as baby doll tops or blouses with empire waistlines.
Tops for Oval Body Types
Oval figures look best in tops that flare gently at the bottom and add definition to the waistline with belts, or darts. Square or scoop neck button downs and tailored tunics with wide, plunging necklines flatter oval figures. Other good choices are wrap tops with deep V-necks and simple sleeves, or belted tops that flare at the hips. Tops with vertical detailing give the illusion of a slimmer torso.
Tops for Diamond Body Types
Button down shirts and blouses with square or scooped necklines and tailored waists that gently flare at the bottom accentuate the bust and shoulders and define the waistline, balancing out a diamond body shape. Tops with wrap-style busts and empire waists are also flattering on diamond figures. Look for wide necklines, full sleeves, and fabric that drapes over the midsection. Diamond figures can also wear tailored wrap tops and tunics with belted waists.
Find Women's Tops on eBay
Once you know which tops flatter your figure, head to eBay for an excellent selection of women's clothing to include shirts, tunics, and blouses. eBay's clothing inventory includes new and used items by hundreds of designers from all around the world. Many sellers offer free postage or combine postage on multiple items, making shopping on eBay even more affordable. Shoppers can search for items using keywords or by browsing the category selections provided.
For even bigger bargains, shop for women's tops on the eBay Deals page. Merchandise featured on the Deals page includes fixed-price, deeply discounted items from trusted sellers; these are available in limited quantities. eBay Deals are updated every day, so check back often if you want to find the best bargains.
Remember that sellers with a lot of positive feedback on their profile page are likely to provide great service, good quality products, and prompt shipping.
Conclusion
With the countless number of choices in women's clothing today, finding tops that are flattering is possible no matter what figure type a woman has. Once a woman learns which shape her body most closely resembles, finding tops and blouses is simply a matter of following a simple set of guidelines that work to create a more balanced figure.
Women who learn to use tops to add volume to narrower hips or bust lines, emphasise the waistline, and draw the eye away from larger areas look better in their clothes and are more confident. Another key point to consider when buying tops that flatter is to use actual measurements to ensure clothes fit properly. A top that fits is always more flattering than one that is too small or too big.
tops|shirts|blouses|tunics|women's clothing