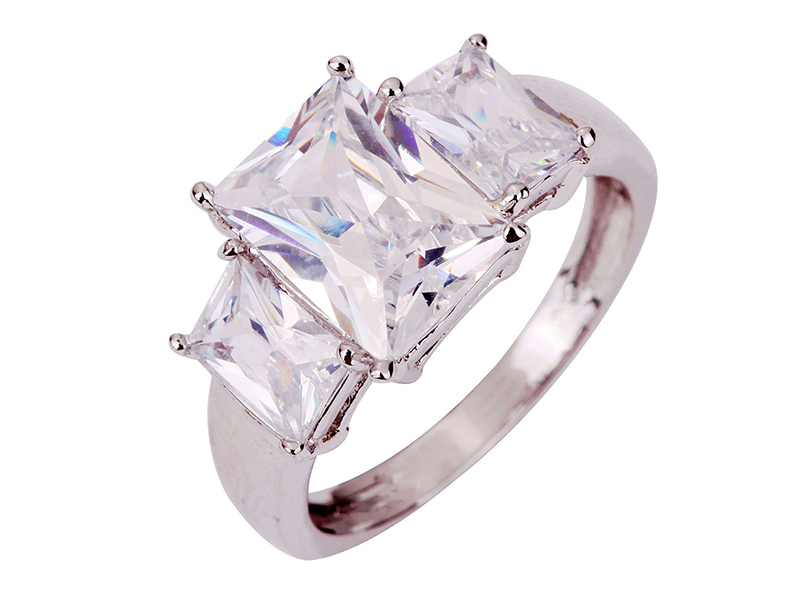 Whether purchasing an inexpensive ring or a diamond ring,it needs to fit perfectly. Identifying your correct ring size is a necessary step toward building an individualised jewellery collection, and eBay carries an extensive range of sizes to fit any measurement. Learn how to correctly measure your finger with this quick guide.
Measuring Tape Technique
You can easily find your ring size by using a tape measure to record the circumference of the intended finger on which the ring will be worn. Measure at a time of day when your hands are warm, since hands can fluctuate in size throughout the day depending on the temperature. If you measure your ring finger when your hands are cold, the measurement is likely to be too small for comfort. Place the tape measure comfortably around the finger at its base at a tightness that allows for easy removal. To better analyse the right level of tightness, tape it around the finger and adjust accordingly for fit. The final measurement should be recorded in millimetres for the most precise sizing. Ring size conversions charts can then be utilised to match the measurement in millimetres to the corresponding ring size. When the measurement falls between two sizes, it's recommended to size up in order to guarantee the most comfortable fit.
Ruler and String Method
If a tape measure is not available, a simple piece of string, twine or paper can be used in conjunction with a ruler for the same precise results. Wrap the string or slip of paper around the base of the intended ring finger, and hold it taut. Mark off the measurement with a marker or pen, and then lay the string flat and measure with a ruler to find the length in millimetres for the most accurate reading. Utilise a ring measurement chart to then correlate the measurement with a standard ring size, always sizing up when the measurement falls between two sizes.
Printable Ring Size Finders
Another technique is to use printable ring size finders. These print-outs contain circular samples of various ring sizes, from the smallest to largest carried at standard retail stores. Simply print one out, cut out the most likely ring sizes and then place your ring finger in each size. This is a quick and simple way to identify your ring size from the comfort of your own home. Another option for using these size finders is to take a ring that fits you well (but fails to contain sizing information) and place it on top of the various circumferences on the print-out sheet. This will help identify the size of an unsized ring, which is particularly useful for antique varieties and heirlooms.
Using Other Rings for Sizing
Another tried and true method for finding your ring size is to try on rings of various sizes. Go to a jewellery store to try on an assortment of styles, or sample rings from family members or friends. Most rings are marked for size, but if a fitted ring is not, simply use the printable ring size finders to identify the size of any unmarked pieces. This method is ideal for men who seek to find their partners' ring sizes inconspicuously. By using an existing fitted ring, a man can compare the ring against the various circumferences from a sizing print-out, which is very helpful when planning for a proposal.
Plastic Ring Size Finders
If no other rings are available for comparison, plastic ring size finders are an excellent choice for finding the perfect size. Much like the printable size finder, the plastic finders contain various ring size circumferences for fitting samples. The plastic ring size finders, however, are much more durable than the paper variety, and the openings are pre-cut to prevent cutting errors and discrepancies.
Jewellery Store Sizing and Assistance
Sometimes, a ring size falls outside of the normal range, and if your measurement doesn't match standard sizes, you'll likely need to visit a jewellery store for the most accurate sizing profile from a store associate. Due to the amount of available rings and the knowledge of industry professionals, this is a highly accurate technique for those who fall between sizes or outside of the normal size range in particular.
Conclusion
Both women's and men's ring sizes can be found in online stores with these methods, as men's ring sizes are measured in millimetres, too. International sizing charts are available to confirm the right sizing is found regardless of the measurement technique.