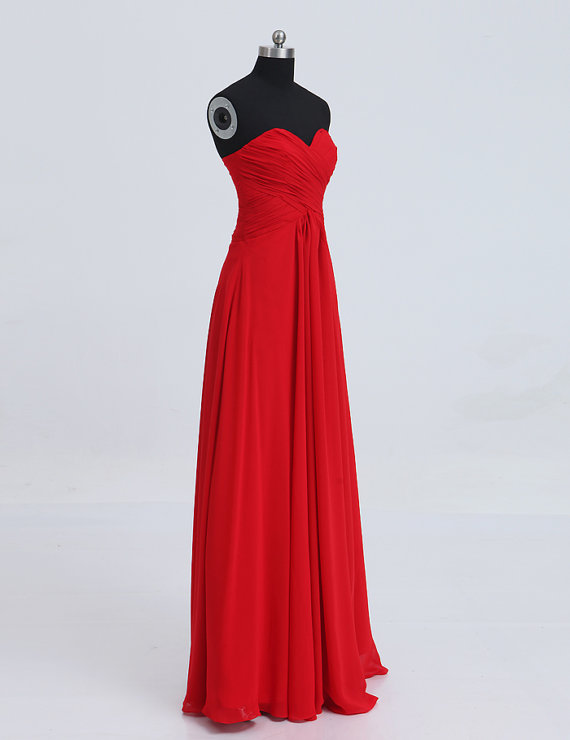 An exquisite formal gown does not have to break the bank. Gowns that help create a stunning vision of beauty are available at affordable prices on eBay. Formal gowns can be purchased to suit any body size and shape and consumers can find a real bargain if they shop intelligently. Consider buying a formal gown that was all the rage last season instead of the current one. Look at sales, clearances, and seconds gowns as well as used ones. Consider purchasing a gown and having it altered for the perfect fit at an affordable price.
Finding an Affordable Formal Gown
Finding an affordable formal gown requires savvy shopping. Set a firm budget and remember to take delivery and accessory costs into account. Instead of looking for the latest fashions, choose classic styles or dresses from last season. Look at gently used gowns, those offered on sale, and those with minor faults to find an affordable yet beautiful formal gown.
Style
Formal gowns of the latest style carry a higher price tag. Instead of being a dedicated follower of fashion, save money and still look stunning by considering a gown from last season or opt for a stylish, timeless, classic that never goes out of style. Classic dresses have a timeless beauty and vintage-style dresses are often more affordable and make a bold statement.
Sale and Clearance Gowns
Buying a formal gown in a sale or clearance offers shoppers a great opportunity to make big savings. End of line evening gowns, discontinued models, and those in end of season sales are generally offered at a fraction of the full retail price. Formal gowns with small flaws, such as factory seconds with irregular stitching or small plucks also offer significant savings. To maximise sale savings consumers should plan ahead. Buying a formal gown for an end of year prom or formal dance, for example, right after a similar event in preparation for the following year, allows shoppers to find a bargain as sellers clear old stock to make way for new stock.
Used Gowns
Buying a used formal gown provides a great way of finding an affordable gown on a budget. Nearly new gowns and those brand new but without tags cost far less than the same dress brand new. When buying a used formal gown, whether a prom dress or a sophisticated evening gown, make sure the gown is in good condition. After purchasing a formal gown it is advisable to have it cleaned, according to the instructions on the label.
Altering Gowns
To provide more choice within a budget range consider buying a dress that is slightly too long or too large. With a little time and patience and some skill with a sewing machine, consumers can alter a formal gown and even personalise it, making it fit correctly and adding unique details such asrhinestones or sequins. It is also possible to have a gown altered by a professional seamstress. This offers more choice when it comes to purchasing an affordable formal gown and also provides a method of acquiring a truly unique dress that expresses the personality of the wearer.
Choosing an Appropriate Formal Gown
Aside from affordability, choosing an appropriate gown is vital. The gown has to suit the wearer and the occasion. A prom dress, for example, is not necessarily appropriate for a sophisticated cocktail party, whereas a short, bodycon dress is not likely to be appropriate for a formal dance.
Size
Correct sizing of a formal gown is vital. Regardless of length and style, the fit has the biggest impact on the appearance of the dress and the wearer. The dress should fit snugly at the bust, waist, and hips, but should not be stretched too tight, nor should it hang too loosely providing no definition.
| | | | | | | | | | |
| --- | --- | --- | --- | --- | --- | --- | --- | --- | --- |
| Gown Size | 8 | 10 | 12 | 14 | 16 | 18 | 20 | 22 | 24 |
| | 83 | 86 | 91 | 96 | 101 | 106 | 111 | 116 | 121 |
| Waist (cm) | 63 | 68 | 73 | 78 | 83 | 88 | 93 | 99 | 104 |
| Hips (cm) | 89 | 91 | 96 | 101 | 106 | 111 | 116 | 121 | 127 |
Using a tape measure, measure the bust and hips at their widest point and around the waist. With these measurements, find the appropriate size on the chart above.
Body Shape
An hourglass figure has even proportions and a well-defined waist and can wear any style of formal gown. Those with slender, rectangular figures should aim to add the appearance of curves to their ensemble by choosing formal dresses with a cinched waist or flared skirt with a ruffled or cinched bust. Apple body shapes lack definition at the waistline and usually exhibit a rounded stomach. To draw attention away from problem areas and add the appearance of length to slim the body, choose a dress with a high waist that flares gently downwards. Pear shapes have larger hips and a smaller bust so opt for a fitted bodice or one with pleats or ruffles at the neck to add balance. A full or A-line skirt helps to slim the appearance of the hips.
How to Buy
eBay sellers offer a huge range of affordable formal gowns to suit every body shape, size, and personal preference. Simply search from the eBay homepage or the search bar located on every page or check out eBay Deals for specialty items at discounted prices. If you have no clear idea of the dress you want, enter a generic search term such as "formal gown." For fewer search results, enter more information in your query, such as "teal formal gown," or "full length red gown." If you have any questions about the gown or the delivery, simply contact the seller before you confirm your purchase. Be sensible, stick to your budget, and explore all options to find your perfect formal gown at a great price on eBay.