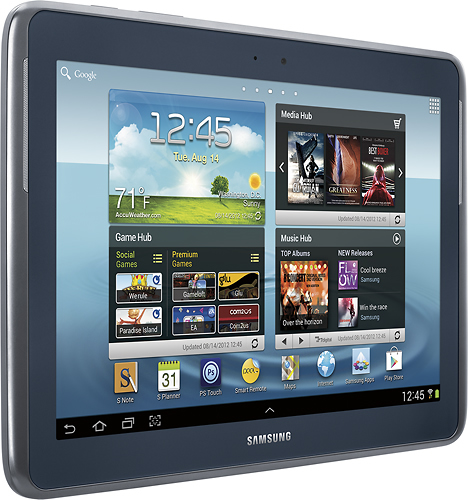 For many users, the decision is a tablet or a Windows PC. Samsung has provided a hybrid with their Tablet PC range. These ATIV TPC's offer Windows 8 and an Intel Core processor. They are designed to consume much less power than a normal PC and are highly interactive for the user. eBay is a great place to begin searching for an affordable Samsung Tablet PC and offers devices that are both brand new and used.
What Devices are Available?
The following section will look to provide the Samsung tablet PC's that are currently on the market, and emphasis the main features associated with each of the individual tablets:
11.6" ATIV Smart PC XE500T1C
Specification
Screen resolution: 1366x768
Screen size: 11.6in
Display technology: LED-backlit LCD
Touch screen: Capacitive
Accelerometer: Yes
Graphics card: Intel GMA HD
Graphics card type: Integrated
RAM: 2GB
Battery type: Rechargeable
Power supply: AC, Battery
Battery life: 444min
Battery size: 30 Watt Hours
CPU type: Intel Atom
Processor speed: 1.8GHz
Processor type: Intel Atom Z2760
Weight: 760g
Height: 8mm
Width: 304mm
Depth: 190mm
Operating system: Windows 8
Internal storage: 64GB
Supported memory media: microSD
Webcam resolution (megapixels): 2
Number of USB 2.0 ports: 1
Bluetooth: Yes
Wi-Fi (wireless networking): Yes
Wireless technology supported: Bluetooth, NFC (Near Field Communications), Wireless 802.11a, Wireless 802.11b, Wireless 802.11g, Wireless 802.11n
Design
The convertible design provides the user with the power of a notebook and ease of access that a tablet brings. Mobility is the key feature and web browsing, communication and gaming is extremely simply and quick.
The additional keyboard option and touchpad turns this instantly into a heavy duty and innovative notebook. Moreover the S pen brings writing to life and its highly sensitive screen allows for a real life writing experience. There are many templates built in, so the user can take notes on the go or use the tablet as a portable diary.
Entertainment
The 5-finger multi-touch capable screen surpasses the traditional 2-touch approach, this paired with enhanced sensitivity means the user can pinch to zoom and rotate with the greatest of ease. There is two high resolution cameras front (2 megapixel) and back (8 megapixel), which come with a built-in flash, again another addition designed to increase interactivity.
AllShare play makes viewing photos, video and music much easier due to the remote access feature. Inter-Samsung sending is extremely easy and it can help the user interact with their friends and family.
Operating System and Practicality
The Windows 8 operating system allows the user to enjoy the practicality, productivity and familiarity of a normal PC. The user can install and run any pre owned Windows programmes and can select to use a classic desktop (mouse and keyboard) or the new touch screen system. The option of a mouse and keyboard make the device ideal for any users who need to create text heavy documents. There are two extra USB ports and a memory card slot.
10.1" ATIV Tab 3 S Pen XE300TZC
Specifications
Operating System: Windows 8 32-bit
CPU: Intel Atom Z2760 1.8GHz Dual-Core Processor
CPU Cache: 1MB L2
Memory: 2GB DDR2 RAM
Storage: 64GB eMMC Embedded Flash
Display: 10.1-inch LED HD TouchScreen Display with Digitizer S Pen (1366 x 768, 10-Point Capacitive, 400 Nits SuperBright Plus Technology)
Graphics: Integrated Intel Graphics Media Accelerator
Card Reader: microSD Slot
Web Camera: 720p HD Front and 2.0MP HD Rear
Sound: Stereo Speakers (0.64W x 2) with SoundAlive Technology & Integrated Microphone
Connectivity: 802.11a/b/g/n WLAN and Bluetooth V4.0
Connectors: Micro USB 2.0, Micro HDMI & Headphone/Mic Combo
Battery Capacity: 2-cell Li-Polymer (25.6WHr)
Dimensions: 10.13 x 6.51 x 0.31 in.
Weight: 1.28 lbs.
Design
The ATIV Tab 3 is extremely slim and lightweight weighing a mere 550g. However, within the device is a very powerful Intel Atom Z2760 1.8GHz Dual-Core Processor and the Windows 8 OS. Its S pen provides accurate input and control and greatly improves access to the device features.
Technology
The user can experience great freedom with the Bluetooth keyboard. Documents and files can be updated quickly on the go. In addition, the Tab 3 is pre installed with Microsoft Office 2013 and this is again perfect for those users who need to work on the move.
Samsung SideSync connects any user with a GALAXY device to any with an ATIV PC, wirelessly or via cable. This enables seamless file transfer and control by simply using the mouse and keyboard. The 10.1" ATIV Tab 3 S Pen XE300TZC is designed to provide the user with a truly mobile experience.
How to Buy an Affordable Samsung Tablet PC on eBay:
To begin the user should type the keywords into the search bar on eBay, " Samsung Tablet PC". eBay will then generate a results page from which the user can filter the results according to the criteria they desire. If the user desires a cheaper Tablet PC, it is recommended they filter the results using the "used" option. Price and condition tend to be the most popular filters and can provide the user with the most relevant results.
Conclusion
There are many factors that must be researched when deciding what Samsung Tablet PC to purchase and at what price. Memory, processor type, connectivity, aesthetics and price are merely some things for the user to consider. eBay is a great place to begin searching and can provide all the specification information needed for the user to find a solution.