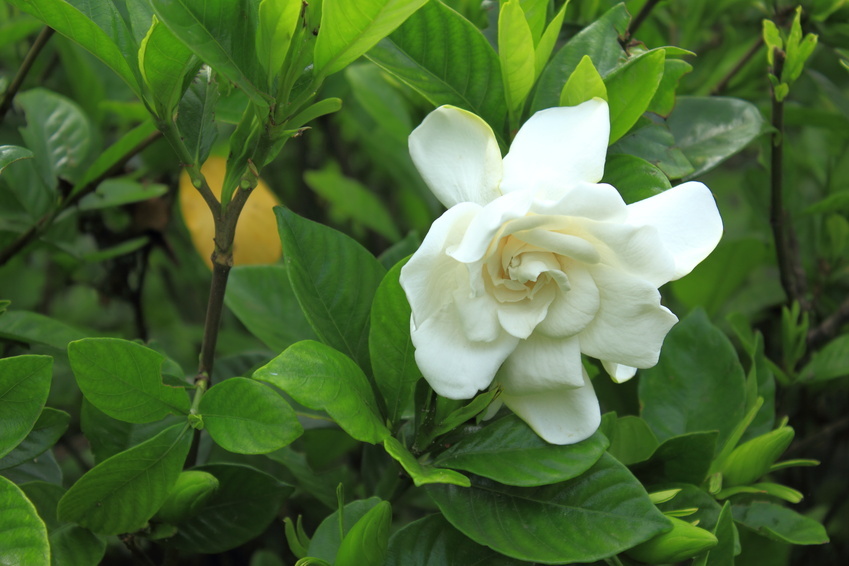 A star of any sunny garden, the gardenia flower is prised for its shiny, dark green evergreen foliage and abundant white flowers. These blooms are not only beautiful to look at, but also emit an intoxicatingly wonderful floral fragrance. Gardenia flower oil is so aromatic that it is used in perfumes, soaps, and candles. Gardenia flowers are usually quite hearty once they are established, but they are somewhat finicky plants that require TLC and specific growing conditions in order to survive, thrive, and bloom.
When Should Gardenia Flowers be Planted?
In Australia, gardenia flowers are at their showiest, most fragrant phase in the warm months between November and May. As such, this is the best time to plant them. Mature gardenia plants ranging in size from 150-mm to 200-mm pots are readily available throughout most of Australia. Because they are reasonably priced (ranging from $10 to $25 depending on the size of the pot), most home gardeners opt to plant established gardenia plants rather than grow them from seeds or plant cuttings.
How Should Gardenia Flowers be Grown to Maximise Blooms?
While some flowering plants can be planted into the earth, forgotten about, and still manage to deliver prolific blooms, gardenias are a bit higher maintenance. Before planting them, seek out an area of the garden that is mostly sunny. In areas with relatively mild summers, planting gardenia flowers in full sun is usually just fine. In areas with intense, hot summer sun, gardenia flowers need partial shade to survive and bloom. This shade can come from other plants, from structure, or from commercially available gardening accessories built for this purpose.
In addition to requiring shade in harsh summer locales, gardenia flowers thrive in well-drained, yet moist and rich soil. One of the most important things to keep in mind when growing gardenia plants is that they require acidic soils (a pH 5 or 6). In alkaline soils, the rich green leaves turn yellow and the flowers fail to develop. Commercially available soil additives like sulfur, sphagnum peat moss, iron sulfate, and aluminium sulfate can be added to ensure proper acidity of the soil. For gardeners who want to go organic, compost, coffee grounds, wood ash, and bone meal are all additives that can boost the soil's acidity and help gardenia flowers thrive.
Pests and Diseases that Target Gardenia Flowers
Unfortunately, humans are not the only beings that covet gardenias. Root-knot nematodes (tiny worms), mealy bugs, white flies, thrips, black vine weevils, and sap-sucking scales are pests to keep any eye out for. The pesticide Malathion is effective on many but not all of these gardenia-flower enemies. Once a gardenia flower is infested with root-knot nematodes, for instance, the plant is doomed. The best course of action is to remove and destroy the plant and then sterilise the underlying soil with chemicals or high-temperature steam before trying again to grow gardenias or any other plants.
Gardenia flowers are not only the stars of the garden, but they also make wonderful and fragrant cut flower arrangements for the interior of your home. Gardenia flowers are also often used in corsages and boutonnieres for weddings, dances, Australia Day festivities, and other special occasions. When you want to infuse your outdoor or indoor living area (or your body) with a heady floral aroma, look to the hearty, heat-tolerant gardenia flower.