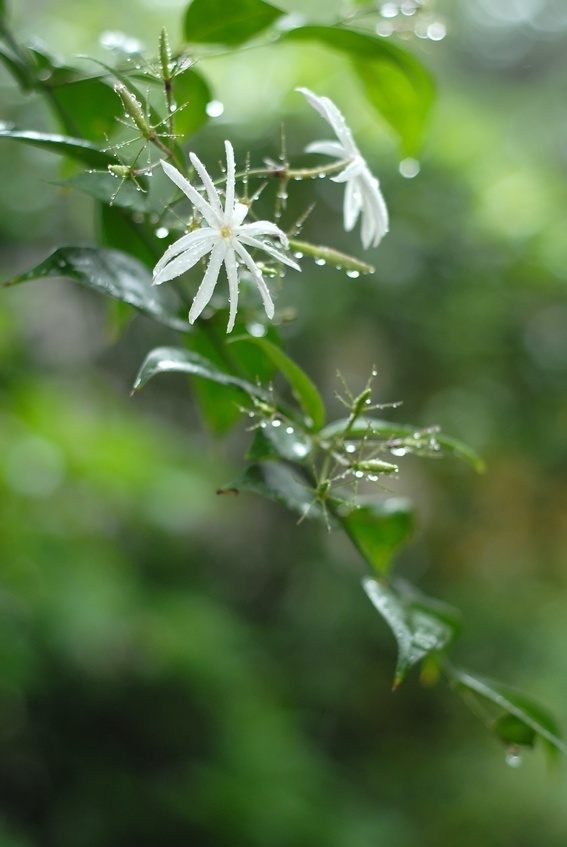 The beautiful jasmine flower can call to mind nostalgic thoughts of perfect summer evenings. Their heady, floral scent hangs in the air on warm nights after those hot summer days, setting the backdrop for a relaxing night. Amateur and professional gardeners alike love adding jasmine to gardens and landscaping.
Jasmine Types
Common jasmine is one of the most fragrant types and is perfect for garden trellises, entryways and arches. They require regular pruning and will bloom throughout the summer and into autumn. Showy jasmine actually isn't all that "showy" but can cover an arbour or trellis. Royal or Catalonian jasmine (also known as Spanish jasmine) has bright white fragrant flowers and an evergreen vine. While these varieties grow into vines, there are also jasmine types that grow as ground cover or shrubbery such as Arabic jasmine, Italian jasmine and non-fragrant winter jasmine.
The warmer the climate and weather conditions, the more fragrant and lush jasmine tends to become. Its scent is often used in perfumes, lotions and other cosmetics. While some jasmine types can grow in temperate zones, they particularly love sub-tropical and tropical climates. Protecting jasmine from cold temperatures is key to keeping them healthy, growing and thriving.
Jasmine vines winding their way over arches, trellises, arbours, fences and other structures can create lovely greenery that offers a halo of perfume over the area. Their flowers are typically white but can be ivory or soft pink as well.
Choosing Jasmine Plants
Common jasmine grows in vines and features bigger, glossier leaves than the Royal variety. While they prefer tropical and sub-tropical regions, they can also live in temperate climates if planted under some shelter. Planting jasmine in the ideal location on a property can add visual appeal as well as a beautiful scent to the grounds.
Jasmine plants do require a certain amount of care, upkeep and effort, but most feel that the beautiful results make them worth the small amount of work required.
Tips for Growing Jasmine Vines
Vining jasmine can grow over 5 metres long and will require some sort of support structure on which to climb and grow. A warm, somewhat sheltered location is ideal. Jasmine prefers moderately fertile, well-draining soil and sun exposure with light shade.
The jasmine plant should be planted at the same level as it was within its nursery pot. Most varieties will come grafted onto common jasmine rootstock due to its ease of care and superior hardiness.
Caring for a planted jasmine vine isn't challenging; however, it does require some upkeep and vigilance. The young vines must be "trained" to grow and weave throughout the structure on which they've been planted. Vining jasmine can be started with plant ties if need be; the important thing is to start weaving them through the structure as soon as the vine is long enough.
Fertilising and Pest Control
Jasmine plants should be fertilised in the springtime before new growth sprouts. Vine tips should be pinched off in the second year of growth in order to promote branching of the vines. Doing so will help the trellis, fence or arbour to fill up with full, vibrant vine growth. The main potential pest of the jasmine vine is the spider mite. Neem oil or horticultural oil can usually take care of these pests.
Care of an Indoor Jasmine Garden
Dwarf jasmine can make for an excellent house plant. This variety of jasmine will require a sunny location near a window, even watering and a bit of humidity (they can be misted in the sun to achieve this). Since potted plants have no access to added soil nutrients, they should be fertilised twice per year. They should be watered at the bottom to avoid leaf spotting. Spider mites are the only potential pest for indoor jasmine.
While dwarf jasmine are easy to manage, vining jasmine can do well indoors as well. Their height, length and growth can be managed with pruning during the dormant season, just as with outdoor jasmine vines. Indoor jasmines will generally flower from the late spring season into early summer. When it comes time to re-pot, try to do so in early spring.
Growing New Jasmine Tip Cuttings
Jasmine can be cut to produce brand new plants suitable for new growth or gift giving. Harvest jasmine cuttings in late spring and dip them into a rooting hormone; plant the new tips in a planting medium like peat, and water often enough to keep it slightly moist.
Jasmine is one of the most beautiful plant accents that can be easily added to a yard or patio. Use these care and cultivation tips to make jasmine a lovely, fragrant part of any garden area or landscaping.