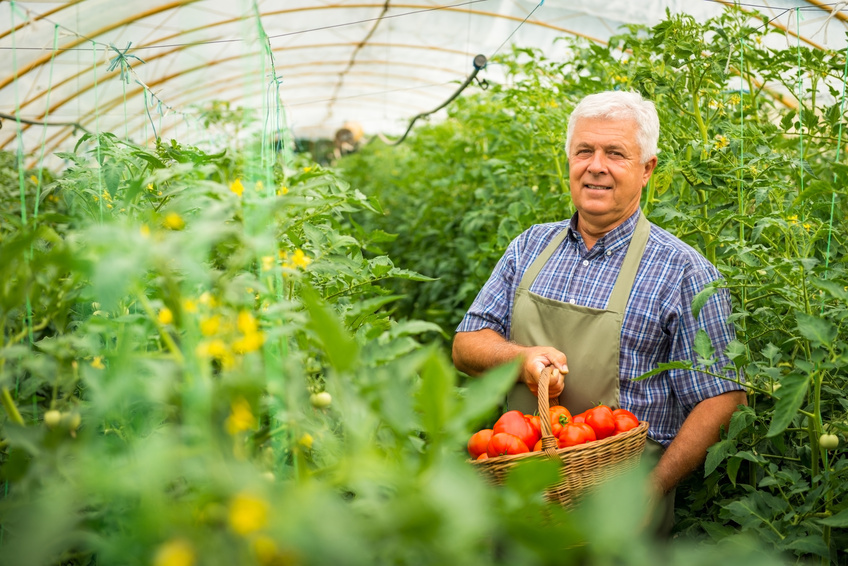 Greenhouses create controlled environments for vegetables and other plants. They keep growing conditions warm and humid, allowing plants such as tomatoes and capsicum to thrive, and also provide plenty of shelter from wind, heavy rains, and garden pests. In colder regions of the country, greenhouses can help extend the growing season well past the summer months; gardeners may even use them to keep year-round vegetable gardens. Growing vegetable plants in greenhouses offers several unique challenges, including space and environmental control.
Choosing a greenhouse
Some important factors to consider when choosing a greenhouse include size and materials. Larger greenhouses give gardeners more space to grow different kids of vegetables, but maintaining growing conditions can be more difficult.
Popular materials for greenhouses include polycarbonate and glass. Polycarbonate is less fragile and more durable, but glass is a natural material, which makes it popular with organic gardeners.
Setting up a greenhouse
Before choosing any plants, gardeners should set up the greenhouse first. Different plants require different lighting conditions, and gardeners may find it easier to work around existing spaces.
Placement
Most plants require lots of sunlight in order to flourish. Therefore, gardeners should place greenhouses in sunnier spaces. The sun can also provide plenty of heat, allowing plants to thrive in the colder months of the year.
Shade
While sun is important for many vegetable plants, summer conditions in Australia can create too much heat for greenhouse gardening. Therefore, gardeners may want to install some kind of shading system to control the heat levels when the weather gets too hot. Basic options can include shade cloths and simple blinds, which can help block out the sun and are generally easy to install. Gardeners can also install thermal screens, which block out both heat and solar radiation, offering additional humidity and temperature control.
Shelving
Adding some type of shelving or staging to a greenhouse allows gardeners to pack in shorter plants such as lettuce and rocket. Greenhouse staging is a method of stacking shelves to create different tiers of plants. Companies such as Sproutwell and Adloheat offer plastic or aluminium shelves, stands, shelves, and staging kits for greenhouses.
Arranging plants
Once the space is set up, gardeners can begin working on creating planting arrangements. Drawing up some basic plans before starting can help maximise planting space. For example, tall and bushy plants such as tomatoes and beans may need more space than smaller plants such as lettuce or carrots, so gardeners should plant them in open areas of the greenhouse.
Companion planting
Companion planting is another factor to consider. Although greenhouses help shelter plants from pests, insects and rodents can still become an issue. To help with this, certain plant combinations can deter pests. Some plants have symbiotic relationships with one another, allowing both plants to thrive.
Watering
Watering is very important for greenhouse growing. Many plants thrive in humidity, but conditions can quickly become dry in the summer. Because greenhouses are sheltered, they do not let in rainwater, so gardeners must install some type of watering system.
Gutter systems
Gutter systems trap rainwater and store it for future use. Gardeners can use the rainwater to water plants instead of tapping into well water or city water supply networks, which helps conserve precious resources.
Irrigation systems
Drip irrigation systems and sprinkler systems can be helpful for watering large greenhouses, as they can supply water to many plants at once. Gardeners can also hook irrigation systems up to tap timers, which is handy for supplying water during work hours.
Maintenance
The warm and humid conditions in greenhouses allow weeds to thrive, so gardeners should pull weeds from beds and pots regularly. Although greenhouses can offer protection from common plant diseases and pests, these conditions can still occur. It is important to treat plants that show signs of fungus or bacteria immediately. If the condition becomes serious, gardeners should remove the affected plants from the greenhouse to keep the infection from spreading.
Fertilising
Fertilisers can help boost the growing conditions inside the greenhouse. Commercial fertilisers and homemade compost fertilisers add important nutrients such as nitrogen, potassium, and phosphorus, which allow plants to grow and thrive.
How to buy greenhouses on eBay
If you want to use a greenhouse to stretch out the gardening season, you can find a large inventory to choose from on eBay. You can find portable greenhouses, greenhouse building kits, cold frames, and supplies for building greenhouses from scratch. Performing a general search for "greenhouse" yields a wide variety of results, or for precise results, search by a specific type of greenhouse. You can then filter down the options by price, condition, and location.