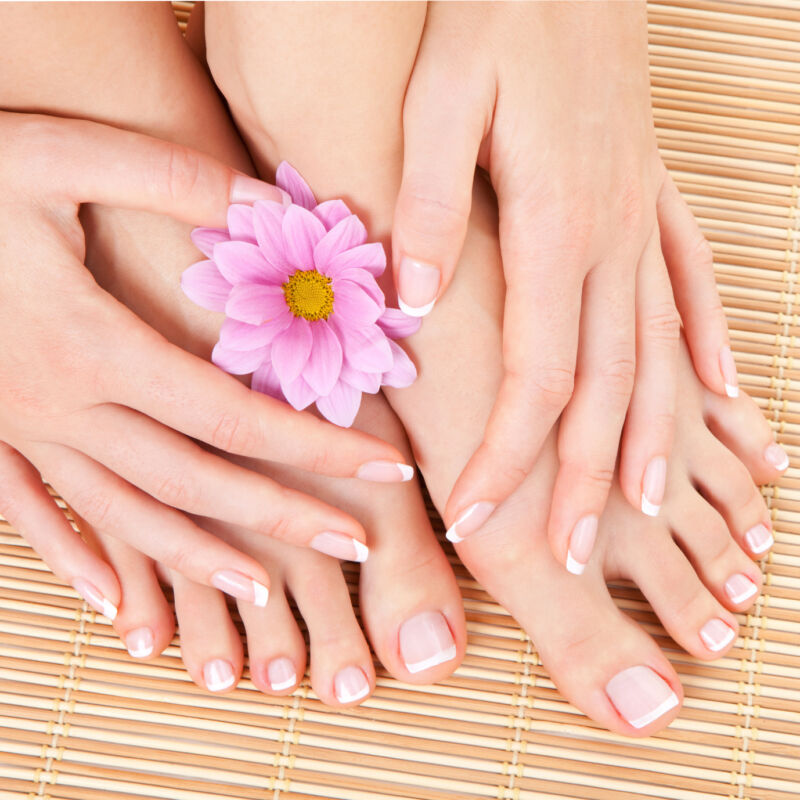 Nails are made up of the same material as horse hoofs: keratin. Some people get lucky and are born with naturally strong nails, but many are not so lucky. Nails can be damaged by perfectly normal activities, like dishing washing or gardening or sun exposure. Nails can also be damaged by chemicals, like the acetone in nail polish remover. Nails are even impacted by diet. Having strong and healthy nails means people need to pay attention to all the factors that affect nail health.
Wear Gloves
When washing dishes or hand washing clothes, gloves should be worn. Prolonged exposure to water softens and weakens nails. It also dries them out, causing splitting and peeling. Gardening gloves should be worn when working outside to protect from dirt and gardening chemicals.

Limit Sun Exposure
Prolonged exposure to sun can also damage nails. When sunscreen is applied, it should be rubbed into the cuticles to protect them and the nails. Also, as people age sun exposure can cause vertical ridges to appear on nails. And it takes months and months for the nails to grow out and the ridges to disappear.

Stay Away from the Nail Salon
As much as most people enjoy the look of newly applied salon nails, the process of rubbing and roughing up the nail surface that the technicians do, can weaken the nail. Also, the nails under the artificial nails can be thinned and damaged. Once someone gets in the habit of artificial nails and and the underlying nail is damaged damaged, it is difficult to contemplate giving them up.

Keep Nails Filed
Nails should be file regularly to prevent tears, chips or cracks. Shorter nails also have less of a chance of getting caught on fabrics and surfaces.
Cuticle Care
Caring for the cuticle is important because the cuticle is where nail growth begins. A damaged cuticle can mean weakened nails and a higher risk of infections.
Massaging cuticle cream or oil into the cuticle on a regular basis keeps each cuticle moisturised and soft. No matter what the salon ladies do, do not cut the cuticle away. Sometime people who have been cutting their cuticles away think that if they stop, the cuticles will keep growing - this is not true. Instead cuticles should be soaked in oil or lotion (warmed if possible for a soothing effect) to soften the cuticles and then gently pushed back with an orange stick;
Not only is using acetone-free nail polish removers important for the actual nail, but acetone nail polish remover also dries out cuticles and can lead to nail damaged from the base.
Better Nails from the Inside Out: Nutrition and Supplements
Nails need nutrients and vitamins just like the rest of your body. Below is information on common nail problems and how they can be solved by changes in diet.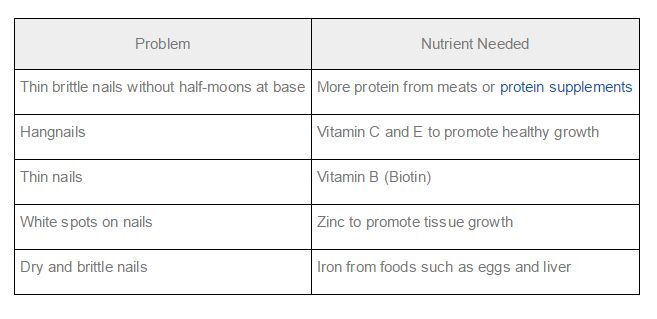 One of the easiest way to nourish your nails is to take a hair, skin and nail supplement.


Use Nail Strengtheners
eBay has a wide range of nail strengtheners. Strengtheners are either nail hardeners or nail hydrators. At the simplest level, nail hardeners put down a protective layer over the top of the nail. They can also strengthen the bonds between keratin molecules inside you nail. This later type of hardener may contain formaldehyde, which can cause allergic reactions, and over time formaldehyde can cause brittle nails. Look forformaldehyde-free formulations.
How to Buy Nail Care Products on eBay
eBay is a great place to shop for all your nail care needs. You can search for specific products (e.g., orange sticks or nail strengthener) or you can search for nail care manicure kits. They shopper should read the listing carefully and be certain that they understand things like shipping costs. The shopper can start a Wish List or Watch list by simply clicking on the tab at the top of the listing. The shopper should always ask questions of the seller if you feel they need more information.
Many sellers, including sellers of health and beauty products, will have eBay stores where a wide range of nail care products can be found. Some will offer free shipping or combined shipping if you buy more than one product from them. And once the buyer has the strong and healthy nails they have always wanted, they should check out nail art kits and show the world their beautiful nails.