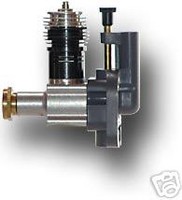 The Cox Sure Start Engine is a nice cheap little model airplane engine. The size is 0.049 cubic inch or 0.819 cc. They are VERY easy to start if you follow the instructions provided by Cox and will usually start 1st, 2nd or 3rd flick from brand new.
Hotting up a Cox Sure Start engine is easy.
Disassemble the engine and remove the backplate/mount.

Remove the needle valve, pull off the black Nylon seal.

Pull the spraybar out of the backplate.

Observe that the venturi is nearly rectangular.

Drill it round, one size drill larger than the current maximum diameter. (ie. 3/16 in or 4.5mm)

Reassemble the spraybar with the vent hole just about 15 degrees downstream of the perpendicular to the flow.

Get a Cox high compression head, or better, a Norvel Freedom plug set, or still much better the Galbreath/Nelson head/plug combo (available on eBay or from Kitting it Together).

You will need 3 to 5 head gaskets to lower the compression ratio with any of these, and the power boost is amazing.

Use a minimum of 15 percent Nitro, up to 30 percent. Be sure you have 20 percent oil, half or more of which is Castor oil.
Happy Flying.
Submitted by: Warren Leadbeatter
Cox 049 Engine Collector and Flyer
eBay ID: warrenlead69