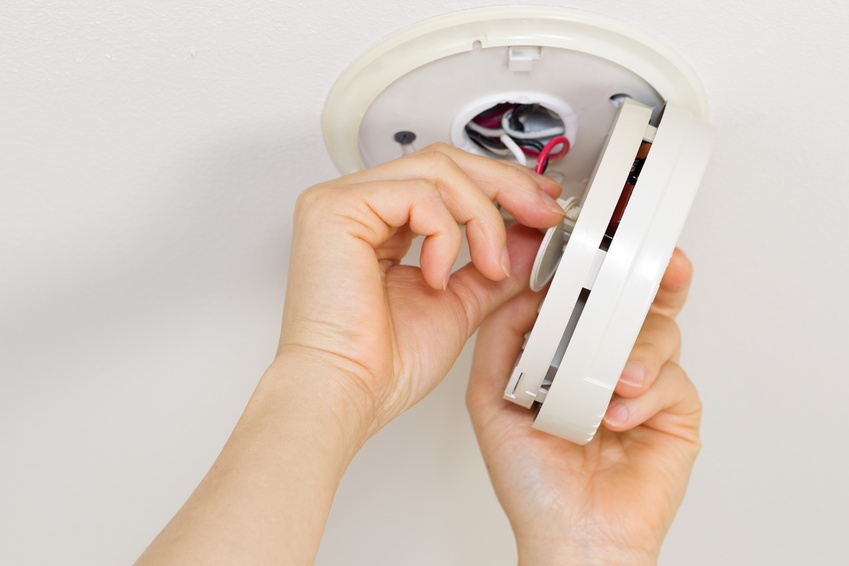 Consumers should prepare for several types of home emergencies. Cyclones and floods are somewhat climate specific, but fires can occur at any time of day or night in any home. In addition to preparing an escape plan, consumers should install quality smoke detectors to keep their families safe from unexpected fires. However, smoke detectors only do their job well when installed correctly. Consumers should follow several easy steps to successfully install the two different types of smoke detectors in their homes.
Types of smoke detectors
Two basic types of smoke detectors are available for installation. Because each technology focuses on different types of fires, consumers should install both types or install dual-sensor devices in recommended areas in their homes.
Ionisation smoke detectors
Ionisation smoke detectors detect fast burning fires with hot flames. These devices contain a radioactive material between two electrically charged plates, which causes the smoke alarm chamber between the two plates to ionise the air and produce a flow of current. When smoke from a fire enters the chamber, it disrupts the flow of ions and reduces the flow of current, causing an alarm to sound.
Photoelectric smoke detectors
Photoelectric smoke detectors are most effective at detecting slow smouldering fires, such as those caused by faulty electrical wiring. These smoke detectors aim a light source into a sensing chamber at an angle away from the sensor. As a result, when smoke enters the chamber, the smoke reflects light onto the sensor and triggers an alarm.
Smoke detector installation process
Consumers can correctly install both types of battery-powered smoke detectors or dual-sensor devices in several easy steps. They have the option of wiring each smoke detector directly to their homes' electrical systems, but unless they have extensive electrical experience, most consumers have to leave those types of installations to professional electricians.
Determine installation locations for smoke detectors
Consumers should start by determining which areas of the home need smoke detectors. To start, they should plan for smoke detectors in every bedroom and in the common areas on each level of their homes. To minimise annoying false alarms, they should install smoke detectors at least 3.3 metres away from kitchen, bathroom, and laundry room doorways. Additionally, consumers should place smoke detectors on ceilings or high on the walls. If installing on ceilings, they should place smoke detectors approximately 10 centimetres away from the walls, and if installing on the walls, they should place the detectors 10 centimetres away from ceilings.
Check for wall studs
Before drilling holes in the desired locations, consumers may want to use stud finders to locate the studs inside their walls. Battery-powered stud finders typically beep when placed flat against the wall on top of a stud. Installing smoke detectors on studs provides more stability for the devices, but most smoke detectors are not very heavy, which means stud installation is not usually mandatory.
Measure and drill holes
After consulting the manufacturers' specific instructions, consumers should measure the distance between the holes on the mounting brackets. They can then drill small holes in the desired installation areas at the same measured distances.
Mount brackets and attach smoke detectors
Using the drilled holes as markers, homeowners should screw the mounting brackets of the smoke detectors onto the walls or ceilings using the provided screws. They should then attach the smoke detector bodies to the mounting brackets screwed into the walls or ceilings.
Test the smoke detectors
After consumers attach the smoke detectors, they should always ensure the mechanisms work properly. This is usually possible by pressing exterior buttons on the detectors to trigger loud beeps. Those who want to perform further testing can purchase aerosol spray cans of smoke detector gas. Consumers simply spray these aerosols in the vicinity of the smoke detectors to ensure the essential functions of the detectors work properly with "smoke" and not just by pressing the test buttons.
How to buy smoke detectors on eBay
Whether you are in the market for a smoke detector replacement or you need to totally outfit a new home with quality fire protection, the sellers on eBay offer a wide array of smoke detectors and related products. You can conduct a general search of available products by typing "smoke detector" into the keyword search box located on any page on the eBay website portal. Protecting your family and your home from a fire is easier with the right equipment properly installed in all the appropriate locations for maximum safety.