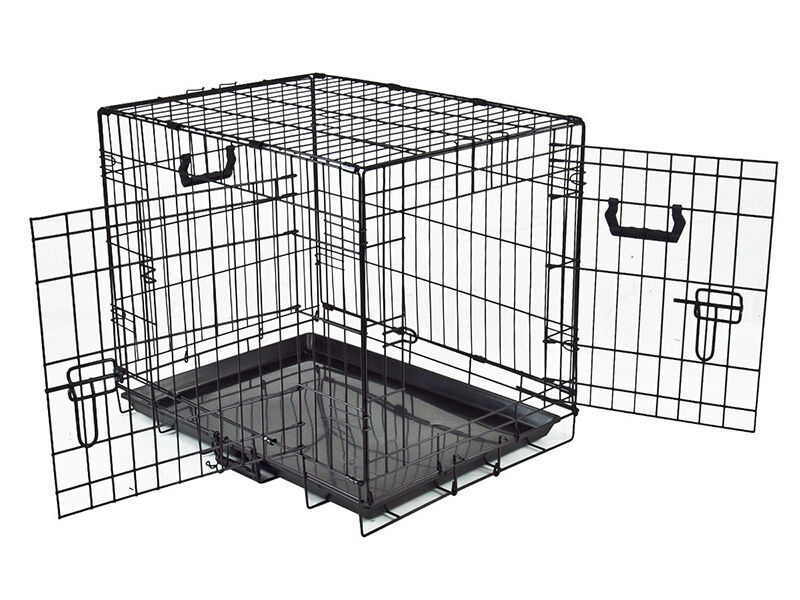 They may be animals, but even four-legged friends sometimes need protection from the elements. A dog kennel can provide protection from wind, rain, and snow, but without insulation it will have a difficult time shielding its furry occupants from heat and cold. Fortunately, pet owners can upgrade a dog kennel by using supplies readily available on eBay.
General Techniques for Insulating a Dog Kennel
While it may be tempting to slap some insulation over the walls of a kennel, the best practice is to cover the insulation with a secondary wall or shell, usually one constructed from plywood or another sturdy but low-profile material. This will protect insulating materials from dogs that chew, and protect those dogs from the danger of ingesting harmful materials.
It can also be a good idea to update the kennel's paint scheme if it is incongruent with the desired insulation. Kennels that are insulated primarily to escape the heat should be re-painted with light colours, while those intended to protect from the cold should be insulated in dark colours.
Consider the Size of the Dog Kennel
The determining factor in choosing an insulating technique will usually be the size of the kennel. Kennels with a very small interior would best benefit from an exterior shell construction or interior fabric hanging. Kennels that are large enough to leave plenty of open space even when occupied may benefit from an interior shell construction to narrow the interior space and reduce its heat loss or heat gain.
Materials to Insulate a Dog Kennel
| Material | Considerations |
| --- | --- |
| Fibreglass or Glass Wool | Standard home insulation is typically fibreglass, but it may not be the best choice for a dog kennel. Its potential hazards in a home are mitigated by its use in out-of-reach spaces, but a dog in a small kennel will have closer proximity to the fibreglass. |
| Other Fibres | Other natural or synthetic fibres can often provide the benefits of fibreglass without the potential hazards involved, and may be a good choice for dog kennels. |
| Hard Foam or Styrofoam | Hard foam can be a good choice for exterior shells, but requires a certain thickness to be effective, making it a poor choice for interior installations. |
| Fabrics | Fabrics should only be used for interior installations, and may be less effective than other alternatives. |
Instructions to Insulate a Dog Kennel
Once a material has been chosen, it's time to perform the installation.
Interior Shell Construction
Carefully measure the dimensions of the bare interior surfaces.
Cut the chosen insulation material to the specified dimensions.
Secure the insulation to the walls with glue or nails. Hard foams will typically self-support and require few points of adhesion, but fibre options should be firmly secured at multiple points to prevent sagging.
Now measure the interior of the structure with its new insulation-filled dimensions.
Cut plywood or the chosen shell material to the specified dimensions.
Install the plywood piece by piece, securing it with long nails, screws, or glue. If it's difficult to secure the shell to the original wall through the insulation, it can be secured to itself as well to provide additional stability.
Exterior Shell Construction
Exterior shells should follow the same general procedure as interior shells, with dimensions measured twice (bare surface, then with insulation applied) and all pieces cut to size. If nails or screws are used to secure the installation, be sure that no sharp points intrude inside the kennel.
Floor Shell Construction
Floor shells can be constructed using the same techniques as interior/exterior shells. Consider raising the kennel onto a wooden pallet, or constructing a rudimentary wooden frame underneath it. The gap between the original floor and the ground can then be used to hold the actual insulation.
Hanging Fabric to Insulate a Dog Kennel
Secure carpet remnants or the chosen fabric to the interior surfaces with nails, screws, or strong adhesives. Installation of fabric should only be used for dogs with no history of chewing, as ingesting large quantities of fabric or thread can be harmful.
Buying Materials to Insulate a Dog Kennel on eBay
Materials for insulating a dog kennel can be found in the Home & Garden or Industrial categories on eBay. Select one of those categories, then enter search terms related to the desired product. Results can be narrowed by a variety of specifications via the left-hand menu. Always review a seller's rating, history, and shipping and return policies before completing a purchase.
Conclusion
With a bit of effort and planning, any pet parent can improve a dog's ability to comfortably reside in inclement weather by insulating their kennel. With materials and tools readily available on eBay, this DIY project can be easily accomplished in the space of a single afternoon.