Wrap your style in a wrap dress
American classic, comfortable and chic!
Generations of women have Diane von Furstenberg to thank for creating the ever popular wrap dress in 1974.
From petite to plus sizes, wrap dresses suit every woman on the planet.
Designed to disguise any terrifying truth that lies beneath, this awesome frock comes in multiple textured stretch fabrics including various sleeve, hem and neckline lengths. It's easy to find a wrap dress for every occasion in any shape or size.
Discover exotic prints, luxe silken jerseys, knitted fabrics and plush velvets.
Celebrities and fashion icons worldwide from Michelle Obama to Kate Middleton embrace the concept of the wrap dress and so can you.
From desk to dinner, weddings, a red carpet event or simply off to collect the children, the wrap dress is simple, fashion perfection, providing comfort and style in a shapely silhouette.
You can't ask for more than that.
Thank you for everything Dianne!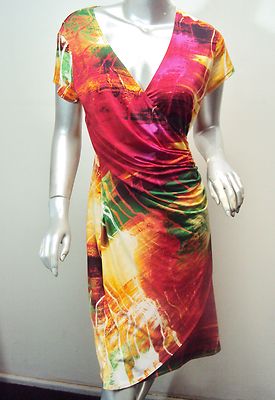 There is no right or wrong with this easy fit dress. Adapt your look, minimising body issues using different fabrics and textures. Vary neckline shapes or sleeve and hem lengths. It's all about deceiving the eye line to look and feel sensational.
Diane Von Furstenberg did womankind a great service when she created the wrap dress. Comfortable as dressing gown , yet sleek and sexy , forgiving yet flattering, this uber chic dress, worn with boots, flats or heels is a statement of our times and a must have in any wardrobe.
Body issue solutions from petite to plus size
Handy hints for creating a chic shape in a wrap dress.

1: Petit: Avoid large prints. Choose monotones or simple feature printed trims for a bright Spring/Summer look.
2: Large bust: V-shaped necklines draw the eye down creating a longer vertical line detracting from a larger bust. A halter neck can work well as the angle can be flattering provided your shoulders are not too broad.
3: Undefined Waist: Printed trim or accent features on waistbands provide shape by creating the illusion of a cinched waist.
4: Arm Hate: Avoid sleeveless styles. Choose your sleeve length according to bust size and body shape. For a larger bust select a ¾ or long sleeve, or team with a wrap around pashmina style garment for evening looks.
5: Plus Sizes: Wear a V-shaped neckline. Combine with an on, or just below knee hemline to create long lines.
6:Tummy Troubles: Ruched waistlines are a great disguise. This is my personal problem and it works a treat every time. Good for big dinners too.