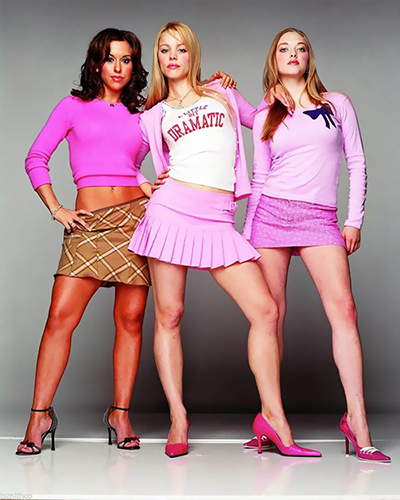 Every teenage girl in the early 21st century must be familiar with the name Regina George. Played by actress Rachel McAdams, George is the main antagonist in the hit 2004 teen comedy movie 'Mean Girls'. She is the leader of the Plastics, a clique of fashionable high school girls composed of herself, Gretchen Wieners, Karen Smith, and the movie's protagonist, Cady Heron. As the evil queen bee of North Shore High School, George is perhaps one of the most memorable villains in teen movie history that everyone loves to hate.
Look Like Regina George
After 'Mean Girls' aired, a lot of people wanted to be just like George, at least in terms of her style and looks. Regina George's makeup is not that hard to mimic as she often lets her light makeup showcase her natural beauty.
For her everyday look, George does not wear a lot of heavy makeup and instead focuses on soft pinkish tones. However, her makeup in social events is heavier and darker, such as in the Halloween party in the movie, where she sported smoky eyes. The way that she wears her hair is also not complicated, as it is often long and straight without any accessories.
Dress Like Regina George
Just like any queen bee, George has defined her own clothing style that showcases her fashion sense, making her a trendsetter in her school. She can turn the even the worst wardrobe malfunctions into a fashion trend, quickly followed by everyone the next school day.
Basically, George wears a lot of pink, red, and white clothes, although she sometimes also wears a dash of purple. She also wears a few neutral colours to show her maturity. George likes wearing tight and fitted tops matched with short skirts. To neutralise her sexy skirts, she seldom wears very low-cut tops.
Coordinated Outfits
George and the rest of The Plastics wear coordinated outfits, as they created rules amongst themselves on what to wear on certain days of the week. For instance, they avoid wearing tank tops two days in a row. These tank tops are often partnered with coloured cardigans and sweaters, and The Plastics certainly have lots of them. They are also allowed to wear their hair in a ponytail only once a week and during sports or gym class.
The Plastics should also wear pink on Wednesdays, as it is their signature colour. However, it should be matched with neutral colours and accessories to avoid looking like little kids playing dress-up. As for tracksuits and blue jeans, they are only allowed during Fridays. The rest of the week should always be skirt days.
Act Like Regina George
Acting like Regina George does not happen overnight. In fact, it takes the right kind of attitude and charm to become the queen bee that everyone hates but cannot help to idolise as well. George acts nicely only to a select circle of people whom she thinks are worthy of her praise, thus making everyone crave for her approval and attention. In fact, he classmates would readily give up some of their things for her if she asks for it. No matter how mean George is, her classmates treasure every bit of approval that they get from her.
George also knows how to fire back when she is being insulted, but she does this in a subtle way that will make her opponent think that perhaps, she committed the mistake, not George. Since she is also very beautiful, a lot of boys fall for her especially when George starts flattering them with her compliments. She can even manipulate her teachers into thinking that she is a well-behaved student, making it difficult for her teachers to penalise her for her wrongdoings.
How to Buy Regina George Inspired Items on eBay
If you want to buy Regina George-inspired clothes, accessories, and other items on eBay, you can start by looking for a copy of the 'Mean Girls' DVD. Simply search for the title of the movie on eBay, along with DVDs and Blu-ray discs. You can also find books and magazines about mean girls in general brought to you by various sellers found on eBay.