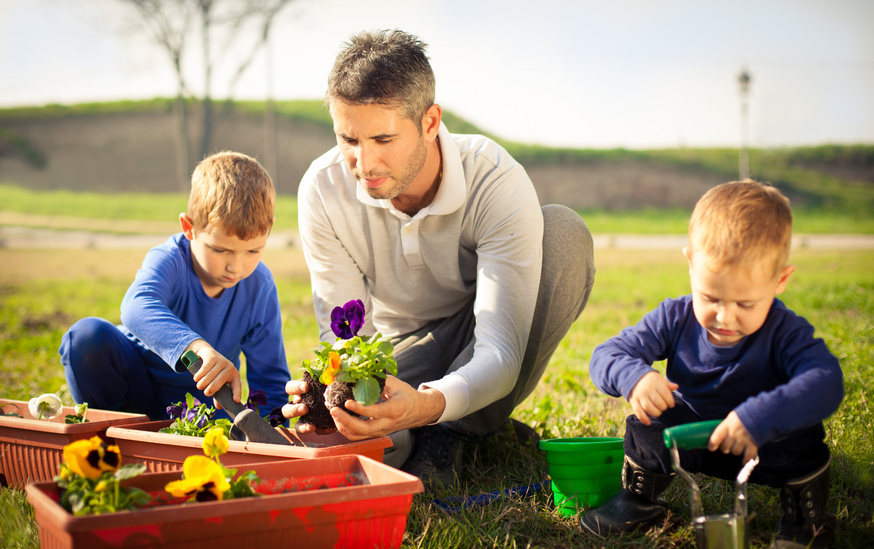 All gardens, no matter how large or small, need maintenance during the year. Australia has eight different climate zones and domestic gardens vary from sustainable and water-wise to tropical and lush, but they all need to be cared for to look their best. Maintaining a garden involves tasks such as pruning, mowing and raking, and tools also need to be attended to so they are effective each time they are used.
Garden Seasons
One of the easiest ways of maintaining a garden is to allocate certain tasks to various times of the year, ensuring that once-a-year chores as well as weekly or monthly jobs are not forgotten.
Spring Garden Maintenance
Spring is the time of year when plants begin to shoot and sprout, and it's a good period for feeding plants and removing weeds before they get a hold. Fertilisers range from slow-release pellets to organic compost, but a rule of thumb is that plants need to be watered after they are fed.
Lawns always need attention in the spring, and should be raked to get rid of dead grass, replanted in areas where growth is sparse, and fertilised. Before planting a new lawn, particularly in sandy areas, it's often a good idea to treat the soil with a wetting agent, which helps the ground to absorb water.
This is the stage for some pruning: plants that are frost damaged, have dead branches or are blooming very early should be cut back as this encourages new growth. As spring progresses, dead flowers have to be removed from annuals, shrubs and perennials so that they will continue to bloom vigorously.
Garden beds and soil around trees benefit greatly from a 5-cm layer of organic mulch. This helps to prevent regrowth of weeds and keeps the soil moist for longer.
Container plants may have grown too big for their pots and become root-bound, so repot these, purchasing potting soil and bigger vessels when necessary. Water gardens need to be cleaned out and water plants pruned or replaced.
Garden furniture is often part of a garden landscape and that too must be checked to see if it needs to be cleaned, repaired, painted or, in the case of wooden furniture, oiled. Barbecue equipment should be cleaned so it's ready for summer use.
Summer Garden Maintenance
Summer is the time when, no matter where in Australia the garden is located, water conservation is a priority and growing native plants decreases water usage. Use of wetting agents, mulch and organic fertilisers should continue all through summer, no matter how much or little rain is received, as this helps ensure that plants stay well nourished.
Lawn maintenance is vital during the hot months, as grass thrives in sun and rain. Mowing should be done at least once a week in areas where growth is fast, and the cutting height should not be too short, since longer grass survives better in hot conditions. Weeds need to be plucked out by the roots as soon as they appear. It's often a good idea to aerate the soil under lawns with a large garden fork, as this helps water soak down to root level.
Garden pests abound during summer and they should be controlled, preferably with organic products. Poisons put down to kill pests travel through the food chain, so it's imperative that pest repellents are chosen with care.
Delicate plants may need shading from the fierce sun, and shade canopies, small plant umbrellas or shade cloth are ideal to protect them. Plants in general should be dead-headed once their flowers are past their best, and light pruning undertaken where necessary, especially on hedges and shrubs.
Autumn and Winter Garden Maintenance
Autumn maintenance involves getting the garden ready for winter, which is usually a quiet season. During these two seasons there are probably plenty of leaves and twigs to rake up, which can be put to use as the basis for a compost heap or bin for feeding plants during summer, while winter is the time for undertaking projects that have been put off during the rest of the year.
Other tasks include pruning summer flowering hedges, aerating the lawn, removing weeds and lightly dosing with fertiliser.
Now is the time to divide evergreen perennials, and they must be lifted out of the soil, separated at the roots and replanted into well fertilised, worked-over ground.
Tools for Garden Maintenance
The basic equipment needed for garden maintenance includes:
Shovels
Hoes
Rakes
Water hoses
Axes
Pruning tools
Tools that are not cleaned can potentially spread plants diseases, so they should be washed in warm, soapy water after each use, dried with a clean cloth and oiled to prevent rust. Small pruning tools, such as secateurs, need cutting edges maintained with a sharpening tool that has a fine grain; this is also suitable for spades, hedge trimmers and hoes. Axes can be sharpened with a bench grinder. Wooden handles on garden tools can be sanded and rubbed with turpentine and linseed oil.
Keeping a garden well maintained gives owners a gorgeous place to relax, entertain, have fun and work hard.