It is easy and fine to make European Lariat Bracelets. Now, you can refer to the following pictures and steps to start your own one.
Products needed for this design: One
European Lariat
,
European Beads
,
Clip-on Charms
Beading Steps
: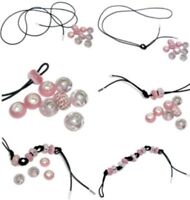 1. Double the lariat in 1/2 to form a loop at one end.
2. Thread the loop through two European Beads.
3. Thread the Bead towards the end of the bracelet, leave an open loop at one end.
4. Tie a knot, one of either side of the beads. Thread another beads, tie another knot.
5. Continue this sequence to add as many beads as you like.
6. Tie a knot behind the last beads (so that every two beads have one knot on either side of each two beads)
Knotting Steps
: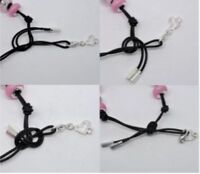 1. Clasp your favorite Clip-on Charms on the loop end.
2. Thread the metal ends through the loop at the opposite end.
3. Tie a knot at the end to fasten the bracelet in place. (It's best not to tie the knots firmly, but not too tight.)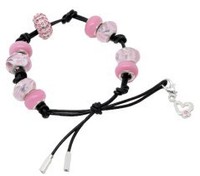 Ok! Your European Lariats bracelets will look like this, unlike traditional bracelets that use a clasp to fasten the bracelet in place, with European Lariats you tie knots in the Lariat to secure the charms and beads in place.
Kind Note: Knot Tightness
It's important to tie the knots firmly, to secure the knots in place so that the Lariat won't come loose, nor the charms / Beads come loose. However, you will need to be able to untie the knots in the future, to remove the Lariat from your wrist, and also to change the design of your Lariat. So when you tie your knots, check them to make sure they are secure, but don't tighten them so much that it makes undoing the knots too difficult.