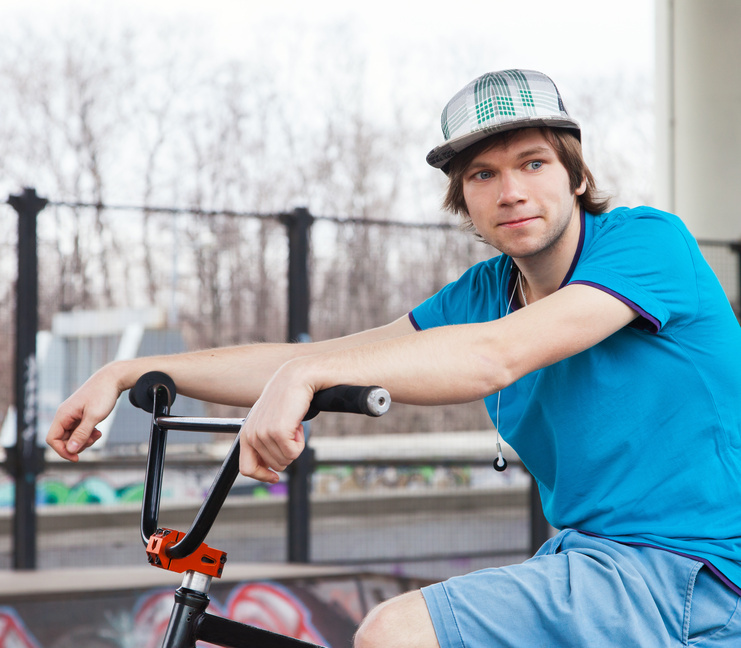 A lighter BMX bike is easier to manipulate over skate park elements such as half-pipes and pyramids, and less unwieldy to a rider when doing tricks. There are many ways to make a BMX bike lighter, ranging from simple and straightforward part removals and replacements, to complex solutions that require advanced tools. Always remember when lightening a BMX bike that the goal is to reduce weight without sacrificing the bike's structural integrity.
Easy Methods to Make a BMX Bike Lighter
These methods require few or no tools, and are easy to accomplish in just a few minutes. In some cases, they may require the purchase of replacement parts with less weight.
Removing or Replacing Metal Parts
The first step to making a BMX bike lighter should be to simply remove unnecessary parts from the bike. Chain guards, reflectors, and front wheel brake clamps are good examples for items that bike owners can remove. Next, replace heavy metal parts with titanium or plastic alternatives. Pedals, pegs, and seats are common metal parts that bikers can switch out for lighter versions. Below is a chart describing the materials you can purchase replacement parts in which are likely to be much lighter than standard stock.
| | |
| --- | --- |
| Material | Description |
| Aluminium | Still relatively heavy, but lighter than steel parts |
| Plastic | Much lighter than aluminium, but may break or warp under strain |
| Titanium | Approximately as light as plastic, with none of the resiliency drawbacks |
| Carbon Fibre | One of the lightest options available, but prohibitively expensive |
It is important to keep changes within an optimum range of affordability and effectiveness when switching out parts. Always ensure the compatibility of replacement parts with a bike before making a purchase.
Removing or Replacing Wheel Parts
The quickest wheel fix to reduce weight is simply to purchase a wheel with less spokes. Most off the shelf BMX bikes feature wheels with 48 spokes that consumers can replace with 36 spoke wheels. Also, replace steel bead tyres with kevlar or nylon tyres, and swap out thick tyre tubes with thinner options. While this may mean replacing tyres and tubes more frequently, all together swapping tyres and tubes can save substantially on weight.
Advanced Methods to Make a BMX Bike Lighter
These methods require specialised tools, such as drills, saws, and some basic knowledge of safe metalworking practices. When drilling or sawing on parts, owners should always make sure to secure the parts in a clamp.
Sawing Off Excess Weight
One surefire way to lighten a BMX bike is to saw off excess metal weight. The seat of most bikes sits mounted atop a long metal bar, which offers various height options suited to different riders. After establishing the optimum placement, simply saw off the excess length of the saddle bar. Sawing off steering tubes, brake posts, and cable guides are a great way to reduce weight fast.
Drilling Holes in the Frame
One of the most advanced techniques to lighten a BMX bike is to drill holes in the frame. This is especially helpful if the frame is steel or aluminium, where the drilled areas can cumulatively add up to a great deal of weight. Select spots to drill which are well away from joints or points of pressure, and space holes by at least 3 cm. Beneath the handlebar grips is a good example of an ideal place to drill.
How to Buy BMX Bike Parts on eBay
BMX bike parts are easy to find on eBay, which offers many tools to refine general searches so that you find the lightest bike parts at the lowest price. For example, searching 'titanium bike part' or '36 spoke bike wheel' can yield results specific to those searches, helping you to find exactly what you need for your bike. With just a little investment of time, shoppers can find the right parts to lighten a BMX bike for a bargain.