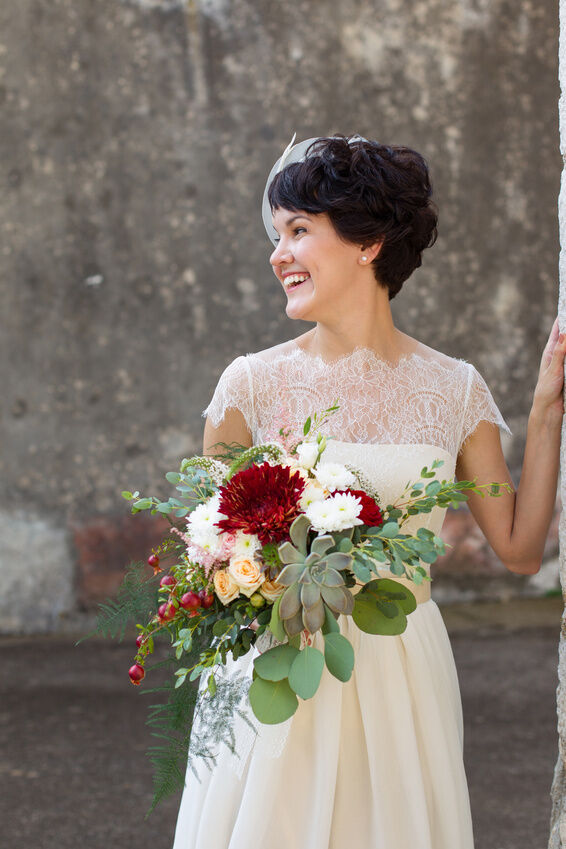 Succulent plants are hardy and low maintenance, with thick, fleshy parts that retain water. They are good plants for arid areas and have leaves in a variety of shapes and colours. Many gardeners love succulents because they pair well with flowers, so these plants are novel alternatives to traditional blooms and foliage in floral arrangements. Creating succulent bouquets for weddings and other events is easy to do with some basic supplies. The result is a beautiful bouquet that can last for weeks.
Gather the supplies
Before assembling the succulents into a bouquet, the first step is to gather the necessary materials needed to design the arrangement. The basic supplies include:
About 20 small succulents
Floral tape
20-gauge floral wire
Scissors
Bucket of water
Filler plants and flowers
There are a wide variety of succulent plants available in a range of colours, textures, and leaf shapes. Gathering succulents in a variety of sizes creates a visually interesting bouquet, but a uniform selection is a subtle alternative. Succulent plants that make lively additions to bouquets include Crassula compacta, Aloe "Black Gem", Echeveria "Afterglow", Haworthia obtusa var. pilifera, and Pachyveria "Cornelius".
Prepare the succulents
Begin by gently removing each succulent plant from its pot. Doing this outdoors and then carrying the plants inside to the work area prevents a mess. It is also a good idea to carry out this step over a rubbish bin or container to catch the loose soil, especially if gardeners plan to save it to reuse for other plants.
Wash the succulents
Discard excess soil by plucking it from the roots gently. Next, cut back the roots and wash the rest of the soil off using a bucket of water to get the succulents as clean as possible. Save the cut roots and replant them later to grow more succulents in the home or garden.
Create sturdy stems
To create a succulent bouquet, each plant must have a sturdy stem. Begin by cutting about 15 centimetres of floral wire, poke it through the highest point on each succulent stalk, and thread it through before pulling both ends down to make a longer stem. If necessary, twist the wire a few times to make a sturdier stalk.
When using thinner floral wire, wrap it around a floral stick or chopstick as a base. Covering the wire stem in floral tape gives it a subtle look and makes it much sturdier. Repeat this step for each succulent until every plant has a long stalk.
Wrap the stems in ribbon
Wrapping the stems in ribbon adds a decorative touch. If the succulent bouquet is for an event or party, choose ribbon in a colour that matches the theme. Otherwise, a simple green ribbon keeps the succulents looking elegant and natural.
Arrange the succulent bouquet
After each succulent plant has a stem, it is time to arrange the bouquet. Assemble the plants in a visually appealing way by alternating different types of succulents to add variety. Add colourful flowers to the bouquet to make it more aesthetically pleasing.
Bundle the bouquet with floral tape and ribbon
When the arrangement is complete, hold all of the stems at the top, just below the heads of the succulents and flowers. Wrap them tightly with floral tape to hold the bouquet together. Adding a bulkier ribbon around the stems and tying a bow creates a pretty, finished look, and hides the floral tape that keeps the bouquet in place. Finally, present the bouquet to a bride as an alternative to a traditional wedding bouquet, or place it in an ornamental vase or other decorative container.
Maintain the succulent bouquet
Succulents regrow their roots after about three or four weeks. This means that it is possible to remove them from the bouquet and replant them after the wedding or another event, unlike traditional flowers that wither. This makes succulent bouquets a more environmentally friendly choice that provides years of enjoyment.
How to buy succulent bouquet supplies on eBay
Finding just the right supplies to make the perfect succulent bouquet is easy to do on eBay. You can browse a wide variety of options from various sellers on the site by conducting a simple search. Use the search box on any page to look for items such as "floral wire" and "succulent plants". Contact sellers directly to ask any questions you may have before you buy your materials. When your supplies arrive, you can create a beautiful succulent bouquet for your special event.