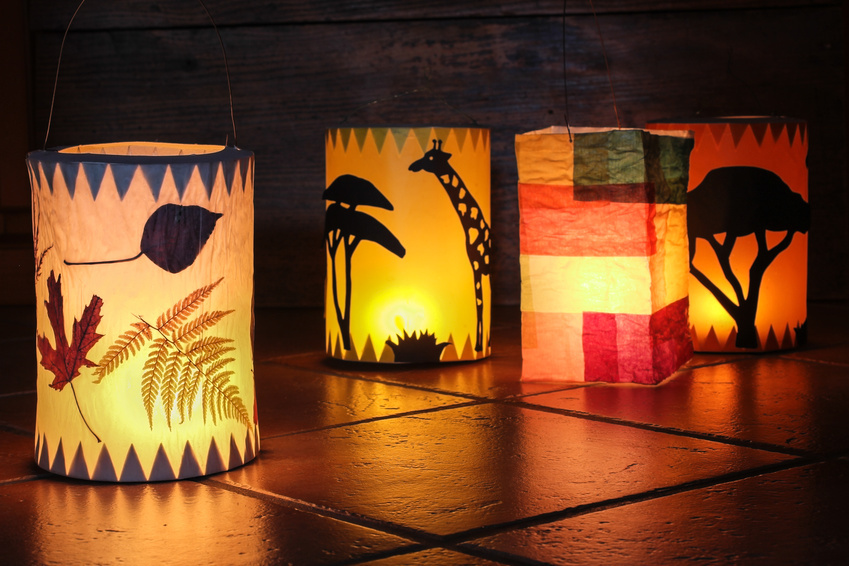 Whether it's for adults or children, a night light is a great way to make a bedroom feel cosy and safe at night. Though there are many great pre-made lights available, making one at home is a great crafts project and allows the maker to design it in their own unique way.
Considerations
If using a conventional light system, the placement of the night light depends on the location of electrical outlets in the room. Some are plugged in at ground level, while others can be wired up to a higher position. The location of the light should influence its design. It is more common for ground level lights to have a simpler design as they are less likely to be on display. More adventurous night light designs should be higher up the wall, and will function as a decorative display as well as a light. A night light should not replace the room's main light, or be used during the day.
Safety
It is vitally important that the night light be safe. Bulbs can get very hot and represent a major fire hazard. The bulbs should not be touching any other materials, especially paper. Don't group too many lights together and make sure there is a fire alarm nearby should anything go wrong.
Required Parts
The most essential part of a DIY night light is, naturally, the lights. The most common method is buying night light bulbs, which are energy efficient and dimmer than regular bulbs. Another popular method is to buy remote controlled LED lights; these allow for more interesting designs as they can be used away from electrical lights. However, they also give off less light so the materials of the design must compliment the brightness (such as water or paper lanterns). The other required parts will depend on the specific design of the night light.
Designs
There are many ways to design a nightlight, making it a great opportunity to get creative. The beauty of night light displays are that just about any design will function as a night light, providing the light can be placed safely inside and the materials are thin and light enough to let the light through. Have a look at some of the most interesting night light designs online.
If the night light is being made for a child, let the design reflect some of their interests. For example, a series of small night lights based on a starry night sky would appeal to a child passionate about space; this can be easily made with some fishing wire, several star shaped paper lanterns, and remote controlled LED lights. A related and popular night light design is the cloudy sky. This is made by gluing pillow filler to the outside of a paper lantern, placing the LED light bulb inside of it, and hanging it from the ceiling using fishing wire. This works especially well in blue rooms.
Conclusion
A night light for a room - or rooms - can bring the whole family together for an afternoon of arts and crafts. Adults should speak to their children about which designs they would like in their room, and include them in the making process.