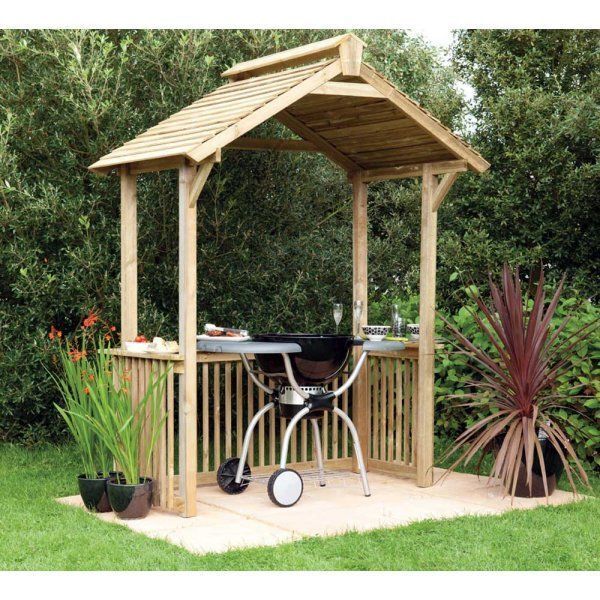 One of the fun parts of owning a home is decorating and designing. That goes for interior decorations and designing outdoor spaces as well. When it comes to barbequing, the space around the majestic machine is important for setting tone and theme as well as making guests and family want to stay for second rounds. Just as BBQs come in many styles and designs, so do the options for decorating around them. Homeowners can create entire shelters or purchase previously made kits and add accessories such as outdoor tables and chairs, pergolas, umbrellas, and more.
Design Options
This is the time to be as creative or conservative as desired. Homeowners may put minimal effort into creating a surrounding scene for a BBQ or go all out and perform an outdoor makeover. For a simple shelter, adding a pergola or gazebo is a popular option. Some come preassembled and are available as kits that require simple and minimal construction. Pergolas come in a variety of materials, including wood, faux timber, metal, and more. They vary in price and size, with larger pergolas and those made of higher-quality materials typically cost more. Some pergolas have full-cover overhead roofs, offering shady protection from the sun, while others feature part-sun roofs or have open tops.
Existing Structures
BBQs also fit nicely under existing structures, such as covered outdoor patios and pool areas. This placement lets homeowners enhance the scene by adding tables, chairs, and small decorative accessories such as potted plants and flowers to create a cost-effective setting. As with having pergolas, it is important to make sure that BBQs placed under existing roofs have plenty of lighting overhead and ventilation; this comes in the form of large fans or hoods. Having surrounding lights provides the added benefit of letting homeowners extend outdoor entertaining hours well into the evening.
BBQ Shelters
BBQ shelters vary in size too, ranging from small and compact, which are ideal for adding to apartments and tight spaces, to expansive areas such as in backyards of large estates. Generally, the larger shelters require more investment in time and money to create but look most impressive when complete.
Common Themes
Homeowners often follow themes for creating and designing BBQ shelters. Common choices include contemporary, eclectic, modern, traditional, and Asian. These themes have overlapping components, such as the BBQ and basic accessories such as lighting and ventilation hoods, but vary in decor and ambiance.
Theme

Decorating Ideas

Contemporary

Charcoal pebble tile

Woven baskets as accessories

Bamboo fencing

Eclectic

Glass table

Stainless steel BBQ

Place small metal sculptures around the area

Add small with animal prints and contemporary patterns to table chairs

Place destination-themed paintings on the walls of surrounding structures

Traditional

Enclose BBQ in a stone wall

Surround the area with soft lights, mounted to walls or attached to lampposts

Place potted plants around the patio or BBQ space

Asian

Use porcelain garden stools around the table, chairs, and yard area

Add small Japanese or Asian statues

Place contemporary futons and lounge chairs around the yard around the shelter

Accent the surrounding space with bamboo, potted in plants or arranged in a garden
As with other aspects of home decorating, creating a BBQ theme can be expensive. Using existing pots for plants might save some money, as can refurbishing furniture and bringing indoor lighting and accessories outdoors. Sometimes, homeowners can find items sold in bulk or wholesale, which helps save on cost too.
How to Buy BBQ Shelter Accessories on eBay
Building a BBQ shelter might seem time-consuming when considering all the components required to create a proper scene or space. Using eBay can make your search for the requisite equipment, accessories, and even a BBQ much easier. To search for a BBQ, for instance, simply start at the eBay landing page, and type the phrase 'BBQ' into the keyword search box. Then, you will see a list of options on the left-hand column, which help further refine the search. You might narrow your choice by colour, brand, or other mechanism.