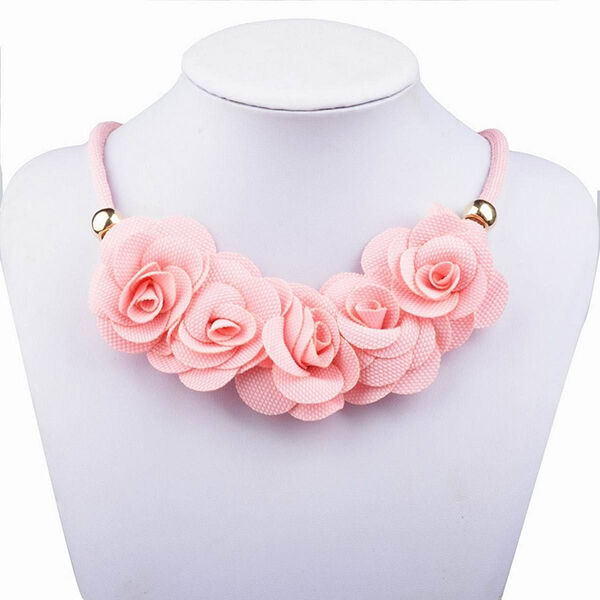 Fabric-covered necklace is an easy, inexpensive project and a classic accessory. Fashion designers such as Louis Vuitton feature these types of necklaces made from Liberty of London printed cottons, but crafters can learn how to make one that is unique and much cheaper. It sounds complicated but this is a simple project that does not require sewing, just an adventurous spirit and a creative mind. Any vintage fabric or unused material from a closet will work and the other materials are easy to find online. Individuals can learn what fabric to choose, how to buy materials such as glue and wooden beads, and how to put it all together to make a beautiful necklace.
Fabric Bead Making Basics
Lightweight cottons work well for this jewellery project because the texture is easy to glue onto wooden beads. However, other types of fabric can be used for this project. Crafters can use fabric from old T-shirts, vintage clothing, or ties. Lightweight cotton, statin, linen, and canvas are all great options for fabrics to use for this project. Satin is thin, so it is important not to use too much glue because it may soak through. Crafters should only put on a thin layer of glue that is just enough to secure it to the bead.
How to Find Vintage Fabric
Vintage fabric works well for this project because of its classic look and high quality. Ties, T-shirts, and fabric scraps are cheap and easy to find. Shoppers can check out these places for vintage fabrics including thrift stores, eBay, and estate sales.
Materials
The fabric chosen is the key to producing a quality necklace. Crafters can choose the perfect fabric and then apply glue. Individuals should keep in mind that a glue gun works best. Wooden beads are also inexpensive and come in a large bag, so designers can easily make more than one necklace.
Fabric: For wooden beads, the fabric should be about 1 inch by 3 or 4 inches.
Wooden beads: Make sure these have holes in them so the fabric is glued proportionately around the circumference.
Knitting needle: Use this needle to glue the fabric into the hole in the wooden bead.
Fabric scissors: These special scissors work great with fabric.
Toggle closure (optional)
Instructions
For this project, a glue gun is paramount. It works better than any other kind of glue. The fabric-covered bead necklace is simple to make, especially with a clean, uncluttered working space.
Cut fabric into 1 inch by 3 or 4 inch pieces.
Set wooden bead onto the centre of the fabric piece. Put glue around the edges of the fabric.
Wrap under the edge of the fabric and glue onto the bead.
Take the knitting needle and use it to press the remainder of fabric into the hole.
Cut a piece of fabric to the desired length of necklace.
Place finished bead onto end of necklace with ten inches free for closure, then tie a knot.
Repeat steps 1 through 6 until the necklace is finished. Then thread on a toggle closure or simply tie in a knot.
How to Buy Materials on eBay
If you need inspiration, you can look at what other designers are making by browsing the fabric-covered bead necklace selections on eBay. You can search for different types of fabrics including cotton and prints. Also look for vintage fabric if you want an antique, Boho look. Shoppers should take note of what size glue sticks it requires and purchase those, as well. Fabric scissors are important as regular scissors do not work well on fabric. Wooden beads, found in the woodcrafts section, come in a large bag so there are plenty if you want to make more than one necklace.