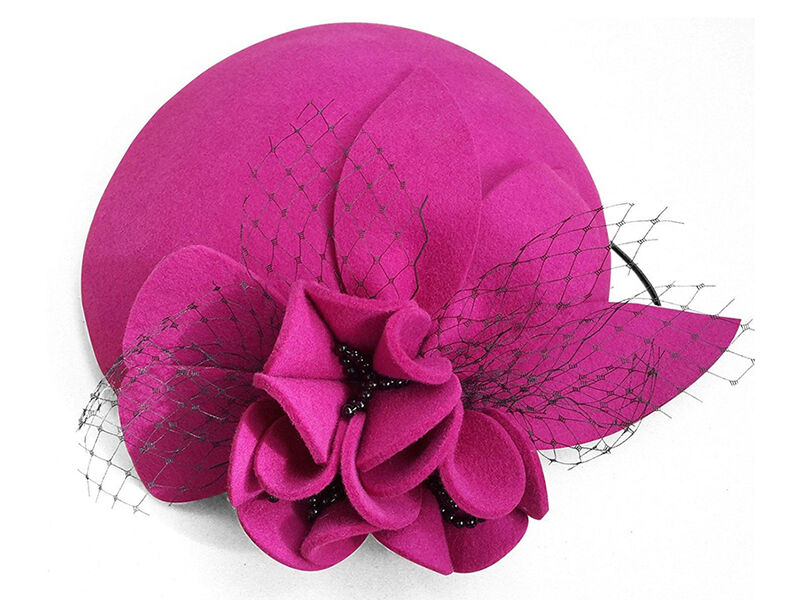 Fascinators add flare to a wide variety of outfits. Women can wear them with alternative rockabilly looks and semi-formal ensembles at an afternoon wedding. These elaborate hair decorations are popular with royalty, making them a mainstay at racecourses and society events. Women who do not want to pay out their hard earned dollars for a designer fascinator can make unique hairpieces. This is a quick and easy project that takes only an hour or two to complete.
Fascinator materials
Hair combs and Alice bands both make great bases for fascinators. Other essential supplies include a piece of felt or base disc, glue gun and glue, gem glue, needle and thread, tape measure, and a pair of sewing scissors. Decorative materials offer a little bit more flexibility. It is easy to be creative with ribbons, lace, feathers, fabric flowers, tulle, beads, and rhinestones.
Preparation for making a fascinator
Although it may be tempting improvise and get started with cutting and pasting immediately, a bit of planning can go a long way. Taking measurements can prevent a waste of both time and supplies.
Take measurements
If lengths of ribbons, lace, or tulle are too short they may need to be discarded, which is a huge waste. If using felt as a base, it is essential that it is the right size. Use a tape measure to determine the length of the comb and the desired height of the base. If in doubt, cut out a paper version first and hold it up to the comb to see if it is the right size. Base discs offer a little bit more flexibility because they come in fixed sizes.
Cut materials
Before cutting any materials, mark out the right size and shape with a piece of tailor's chalk or a pencil. Use fabric scissors for crisp edges and cut carefully.
Assemble the fascinator
Putting the fascinator together is fairly easy. Makers who do not have sewing skills can use a glue gun to fix the pieces onto the base, but sewing them in place makes the fascinator much sturdier.
Background elements
First lay out the base and all of the supplies. The largest pieces should go onto the base first because these are usually background elements. These include feathers, ribbon, lace ruffles, and pieces of tulle. Although they are usually larger, leave the fabric flowers for later. These are focal points, so they should be at the forefront of the decoration.
Use a glue gun or needle and thread to attach the larger background materials to the base disc or felt. Place these closer to the edge of the base because putting all of the materials in the middle can create a bulky, unattractive fascinator. Sew or glue any other background materials, such as smaller embellishments.
Focal elements
Attach the focal pieces of the fascinator. These include anything that is meant to be eye-catching, such as fabric flowers, decorative bows, and larger gems. Sew or glue these into place. Add small accents, such as rhinestones or beads. Use small amounts of gem glue to fix them to ribbons, fabric flowers, or any other materials. Use a cotton bud or toothpick to apply tiny amounts of glue.
Comb or Alice band
Attach the base to the comb or Alice band. To sew on the base, wind some ribbon around the top of the comb or the part of the band where the base should go. Tuck the ends of the ribbon under the wound section and sew them into place or fix them with hot glue. Attach the base to the ribbon using sturdy quilting thread.
To secure the base, add a small amount of hot glue to the comb or Alice band, slowly and carefully add the base, and then press down to make sure that it sticks. Avoid using too much glue because it can bleed through the base and become noticeable on the fascinator. Allow the glue to dry thoroughly before wearing the fascinator.
How to buy supplies to make a fascinator on eBay
You can find ribbons, lace, feathers, beads, fabric flowers, and other supplies on eBay that you can use to make a DIY fascinator. To locate supplies, use the search function on any page. Add the type of material, colour, and any other details into the empty box to find specific products. You can also browse more general craft supplies to see what is available. If you want to narrow down your results, you can use search filters to remove irrelevant items.