Stuck for a Great Party Idea? Problem solved …
Throw an Unforgettable Hawaiian Luau Themed Party That Will Leave Your Guests Amazed and Be the Talk of the Town for Days to Come!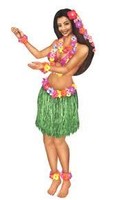 Need supplies? Visit out store now for cheap Hawaiian Luau Party Supplies
So what exactly is Luau you ask?
Traditionally speaking a luau is a Hawaiian feast. It may feature traditional Hawaiian food such as poi, kalua pig, poke, lomi salmon, opihi, haupia and beer. It also features entertainment, such as Hawaiian music and hula. Among people from Hawaii, the concepts of "luau" and "party" are often blended, resulting in graduation luaus, wedding luaus, and birthday luaus.
You don't have to go the "whole hog" of course and can have your luau experience tailored to suit the needs of you and your guests. Great in summer by the pool or escape the winter blues for a night and host your luau party indoors – everyone loves a Hawaiian luau beach themed party!
Great for all age groups from kids to adults and for any occasion, the vibrancy and colour of Luau parties guarantee fun, happiness and lasting memories for everyone who experiences them.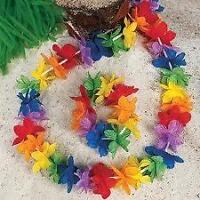 Need supplies? Visit out store now for cheap Hawaiian Luau Party Supplies
Here's what you'll need:
Set the Scene - Great Decorations, Props, Costumes. Music and Food ideas!
Hawaiian Luau parties are fun and vibrant occassions, so make sure you fill your party room or outdoor area with plenty of colourful scene setters. Foil banners and balloons with Hawaiian Hibiscus flowers are on them are perfect. Palm trees are very appropriate - if you are indoors or don't have palm trees then inflatable palm trees make a cheap and easy substitue. Inflatable palm tree coolers are even better yet - they set the scene while keeping all your beverages cool!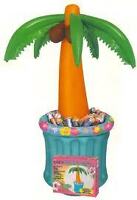 Be sure to hand out Hawaiian Leis to all your arriving guests - this is such a fantastic way to welcome all your guests. Tradition has it that these are a Hawaiian symbol of affection so it will certainly set a positive vibe on first impression. As a host, don't forget your Hawaiian shirt, Mu-Muu or floral bikini and hula skirt for the ladies. They are so cheap you can even buy them for some fo your guests.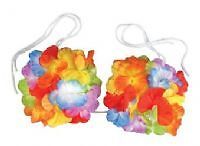 Lay sand and shells on your tables and serve food with flamingo picks and drop some umbrella parasol picks into drinks and cocktails! Place flowers everywhere that you can and make centrepieces using pineapples, mangos papayas, coconuts and bananas. You can either use real ones or purchase paper ones from your local party store which can always be reused. Drape fishing nets over doors and walls and dress tables with grass or straw hula style skirting.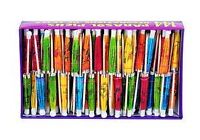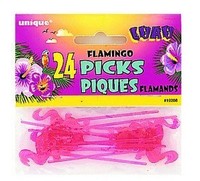 See if you can find groups that live locally and perform the Hula. Nothing brings a luau to that special high like the dances of Polynesia. If that is not possible simply play smooth, easy listening music to the set the scene. Artists such as Jack Johnson and The Beach Boys come to mind.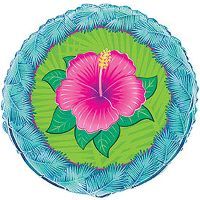 Last but not least - the feast! Many recipes can be found online but to give you some ideas here is a list of ideas that are not only delicious but are colourful and capture the essence of luau!
Luau Ham and Glazed Pineapple kebabs
Tropical Fruit Salad
Macadamia Nut Crsuted Chicken with Honey-Mustard Dip
Char Sui Pork
Stir Fry Noodles
Crispy Egg Rolls
Fried Plantain
Pineapple Slices
Macadamia Nuts
Banana Bread
Hawaiian Pizza

We hope this guide has helped you with some ideas. If you are second guessing if this is a great party idea or not, DON'T, even the most stubborn anti-themed party goers love Hawaiian Luau parties!
If you found this guide useful, please let us know by hitting the YES button down below and we will be happy to write many more!
Need supplies? Visit out store now for cheap Hawaiian Luau Party Supplies