If you buy a really good quality Stinger Suit from
Sun Protection Oz
you want to make sure you measure correctly to get the best fit.
Well let me help you with that. Well first of all it is always best to take your chest and waist measurement and then compare it to the size chart on the listing but there is one more really important measurement which if you do not get right you won't get the best overall fit and can make it quite uncomfortable.
What you need to do is measure yourself from centre front neckline through crotch to centre back neckline. Then if you measure between a small and medium for example but your other measurements are coming under small, you are best to order the medium size for the best length. So remember this when deciding on your size for your next purchase and you should get it right.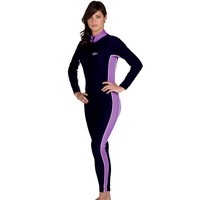 You wont find all round better sun protection with this superior quality garment. It is made from a unique Italian fabric composition of 53% Polyester and 47% PBT. There is no Lycra in this garment. This means it will breathe keeping you cooler and more comfortable.
An ideal safeguard against jelly fish stings and suitable for all sports including diving.
This item is also endorsed by the Skin & Cancer Foundation Australia

Gives great sun protection from 97.5% of the sun's UV radiation.
So be sun smart & protect yourself from sun damaged skin in later life with our great range of swimwear at
Sun Protection Oz
. You will save on plenty of sunscreen too over the summer months.
Come and Visit our eBay store - Sun Protection Oz