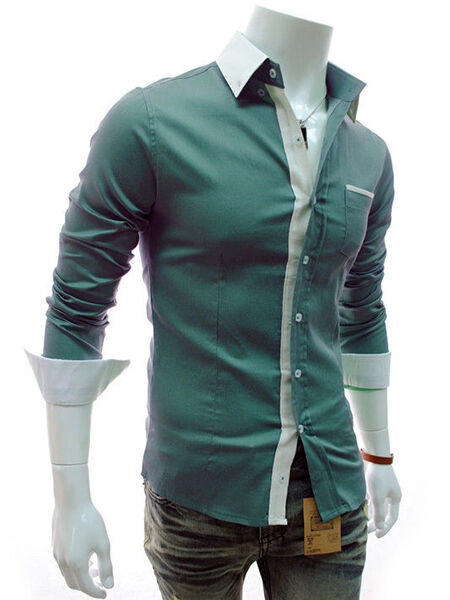 Fitted shirts are popular among men with a normal or athletic build because they tend to flatter their physique. A conventional off-the-peg shirt will have a good deal more material used in its construction. This means that on a slimmer man the excess material has to be drawn together at the waist which can create an unattractive look with the shirt being stuffed in around the belt. Of course, buying a fitted shirt does not mean that a visit to a bespoke tailor is required. These days, the term fitted shirt really means one that sits closer to the body and is therefore less roomy when worn. Sometimes they have a slightly tapered cut around the waist, and sometimes they are cut in a straight line. Unlike conventional shirts, they don't flare at the waist and won't flatter a wearer who has a paunch.
The Importance of Measuring for a Fitted Shirt
Because a fitted shirt has less space inside than a normal type of shirt, getting one that is sized correctly is even more important, as there is less leeway for error. Buy one that is sized too small and it simply won't fit across the shoulders and chest. Likewise, one that is over sized will be too big in all areas. Before buying one, it is highly advisable to take accurate measurements so that a properly sized fitted shirt can be bought.
Taking Measurements
Most shirts are sized in accordance to the wearer's neck size. Australian fitted shirt makers use centimetres, but sellers from the United States use inches. Therefore, it is a good idea to take measurements in both systems so that shirts can be bought from either location. Additionally, shoppers should be aware that it is tricky - although not impossible - to take the necessary measurements against their own bodies. Usually, it is best to have someone available to help.
How to Measure Neck Size
Take a measuring tape marked with both inches and centimetres and hang it loosely around the neck. Hold one end of the tape at the mid point between the throat and the shoulders, at the lower part of the Adam's apple. Move the remaining tape so that it comes fully around the neck, with no slack parts at any point around the neck or the throat. Pulling too tightly will mean an inaccurate measurement is taken, but the tape should be tight enough that it is flat all the way around. If measuring alone, use a mirror to ensure that the tape is level and not measuring diagonally.
How to Measure Chest Size
To measure the chest, stand up in a straight but relaxed manner and place the hands down at the side. Use the tape measure to take the chest measurement around the chest under the armpits. Try to ensure that the tape is parallel to the ground when the measurement is taken, and that it lies flat to the body and shoulder blades.
How to Measure Waist Size
The waist measurement should be taken while standing with a relaxed posture. If the stomach is relatively athletic, without a paunch, then the measurement ought to be taken around the waist at its thinnest point. If the measurement is being made over a belly which has a little excess fat, then take the measurement at the widest point. Either way, make sure the tape can move easily, and don't be tempted to measure with the breath held and the tummy sucked in.
How to Buy a Fitted Shirt on eBay
When looking for men's shirts online, they will usually be listed by collar size since this is the most common way for any sort of shirt to be sized. However, it is also possible to find the size alphanumerically - S for small, XL for extra large, and so on. Under either system, when it comes to fitted shirts, contact the seller to give them the necessary chest and waist measurements to get a good fit. In some cases, with the right sort of measurements, they will be able to provide a fitted shirt as either a slim or a standard fit. However, loose fitting fitted shirts tend to be nothing more than normal ones marketed as fitted shirts.
Conclusion
Fitted shirts are suited to all sorts of men with normal builds and are not just for very slim men. When buying one, sizing is crucial, so provide the seller with the necessary details. Always check a seller's ratings for fitted shirts before proceeding with a purchase.