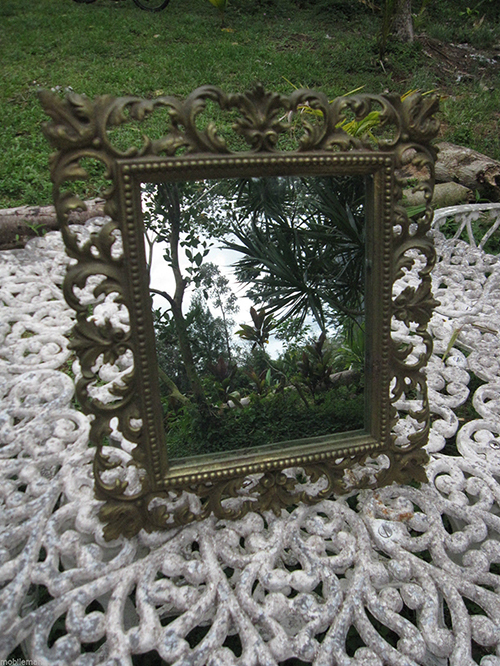 Purchasing antique gold mirrors can be quite costly, particularly if they are vintage or heirlooms. However, any framed mirror can transform into a decorative masterpiece by using just a handful of materials found on eBay as well as a bit of resourcefulness and ingenuity. Even mirrors that might have been destined for the trash heap are salvageable with some paint, varnish, and a touch of hard work. The entire process involves a few simple steps and some affordable arts and craft supplies, many of which may already be on-hand.
Choosing the Right Mirror
The mirror must have its frame intact. Any kind of wooden frame will do. In addition to the mirror, there are a few other supplies needed. Below is a chart of all the necessary materials required for this project.
Framed mirror
150-grit sandpaper
Glass jar or plastic cup
Cloth or rag
Painter's tape
White and gold paint
Paintbrush
Dark varnish
Any shade of gold will work well for this project. However, antique gold is ideal and the white paint should be water-based for best results. If a framed mirror is not readily available, there is a wide selection of mirrors available from sellers and merchants, and there are varieties of styles that are perfect for any budget.
Preparing the Frame
Before beginning the painting process, prepare the mirror's frame. Lay down old newspapers or a paint drop cloth over the work surface if necessary. Use sandpaper to gently remove paint flakes or lose splinters of wood. Wipe down the frame with a cloth or rag to dust off any excess dirt or debris. Once the surface is clean and smooth, apply painter's tape along the edge of the frame to keep the mirror glass free of paint drips or splatters. Be sure to line the entire frame, as any exposed portions may lead to paint seepage that can damage the mirror.
Applying the Gold Paint
Pour a generous amount of white, water-based paint into the glass jar or plastic cup and apply this to the frame using a paintbrush. Apply another coat after the first has dried if the original colour is still visible. After the white paint has dried, brush on a coat of the gold paint. A smaller brush may be necessary if there are ornate details that are difficult to reach with a broad brush. Allow the frame to dry for 5 to 10 hours, or until it is no longer sticky to the touch.
Creating the Antique Finish
To apply an antique finish over the gold paint, either sandpaper or dark varnish will achieve a weathered effect. To use sandpaper, lightly rub the paper over sections of the frame that would normally show wear, such as the corners and edges. The white paint underneath should begin to slightly show, but a majority of the frame should still be antique gold. To use the dark wood varnish method, dab a paintbrush into the container of varnish to cover the tip.
Gently wipe the brush with a rag so that it just barely coats with varnish. Drag the brush along the surface of the mirror frame, being careful not to press too hard. Any excess dark varnish wipes away with a cloth. Both processes create a more distressed look, which is what makes the mirror frame appear antiqued.
How to Buy Antique Gold Crafting Supplies on eBay
Merchants and sellers on eBay offer everything you will need to create an antique gold finish mirror. Antique gold finishes are ideal for photo frames and furniture pieces, as well. There are also a variety of other craft ideas you can find materials for through sellers and merchants. Even mirrors that have been shattered or cracked can have additional life. In fact, there are shops selling old mirrors that can transform into mosaics, backsplashes, or a number of other DIY projects. There is no need to venture to the craft store, because the marketplace is just a mouse-click away.