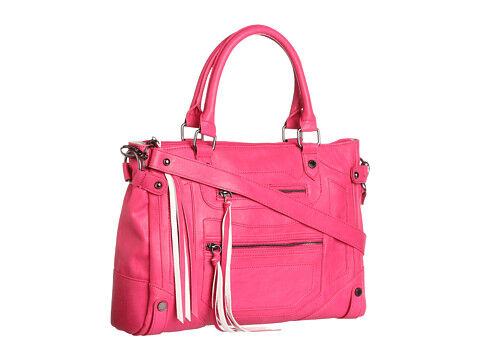 Choosing the right outfit for an event is a time-consuming affair but it takes even longer to find all the right accessories. One of the accessories that is absolutely necessary is a handbag. Finding the right handbag for a certain occasion and then making sure it matches the outfit well, is often made to be quite a task. The first thing to know before shopping for a handbag is the different types of bags that exist.
Next, one has to evaluate the occasion and decide how formal the handbag needs to be. Finally, one needs to know how to choose a handbag that matches or complements one's outfit. Handbags are found in department stores as well as online at helpful websites like eBay. By learning to shop for handbags online, one is able to easily choose the perfect handbag for any occasion and find great deals.
Handbag Types
There are six basic styles of handbags. These are the baguette, clutch, hobo bag, messenger bag, satchel, and shoulder bag. As with all accessories, there is a good deal of overlap between styles and many bags mix elements of two or more styles. However, learning about each style is still useful in judging how formal or casual the handbag.
Baguette
The baguette is a small cylindrical handbag, usually with a cord, chain, or other thin shoulder strap. Baguettes in neutral or sombre colours are formal enough for evening events but they can also be used as handbags for the daytime as well. Small handbags like baguettes often give a youthful feel to an outfit when used in the daytime.
Clutch
A clutch is a small handbag without any straps, as its name suggests. They are most commonly used as evening bags for formal events. While they are the ultimate in style, clutch purses are not the most convenient because they require the use of one hand. Clutches come in a huge variety of materials, colours, and designs.
Hobo Bag
The hobo bag is a medium to large sack-shaped bag with a wide shoulder strap. Hobo bags are a casual style, and are not appropriate for business casual, semi-formal, or formal events. However, they are very comfortable and have a larger capacity than clutches and baguettes.
Messenger
Messenger bags are usually rectangular and are typically intended for books and laptops. Their distinguishing feature is that the strap sits cross-wise from one shoulder to the opposite hip. Messenger bags are also a casual style, and one that many students use. However, there are some models in black that are appropriate for business events, especially when they resemble a briefcase or laptop bag, and are unisex.
Satchel
A satchel is considered to be a backpack or a shoulder bag, but always has a flap that covers the main opening of the bag. Satchels also often have buckles that close the bag. This handbag style is quite casual but fashionable as well.
Shoulder Bag
Shoulder bags are those that are made to be worn over the shoulder. As one might imagine, there are hundreds of different designs of shoulder bags. They often look formal in neutral and dark colours, in leather, or glossy vinyl. Shoulder bags made of fabric with lighter colours or patterns look more casual. In general, the smaller the bag, the more formal it is.
Evaluating the Occasion
Events typically fall under one of a few different dress codes. The most formal of all is the white tie dress code, but these events are fairly uncommon. Other popular dress codes are black tie, cocktail, smart-casual and casual. Choosing the right handbag for each of these is essential in order to complete an outfit correctly.
Black Tie Events
Awards ceremonies, formal weddings, and red carpet events usually conform to a black tie dress code. A clutch is almost always the handbag of choice for these occasions. Make sure the colour and material of the clutch match the dress and the other accessories.
Cocktail Parties
Cocktail parties and other semi-formal occasions allow a little more variation. Baguettes and clutches are appropriate, but formal shoulder bags are also fine. Avoid the hobo bag and the messenger bag at all costs.
Smart-Casual Dress
The smart-casual style is used at outdoor weddings and engagement parties. Day bags like stylish satchels and colourful shoulder bags are fine, as well as designer hobo bags.
Casual Occasions
Casual events like birthday parties and baby showers are times when one has the most freedom in choosing a handbag. Almost any kind of handbag is appropriate as long as it matches the style of one's clothes and accessories. Choose a versatile material like leather to use a handbag for both casual and smart-casual events.
Choosing a Matching Handbag
Many people feel intimidated when it comes to finding complementary accessories for their clothing. The key to matching accessories is to consider the various aspects of an outfit. Important factors include the materials, the colours, the embellishments, and of course, the style. Not all of these factors have to be the same in the handbag as in the clothing. In fact, just one or two factors in common is enough to give the entire outfit a unified look.
Also keep in mind the focal point of an outfit as a whole. For example, a bright red clutch with a very simple black dress makes the handbag a great focal point. On the other hand, if the dress is glitzy, the handbag should either be very simple, or match the dress exactly in order not to distract the eye.
How to Buy Handbags on eBay
Finding handbags on eBay is easy, convenient, and even fun with the right amount of information. From the comfort of your home, you may browse through a variety of handbag styles and find the perfect bag for your next social engagement. To find a handbag on eBay, go to the eBay home page and enter "handbags" in the search box. The search box is found on any eBay page, making it easy to change the search terms if you want to make your search more specific.
Once your search results appear, you may then refine the search by criteria like category, price, and location. Within the correct subcategory, you may also choose between more options like handbag type, material, and colour. Once you find a listing you are interested in, simply click on the seller's feedback score to see a detailed account of the seller's history on eBay. This and other eBay features make it easy to find great deals with sellers who offer excellent service and fast shipping.
Conclusion
The handbag is often the weakest link in an outfit because many women do not know how to find a handbag that is appropriate for a certain occasion. Every woman should have a few different handbag styles for the casual, semi-formal, and formal clothes in her wardrobe. This most often means a clutch for formal events, a small baguette or shoulder bag for semi-formal events, and a leather shoulder bag in a more casual style for smart-casual and casual events.
Making sure the handbag matches the outfit is a matter of looking at colour, material, and the embellishments on a dress, and checking that the handbag does not distract the eye from the focal point of the outfit. By learning to match handbags to outfits and shop for them online, one may pick the correct handbag for any outfit and occasion without a hassle.
Handbag|Clutch|Hobo Bag|Shoulder Bag|Satchel