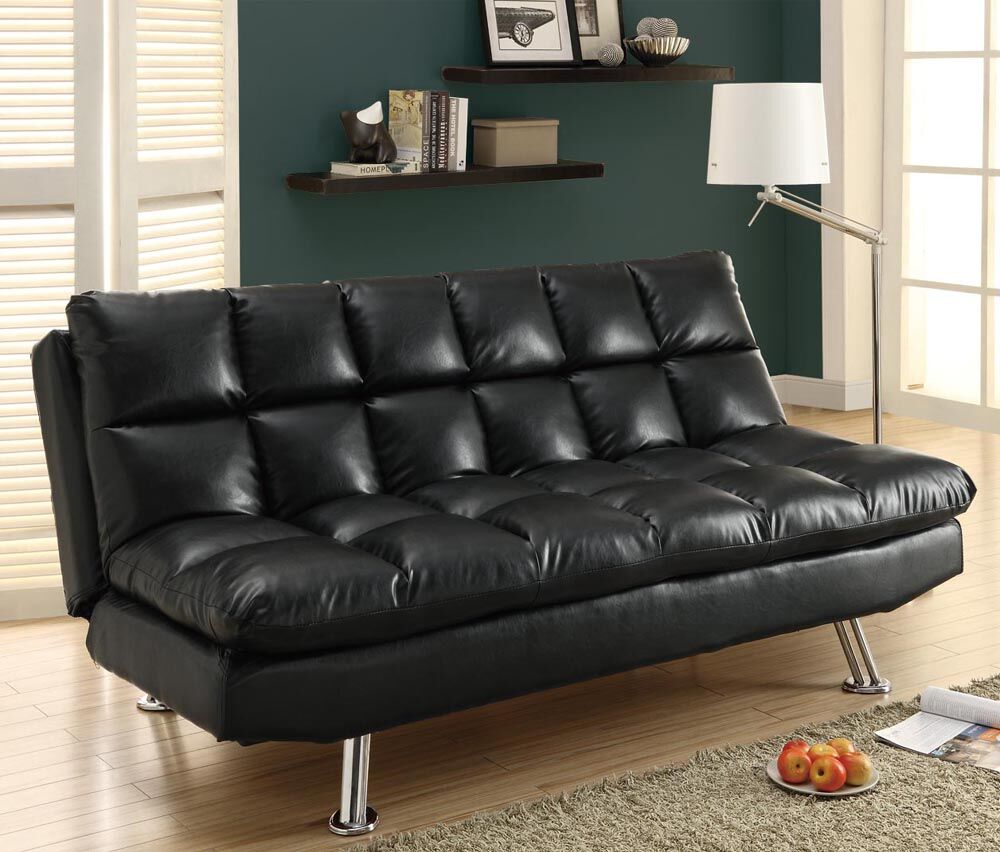 Futons historically have served as Japanese-inspired bedding that consisted of padded mattresses and pliable quilts stored primarily in bedrooms. Futon owners slept on the futons at night and then folded and stored the futons during the day to allow the room to serve multiple purposes. Although some contemporary futons follow the Japanese model, manufacturers now construct futons to serve a purpose in every room of a home. Futons work as sleeping units, sofas, single seat chairs, and room design elements. How to pick a futon to suit any space requires homeowners to conduct research. Homeowners who want to purchase a futon should learn about the types of futons and the buying factors that largely determine room suitability.
Types of Futons
The first step for finding a futon to suit a space inside of a home involves learning about the types of futons. Most futon manufacturers construct three-piece sets that include a futon cover, mattress, and frame. The frame is how futon retailers distinguish between the varied futons. Choose a futon based on the frame and how it blends with room decor, as well as the capability of providing multiple years of use.
Unfinished Pine and Poplar
The increase in the popularity of unfinished pine and poplar framed futons stems from the rustic feel the futons add to living rooms, entertainment centre rooms, and bedrooms. Manufacturers construct unfinished pine and poplar framed futons using the highest-quality wood. The wood combination is virtually splinter-proof, which makes the futon a good match for young children and adolescent bedrooms.
Metal
Metal framed futons can suit every room in a home, but the futons perform especially well in high traffic areas. Public perception of metal framed futons has changed, as consumers realise the futons represent a cost effective way to purchase highly durable sleeping units for overnight guests. Most manufacturers produce the metal frames to include one of several finishes that blend with nearly every type of room design.
Hardwood
Hardwood framed futons represent the most common type of futon purchased. Many versions of hardwood framed futons, especially cherry, oak, and ash, last more than 10 years in high traffic areas of a home. The wide variety of timber finishes allows homeowners to customise the hardwood frames to match specific room decors. Hardwood provides a sturdy sleeping surface due to the thick and strong leg construction.
Futon Buying Factors
Finding the right futon to suit any space inside of a home requires meticulous planning. Homeowners must decide where in the home they plan to place the futon and how they plan to use the futon. Some homeowners may only want a futon to enhance room decor and not provide a comfortable alternative sleeping unit. Another factor that determines futon suitability for any space involves selecting the correct size futon. As with beds, futons require enough space for allowing users to easily move to and from the futon. Moreover, futon covers can radically change the way a room looks.
Logistics
For some homeowners, the futons they purchase primarily serve as places for people to sit and lounge during social events. The futons may sit in the corner to provide intimacy or act as the featured piece of furniture in the middle of the living room. Deciding how homeowners plan to utilise futons determines the choice of frame, cover, and mattress. Some futons provide comfortable sleeping units inside of bedrooms, while other futons perform better as furniture accessories. As accessories, homeowners must decide upon the furniture that they plan to surround the futon. The goal is to seek complementary designs and styles. A good rule to follow is to consider sleeping comfort as the most important factor for bedroom suitability and design as the most important factor for high-traffic rooms and spaces.
Size
No other factor influences futon room suitability than size. When unfolded, even the smallest futons can take up considerable space, if placed in the wrong space. Accurately measure the dimensions of a space before committing to a futon size. Use a carpenter measuring tape to ensure accuracy and line duct tape around the planned futon space to confirm there is enough room for movement. Once unfolded, king futons measure 190 by 200 cm, queen futons measure 150 by 200 cm, full futons measure 135 by 190 cm, and twin futons measure 98 by 190 cm. Remember that the type of frame chosen impacts the amount of space available for the futon.
Covers
Futon mattresses do not affect the suitability of a futon for any space. However, futon covers play a large role in determining design and style room suitability. Manufacturers construct futon covers with cotton, twill, micro-suede, and leather. Each of the materials can significantly alter the appearance of a room, if the design chosen does not match the room decor. Some homeowners purchase multiple futon cover designs to mix and match for each of the four seasons. Although cover design plays a role in determining room suitability, never forget to factor in how well a cover protects a futons from spills and other types of physical damage.
How to Buy a Futon to Suit Any Space on eBay
eBay provides the perfect shopping environment for mixing and matching the three futon pieces or you can buy completenew or used futon sets from an eBay seller. Utilise eBay's search engine to return a list of seller candidates that match your shopping criteria. You can vet further by only considering Australian sellers to shorten delivery time or searching for eBay sellers who offer suede futon covers. Another way to find the right seller is to type your preferred colour into the search engine. You may want ablue or gold futon to match a room's decor. If you find multiple sellers that possess similar credentials, decide by reviewing the customer feedback that eBay places on each seller's product page.