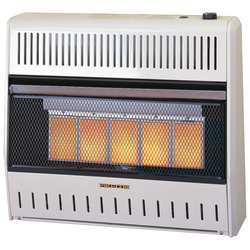 Portable gas heaters represent appliances that allow homeowners to heat designated areas of their homes, without having to turn up the costly furnace. They provide sufficient heat for rooms or areas of a home that do not receive warmth from a central heating unit. The heaters increase energy efficiency, which is an important factor in an era of rapidly rising fuel costs. Homeowners have a wide variety of portable gas heaters to choose from by shopping at brick-and-mortar shops and online at eBay. First, homeowners should receive an overview of portable gas heaters before they learn about the types of portable gas heater fuels and the other buying factors that help them make purchasing decisions.
Portable Gas Heater Overview
Portable gas heaters allow homeowners to prepare adequately for power outages, without busting the family budget. Some portable gas heaters can cost 50 per cent less to operate than the cost to operate electrical gas heaters. The money saved typically depends upon the type of gas used to heat an area of a home, as well as the cost of electricity. Gas heaters provide homeowners with a quick way to heat an area, and because of the portability, homeowners can move gas heaters around to heat multiple areas. Although gas heaters save homeowners money in the long-term, the heaters require a higher initial investment than the initial investment required for purchasing an electric heater.
Gas Heater Fuel Options
Manufacturers produce two types of gas heaters: vented and unvented. Do not utilise unvented gas heaters indoors, since the heaters can release harmful gases into a space that does not immediately remove the gases. Vented gas heaters mount on a wall and ceiling to force harmful gases through a vent to the outside. Look for the "100 per cent outdoor air" label that defines vented portable outdoor gas heaters. The following chart lists the types of gases used for both vented and unvented gas heaters.
Type of Gas

Description

May require electricity or match to ignite

Available in a variety of sizes

Provides ample heat with 12, 24, or 45 kg of fuel

Natural Gas

Requires gas hookup

Disconnects when heater turned off

Purchase natural gas heater with sensors to monitor indoor air quality

Kerosene

Wick absorbs and burns kerosene

Ideal for heating large indoor areas, such as a garage or basement

Can be operated indoors during a power loss

Kerosene Forced Air

Needs electricity to operate

Provides tens of thousands of BTUs of heat

Ideal for large outdoor events

Can operate up to 12 hours on a single fuel tank
Kerosene represents the best fuel to use for a vented portable heater, although natural gas heaters that possess sensors protect families from noxious gas fumes. The deciding factor between purchasing vented kerosene or vented natural gas portable heaters comes down to fuel cost. When it boils down to cost, kerosene vented portable gas heaters win virtually every time.
Portable Gas Heater Buying Factors
Once homeowners decide upon the type of gas fuel to use for operating their portable gas heaters, the next step in the buying process involves considering a number of important factors. Homeowners must choose portable gas heater design, controls, and operating features.
Design
As with portable electric heaters, portable gas heaters come in a wide variety of designs to produce heat in almost every type of environment. Baseboard heaters placed alongside a wall provide consistent heat and require no installation. Homeowners derive the greatest benefit from portable gas baseboard heaters by placing the units in basements and garages. Panel heaters provide quiet heat and the lightweight construction make the units ideal for travelling on family holidays and camping trips. Portable gas patio heaters typically mount in a wall and provide heat within a covered outdoor area. The units provide directional warmth, as opposed to an even distribution of heat. Finally, tabletop portable gas heaters work great on decks and patios that elevate above the surrounding property.
Controls
Portable gas heaters that include automatic or programmable thermostats give homeowners the most convenience and flexibility. Most portable gas heater manufacturers that include thermostats allow users to turn the heat on and off at scheduled intervals. Homeowners can also stay within their budgets by purchasing portable gas heaters that come with timers. Instead of turning on and off based on air temperature, timers switch the heaters on and off at predetermined times. This means that homeowners can heat a bedroom before the alarm goes off or leave the heater on all day to warm a room.
Features
Gas heaters present several safety concerns. Therefore, consider portable gas heaters that include tip-over switches that turn the heater off after its fall to the floor or ground. An overheat protection switch shuts down a portable gas heater when it reaches a predetermined temperature. Search for portable gas heaters constructed with flame retardant cases and thermally-protected monitors. A built-in fan moves air through a room to provide a wider coverage of heat. Oscillators distribute heat horizontally, which warms an area where people sit outdoors. Consider halogen heat elements to provide greater energy efficiency, and thus, help lower heating costs.
Buying a Portable Gas Heater on eBay
eBay offers you a powerful search engine that eliminates potential portable gas heater sellers who do not match your buying criteria. You can type "portable gas heater" into the search engine to reduce the number of search results. Some shoppers prefer to search by heater condition, such asused or brand new. Another proven eBay search engine strategy is to search for Australian sellers who have earned eBay's top-rated seller designation. Top-rated eBay sellers have demonstrated a track record of offering high-quality products at affordable prices. You may find a few top-rated sellers who offer virtually new portable gas heaters that the sellers have removed from their original packaging, but have never used.