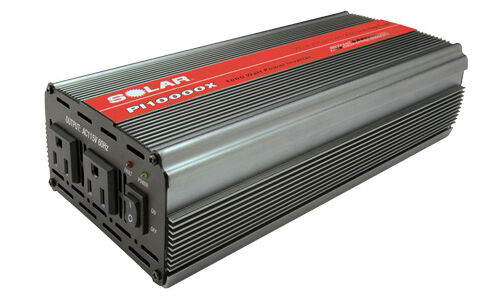 Electricity is the driving force behind our society. However, the generation of this ultimately mysterious force, however, is a costly thing. Solar power is a miraculous solution to this problem, allowing consumers to generate their own electricity from nothing more than the sun's rays. However, electricity collected this way must be altered before it can be used. A solar inverter is a device which transforms an electrical current into a useable resource.
It is the intention of this guide to provide the reader with a detailed explanation of solar inverters, so that they can make a well-informed choice when buying one. The guide will also explain why eBay is such a great place to buy a solar inverter online.
The Solar Inverter
This section of the guide will provide some basic information about solar inverters, which should help consumers understand their crucial role in the solar power gathering process
What is a Solar Inverter?
A solar converter is a kind of electronic device through which an electrical current flows. It allows power harvested from sunlight to be used. Solar panels 'trap' the sun's energy and store it, and then release it in the form of electricity. However, the energy released is a direct current (DC) output. In order to use this energy to power an entirely separate electronic device (or network of devices), it must be converted into alternating current (AC). A solar converter takes this DC output and 'inverts' it into an AC input. A solar inverter is an absolutely essential intermediary in any photovoltaic (solar) electrical system.
Types of Solar Inverter
There are three main varieties of solar inverter, each with marginally differing purposes. These types are listed below, with descriptions of their functions. It is important to know which kind of system is being used before buying a solar inverter to operate within that system.
Standalone Inverters – stand-alone inverters are used exclusively in isolated systems, meaning the power they convert is not fed into a larger power grid, but used to power a closed, finite system, usually comprising of as few as one items of electrical equipment. They convert charge that is stored in a DC battery which is charged by the solar panel.
Grid Tie Inverters – grid tie inverters are connected to the main power grid, feeding electricity back into it. These inverters shut down completely in the event of a loss of input, and as such cannot provide back-up power.
Battery Backup Inverters – battery backup inverters work in a similar way to grid tie inverters, except that they designate a portion of their current to maintaining the level of charge of the battery from which they draw their power. This means that in the event of a power-cut, emergency back up power can still be accessed from the battery.
What to Look For in a Solar Inverter
There are numerous important factors that ought to be carefully considered when buying a solar inverter. This guide has identified six, each of which are described in detail below.
Input
The AC input voltage is the amount of alternate current that the inverter can 'put in' to the system. Systems will require the voltage to be within a fixed limitation in order to work; the input voltage must match up with this required level. Many inverters will feature a variable input, allowing it to be adjusted to fit multiple systems.
Output
Solar inverters draw their DC voltage from photovoltaic batteries. The inverter can only process power from a battery of a fixed size. For instance, a 12V DC output solar inverter would only be compatible with a 12V solar charged battery.
Power
The level of power that a solar inverter is capable of processing is measured in Watts. Often, grid tie inverters, which are designed to cut out if the power reaches a certain level, will be able to handle 'surges' of up to double the regular wattage. For instance, a 3000W inverter will be able to process up to 6000W before shutting down.
Frequency
Sine wave outputs, such as those generated by solar inverters, can be measured in hertz, which are a unit of frequency. This frequency must be compatible with the system into which the current is being fed. Frequency, as with input, can sometimes be variable.
Condition
There are many both new and used solar inverters available for purchase on eBay. Buying a used solar inverter is often a great way to ensure an affordable price, but the payoff in longevity and functionality often means that a new inverter is a better investment. The need for low cost must be weighed carefully against operational requirements.
Price
As with any purchase, price should play a considerable part in the decision-making process. In the case of solar inverters, a considerable investment is required, making this consideration even more pertinent. It is advisable to set a budget, which will allow the buyer to acquire the best product possible without spending more money than can be justified.
How to Buy a Solar Inverter on eBay
When buying a solar inverter online, there is no better tool than eBay. It sports a huge array of items and a plethora of useful design features, all intended to improve the consumer experience. This section of the guide will cover how to use eBay to buy a solar inverter.
The search bar can also be used for quick and easy location of a desired item; simply type 'solar inverter' into the bar and either click 'search' or press enter.
The item listings should now be displayed; this is the primary way of displaying product information on the site. The listings consist of entries, which in turn consist of thumbnail images and brief text descriptions.
The item listings can be refined and customised according to various user requirements. This is done by activating 'filtering options', which are found in the page's left-hand margin. These options include price, condition and seller's location, as well as whether an item can be bid on or simply bought for a fixed price (as enabled by the 'auction' and 'buy it now' options respectively.
Clicking on an item takes the user to a separate page, where advanced product information is displayed, as well as information about the seller such as user ratings and feedback.
The eBay Deals section of the website allows the user to browse the latest great value special offers. There are huge numbers of deals, and they are updated with consistent regularity, so it is a good idea to check this section often to get the best prices.
It is this seamless blend of helpful, user-oriented interface design features, and an excellent range of products and special offers to choose from, that make eBay the truly excellent means of buying solar inverters online that it is.
Conclusion
Solar power is an excellent money saving enterprise, as well as an environmentally friendly means of generating a valuable modern resource. However, without a solar inverter, solar power gatherers are useless. This guide set out with the intention of providing the reader with detailed information about solar inverters. Six main factors for consideration were identified:
Input
Output
Power
Frequency
Condition
Price
This guide concludes that eBay, with its tremendous selection and elegant user interface, is the perfect online destination for anyone seeking to buy a solar inverter.