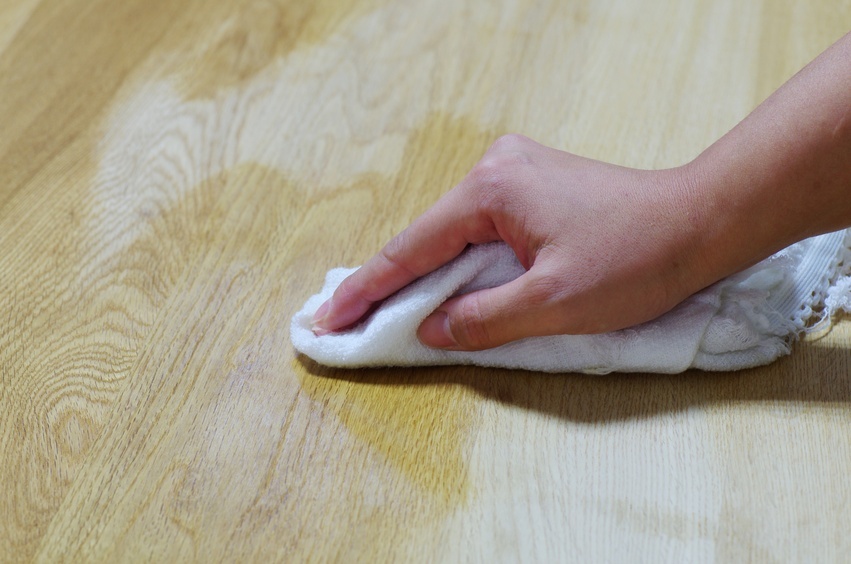 Shiny, clean floorboards are a sight to behold and, even better, a professional cleaner is not necessary. As long as homeowners have the right equipment and basic knowledge for polishing floorboards, they can get beautiful and glossy floors in a few days.
Get Surface Ready
There's no point in trying to polish floors that have crumbs, dust, or dirt scattered across them. Sweeping or using a vacuum on the floorboards will take care of these issues. This is also a good time to examine the floorboards to make sure the surface has no damage, such as broken boards or nails that need to be hammered back down.
Check for Old Wax
Removing any wax on the floorboards is a good idea before cleaning starts. This can be done either with a mixture of equal parts rubbing alcohol and water, or a wax-stripping formula that can be found online. Not removing wax can lead to a slightly yellow surface, so this step is important when polishing and generally restoring floors.
Consider Sanding Surfaces
If the floorboards have never been polished or if they have been sitting underneath carpet for years and were just unveiled, they will probably benefit from sanding. This requires homeowners to rent a barrel sander for a day. As long as it is used according to directions, this equipment can remove old paint, stains, and rough patches from the surface. It is important to move the barrel sander steadily across the floorboards, going with the grain and never leaving it on one spot for too long. Vacuuming the surface after sanding it will get rid of the tiny flecks of wood produced from the sanding process. If sanding seems too complicated, it may be wise to hire a professional for this part of the polishing process.
Wipe Down Floorboards
Once the surface is free of crumbs, dust, old wax, and rough patches, it's time to clean it with hardwood cleaner. This simply involves applying the cleaner to a clean cloth and rubbing the entire surface. Once the floorboards are dry, the next step is to apply wood polish to them with a clean cloth, and then let the polish dry. This is a good time to fill in any holes or chips with wood filler in order to get a truly immaculate floor. Of course, some homeowners like the quirky or even antique look that a few wood imperfections can create, so it is not always necessary to correct every flaw.
Conclusion
Homeowners need to polish their floorboards only about once a year to get a floor that gleams. Sanding is required even less frequently, which means the polishing process can often be done in a day. That's a small amount of time and effort to get long-lasting results.