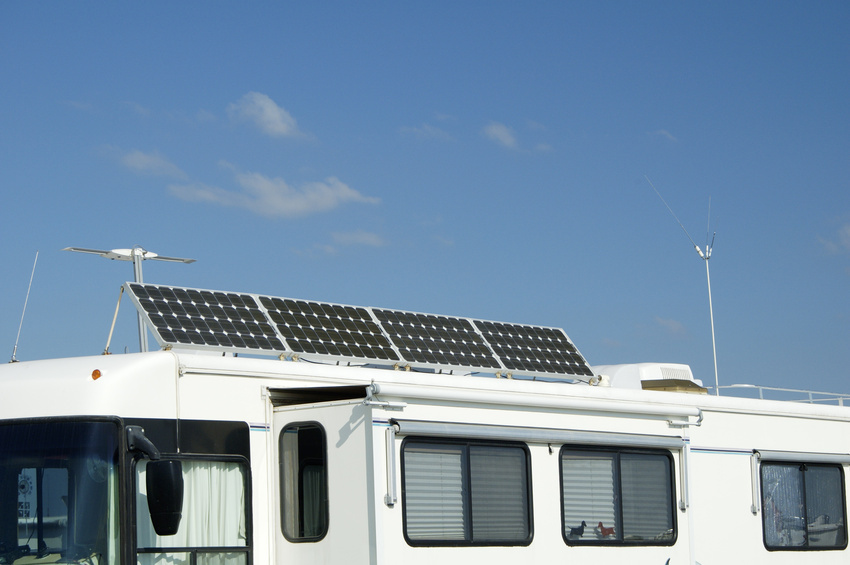 Camper trailers offer a small and compact option for weekend or short trips. They provide the enjoyment of tent camping without the need to find an appropriate spot on the ground to drive tent spikes. Camper trailers provide additional safety since they sit above the ground and away from reptiles and small animals. Further, the convenience of small appliances makes the camper trailer a great choice for travelling families. The ease of using a camper trailer includes a variety of do-it-yourself and in-built power options.
Camper Trailer Varieties
Travellers have a number of options when selecting a camper trailer for purchase. Three primary types of trailers include pop-top, hard-floor, and soft-floor. Powering options depend on the types of appliances that campers require. Shoppers should review the owner's manual of the camper trailer to determine which type of power is best for their camping needs.
Appliance Type

Power Options

Basic appliances (coolers and lighting)

Battery

Solar

Basic Plus Entertainment

Multiple battery

Solar

Heavy-Duty (heaters and microwave)

Generator
Some pop-top camper trailers offer powered set-up systems. In addition, certain hard- and soft-floor camper trailers include the gas strut opening assistance.
Generators
The Camper Trailer Australia website suggests that generators serve as a portable power source and shoppers can choose from the traditional combustion engine generator or a turbine-powered generator. Generators allow campers to power high-voltage appliances and offer a consistent power source as well as a backup source. In addition, as the primary power source, camping generators function well as a temporary source during a power outage. Campers should verify whether their camping park permits generators, as many do not. Generator power works best when camping in the bush or in other areas with limited power sources. Consumers should also review the power output of their appliances to determine the load capacity needs before purchasing a generator.
Solar Power
A solar power system requires one or more solar panels for the generation of current, batteries for power storage, and a charge controller. Solar systems offer a quiet and cost-efficient solution for powering the electronic components in a camper trailer. Buyers can select from roof-bar-mounted modules or folding camping solar panel options. Campers should review proper uses for solar power, since manufacturers suggest not using it for heat-producing appliances, such as hair dryers or microwave ovens because of their power draw.
Battery Power
Battery-powered systems include the primary battery in the towing vehicle along with a second battery for running appliances in the camper trailer. The primary battery charges the secondary battery through an isolator or Anderson plug. The isolator disconnects the two batteries if the secondary battery runs low to prevent draining the primary battery.
Basic battery systems include a 12V battery, battery box, fuse block, and sockets. Professional-grade charging capabilities maintain battery life and prevent batteries from overheating. Pre-wired sockets allow for easy installation.
Do-It-Yourself Battery Systems
Creating a do-it-yourself (DIY) battery system requires knowledge of trailer battery storage, voltage requirements, and storage capacity. According to Camper Trailers, a website devoted to DIY battery systems, a good system includes a number of different parts, such as an Anderson plug, cabling, fuses, battery starter, and the battery itself. Some DIY systems use solar power for backup power, using the standard parts as well as using solar panels. Certain operations, such as installing a 240V power inlet, may require a professional electrician. Inexperienced owners should refer to detailed instructions to determine proper system parts before attempting to build. Further, equipment sellers often provide DIY guidelines that include suggestions for proper cable types, battery types, and installation instructions.
How to Buy Camper Trailer Power Sources on eBay
The reliable sellers on eBay offer a wide selection of camper trailer parts and power source options for purchase. You can use the general search option to find camping items or narrow results by using the advanced search feature to find a specific camper trailer battery, solar accessory, or generator. Search by item condition, price, and type to customise results even more. If you decide to build a DIY battery, consider searching for sellers who offer bundled shipping options and combine your items for savings.