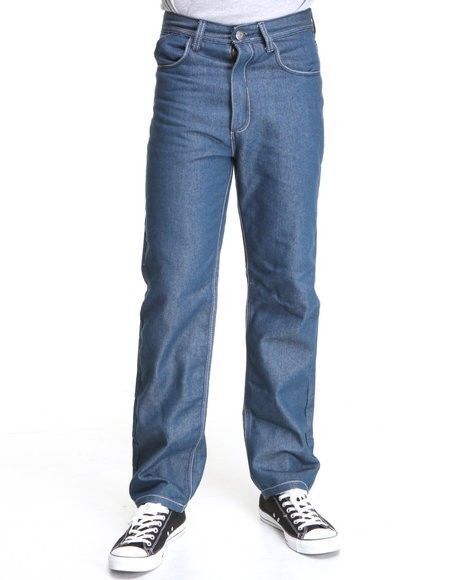 Many people own at least one pair of denim jeans. Even though the material is tough and durable, even the best pairs eventually show signs of wear and tear. Rather than getting rid of old jeans, people should learn about the alternatives for recycling. Some choose to donate unwanted clothing, while others recognise that these garments lend themselves to numerous repurposing ideas. With a little imagination, denim jeans are revamped into new and unique items of clothing or useful objects for the home and garden. Repurposing denim jeans requires sewing and craft supplies. Shoppers can buy these products from fabric and craft stores, and online from marketplaces like eBay.
Find New Owners for Denim Jeans
Many people look for secondhand jeans, either for clothing or to create other items. That means that those who do not have the time to extend the lifespan of their denim jeans can find new owners easily, or donate the garments to charity. If the jeans are in good condition, charity shops can earn significant funds to help people in need.
Revamp Denim Jeans
Revamping denim jeans is one of the easiest recycling options. This involves changing the look of the clothing to add years to its useful life. Adding patches collected from events gives the jeans a customised look. Alternatively, use fabric paints and pens to create unique designs. Studs, crystals, beads, or other items are easy to attach, and add colour and sparkle to tired looking jeans.
Repurpose Denim Jeans
Denim is a versatile fabric that has many uses. The most popular ideas for repurposing denim jeans include making clothing, decorations and toys, practical items for the home, and gardening accessories.
Clothing and Accessories
A sharp pair of dressmaking shears quickly transforms denim jeans into shorts. For a casual, cut-off look, leave the seams unfinished. Alternatively, sew in new seams to create a neater appearance. With a seam ripper, it is easy to unpick the seams of the jeans to create skirts. Jackets and waistcoats require a bit more skill and a sewing machine. Left over fabric provides opportunities to create unique patchwork bags, purses, thongs, aprons, and belts. Small pieces of material are excellent for covering the bottom of shoes or creating unique straps, buttons, and embellishments.
Decorations and Toys
Recycled denim jeans are ideal for creating Christmas baubles, patchwork blankets, lampshades, and a variety of other decorative items. Crafters should choose denim that is ideal for their projects. Darker denim that does not show signs of wear is better suited to parts of the home that are more formal. Light, worn, or distressed denim is perfect for children and teenager's rooms or to accent dark denim. Crafters can also create dolls' clothing and stuffed animals from used denim.
Practical Items for the Home
Denim is a hardwearing fabric that is useful around the home. Beanbags, hanging organisers, ottomans, pillows, and storage bags all look great in denim. Crafters should use strong embroidery thread to turn the jeans into washing baskets, craft or tool belts, sewing baskets and organisers, and peg holders. Keeping parts of the jeans intact saves time when creating new items, for example, the pockets make excellent covers for fridge magnets, and can hold pens, pencils, and other items. In addition, denim is robust enough for pets, so crafters can make stuffed toys for pampered pooches or use the jeans to cover a pet bed.
Items for the Garden
Denim jeans make excellent, if somewhat quirky, pot plant covers. The legs of the jeans make handy, individual planters and the top of the jeans is ideal for creating a miniature succulent garden. In addition, gardeners can make aprons and knee pads from used jeans.
How to Buy Supplies to Recycle Denim Jeans on eBay
eBay sellers offer a wide range of supplies for recycling jeans. To find what you need, type keywords, such as " fabric paints", into the search field available on every page. Narrow your results by choosing the most suitable category filters or by adding more detailed keywords. Visit eBay Deals for a selection of product offers. Recycling denim jeans is as easy as finding a new owner or donating them to charity. With a bit more effort, adding patches spruces up an old garment. Crafters can repurpose denim jeans into other clothing, accessories, toys, or decorations for the home and garden. As denim is a versatile and durable fabric, old jeans are ideal for creating sturdy items that last for years.