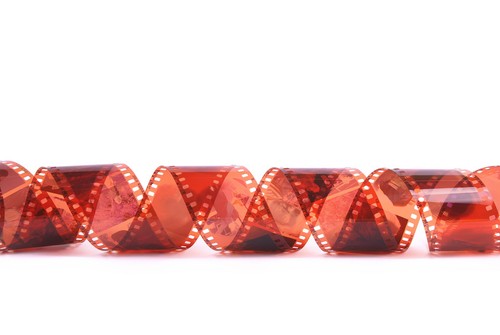 Photography is an art that has taken many changes over the years. For many years, 35-mm photography, or photography done with rolls of film, was the most common form of photography. The user would insert a roll of film into a 35-mm camera. Each roll of film was capable of taking a certain number of pictures. When the roll of film was complete, one would bring the roll of film to a photography lab for processing. At that point, they would receive back both the pictures and the negatives, which were the master copies of the images. Negatives are simply a strip of plastic that contains an emulsified coat. Each strip is a series of small copies of the images. X-rays and aerial photography also used film and negatives. Before photography became digital, those negatives would be what one would need should they need another copy of an image. Photography is primarily digital now, so many photographers are looking to dispose safely of, or recycle those old negatives.
Strip Film Negatives for Silver
Black and white films and negatives contain silver. The dark areas of the negatives are primarily where the silver is present. Removing the silver from the negative, allows the owner to then cash in that silver and receive money for that silver. X-ray films, 35-mm film, and lithographic film all contain silver. This is not a process to attempt as the negatives must go to a facility that processes and refines the silver. They then pay you for amount of silver found on the negatives and safely dispose of the rest of the film negatives. Simply search for a facility near you and package your negatives to send. Be sure to find out if the negatives meet the specifications before sending.
Reuses for Old Film Negatives
Another great way to recycle old film negatives to repurpose them. Film negatives are useful for a variety of craft projects. One way to repurpose film negatives is to use them for a unique lampshade by attaching four pieces of glass or hard, clear plastic together. Then, attach the negative strips to the glass or plastic vertically with adhesive. When the light radiates through the photos on the negatives, it creates a unique, funky, vintage look. Another great idea is to have the negatives cast in hard resin and made into a bracelet for unique statement jewellry piece. Negatives can also be repurposed into a unique gift bow. With scissors and either glue or double sided tape, negatives become a beautiful gift bow. Simply cut the negatives into strips, loop, and glue or tape. For more layers, just continue to glue or tape more layers. Simple, unique, and beautiful.
Scan Film Negatives into Digital Format
Before recycling, repurposing, or disposing of negatives, it is important to be sure that you scan the negatives to have a digital copy of the photos. Some more expensive scanners include a transparency feature. However, it is still possible to scan negatives even if the scanner does not have one. The first step before scanning any negative is to carefully brush it off to ensure removal of any dust or prints. They are much more noticeable on a digital print. Cut the negatives into single frame pieces for easier scanning. Simply place the negative on the centre of the scanner glass and ensure that it is straight. Place a piece of white paper, letter size on top of the negative without moving it. Place a lamp or light approximately four to six inches above the paper and turn it on. Scan the image using the scanning feature on the computer and scanner. Use the photoshop software on the computer to edit and adjust the photo. Be sure to hit "Save!"
How to Buy Film and Photography Supplies on eBay
Purchasing film recycling or repurposing supplies, or photography equipment, whether new or vintage, is simple on eBay. The search feature found on any page within eBay allows you to terms for your search. A large list of options then appear. Simply enter more specific terms for a narrower search. Clicking on the picture of the option for which one is searching then shows a specific product description including price and shipping information.
Film negatives are the master copies of photographic images whether they are family or historical photos or even an X-ray. There are options for recycling or repurposing those film negatives rather than just disposing of them in the garbage. It is important that a digital copy or print copy of the photo is kept. Scanning the negatives allows for a digital copy.