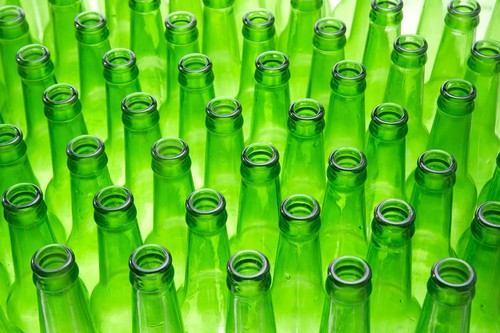 Nurturing and protecting our environment and its resources is essential to ensure a future for our planet. Recycling is a simple and effective way everyone can assist in helping to maintain a clean environment. Plastic, aluminium, paper, and glass are all materials that have the capability for recycling. All glass is recyclable as glass consists of materials such as sand, soda ash, cullet, and limestone. Bottles and jars are made when heating the material and then moulding it into shape. Glass can be recycled by sorting it at home, placing it in recycling bins, and then scheduling for a home pickup of the recyclable products, or by bringing your recyclables to a recycling facility.
Preparing Glass Bottles for Recycling
A few simple steps need completion to ensure that glass is ready for the recycling process. Remove any glass bottles that have been in contact or been full of hazardous materials or waste. It is also essential to separate the glass bottles from any other type of glass such as broken mirror glass, Pyrex, crystal, etc.. The recycling of those types of glass is a different process and can interfere with the processing of new recyclable glass bottles. Rinse out and clean the bottles thoroughly to continue the preparation process. It is important to remove all residue, food, or liquid material within the glass bottle. Removing any plastic or metal rings or pieces on the glass bottle is also important.
The Recycling Process
Glass is typically brought to a recycling plant or facility. Once the glass arrives at the facility, sorting and rinsing of the bottles begins. Sorting by colour is an important process, as the glass has to meet certain colour standards when creating new glass bottles. The next step in the recycling process is the crushing and melting of the glass. New bottles and jars are then made from that glass by moulding it into the desirable shape or form. Glass can also have other uses once the recycling process is complete such as for decorative use or panels.
Benefits of Recycling Glass Bottles
There are many benefits to recycling glass bottles. The benefits are both economical and environmental. Recycled glass reduces the release and use of raw materials during the manufacturing process. It also allows for a longer life for equipment at the manufacturing plant such as furnaces, and saves energy. Recycled glass can save up to 70 percent of raw materials. There is a high demand for glass so that manufacturers can keep up with the high needs of the economy for new glass containers. For every six tons of recycled container glass used in the manufacturing process, it can save one ton of carbon dioxide. Recycling glass bottles can save landfill space and preserve the landscape of the country.
Other Ways to Recycle Glass Bottles
There are other ways to recycle glass bottles from the home without bringing them to a recycling plant. Glass bottles have many repurposes. The first is to simply wash the glass bottle or jar out thoroughly. Then use it when bottling or jarring food that is made such as homemade jams, jellies, or juices. Glass bottles and jars can also be great storage for other household items. Clean them out thoroughly and store items such as cotton balls, craft supplies, etc. Glass bottles that have colour to them look gorgeous with lights in them. Make a beautiful light for a home. Glass bottles also make wonderful candle holders and vases. Adorn a glass bottle or jar with a label or a ribbon to add decor.
How to Buy Recycled Glass on eBay
It is easy to find products made for recycling or out of recycled materials on eBay. Simply, visit any page within eBay and enter in the terms for the search. For a narrower search, enter very specific terms. Be sure to check out eBay Deals for special offers on recycling products or recycled glass products.
Recycling is simple, inexpensive, and a great way any person can help save the environment and boost the economy. Whether one is recycling within their home, bringing their recyclable glass bottles to a facility, or just repurposing their glass bottles for something different, it is always a help in preserving nature.