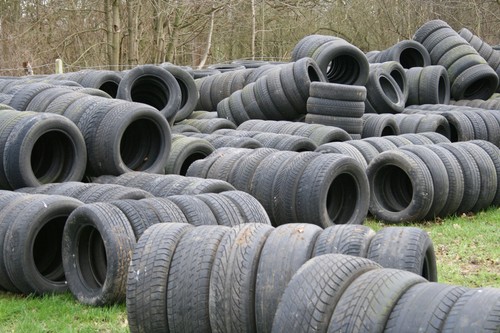 All tyres wear out eventually and most people know that they cannot simply throw them away after buying new ones. As rubber is a harmful product for the environment, it requires proper handling. Tyres are actually one of the most problematic sources of waste because of their durability and large volume produced. Consumers who want to dispose of their tyres responsibly should look into tyre recycling options. There are multiple ways one can recycle old tyres, from using specialised services to reusing them for different purposes. By learning more about tyre recycling, users can make sure they dispose of their old tyres responsibly.
Why Recycle Tyres?
From bicycles to trucks, most modern vehicles use tyres and, in most cases, they need regular replacement. The durability of tyres and the fact that people use them on a large scale means that these products can be truly harmful to the environment. Some of the irresponsible ways people use to dispose of old tyres include dumping them in empty lots, burning them, or using them as planters in their backyards.
The worst choice one can make is to burn tyres, because this leads to harmful emissions of arsenic and lead into the air. Besides harming the environment, people who choose to burn tyres instead of recycling them may also be breaking the law. SITA Australia estimates that only 13 per cent of the more than 52.5 million tyres that reach their end of year life in Australia are subject to proper recycling.
Materials for Tyre Production
The tyre-making industry uses several materials for producing tyres. The most common of them is natural rubber. However, since natural rubber is more expensive than other materials, synthetic materials are also common in this industry. Styrene-butadiene co-polymer is a common alternative to natural rubber mostly because of the lower cost. Halobutyl rubber has lower air permeability than natural rubber, whereas carbon black and silica are a popular choice for high performance tyres due to their high level of reinforcement and good abrasion resistance.
Ways to Recycle Old Tyres
One of the most popular methods of recycling tyres that are no longer in use is via local tyre recycling centres. Users can choose to drop their unwanted tyres to one of the local centres themselves, or opt for a pick-up service. They should however keep in mind that not all recycling services offer this service and there may be a fee per tyre involved. In most areas, there are special tyre recycling centres forbicycle tyres, which are easier to recycle thanoff-road, winter, or truck tyres.
What Happens with Recycled Tyres?
From recycling centres, tyres often end up at reprocessing plants that use special chemicals to break them down into reusable materials. These plants often employ a process called devulcanisation, which results in reclaim rubber, a material cheaper than virgin rubber that has multiple industrial and commercial uses. An example would be using reclaim rubber for basketball courts, running tracks, or outdoor playground surfaces for children. Other uses include the production of other tyres and recycled asphalt pavement.
How to Reuse Old Tyres
Besides recycling the tyres, consumers can also choose to reuse unwanted tyres into various useful objects around the house. Painting tyres in all sorts of different colours and using them as pot flowers is one popular DIY project for many people. Making swings for children is another idea, but users should make sure the tyre they intend to use for this purpose is still in good condition to bear the weight of one or more kids. Other ideas for reusing tyres include making baskets for magazines or storing wood near the fireplace. Various athletic programs employ tyres as exercise equipment. Tyres are also a choice for those looking for alternative building materials. Rubber is not the only element of tyres that can be subject to recycling. Recycled steel and fibre materials also have multiple industrial uses.
How to Buy Tyres on eBay
By choosing to buy new tyres on eBay, you can benefit from a wide selection of models suitable for any car size and take advantage of some great deals. The user-friendly search system of the website allows you to find the correct tyres for your vehicle with just a few clicks. To save money on delivery fees, you can opt to purchase your new car tyres from an eBay vendor located in your area.
All tyres have a limited lifespan and you need to replace them regularly for your vehicle to run safely. Before buying new tyres, make sure you think about how you intend to recycle or reuse the old ones.