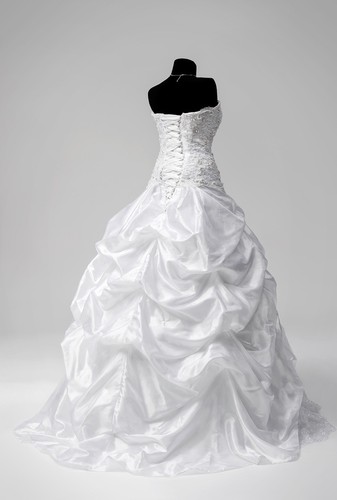 A wedding dress is often the most expensive item of clothing a woman buys, but the one she wears the least. Many women abandon practically in favour of beauty on their special day and experience challenges associated with keeping wedding dresses for future generations. It is difficult to store a wedding dress properly and protect it from environmental contaminants and insects. This makes recycling a wedding dress a more practical solution. Recycling ideas include finding a new owner for a used wedding gown, turning it into a more wearable garment, repurposing it using equipment and accessories found on eBay, or wearing the dress for a spectacular photo shoot.
Find a New Owner for a Wedding Dress
One of the easiest ways to recycle a wedding dress is to find a new owner. To ensure that the wedding dress looks its best, the original owner must clean it thoroughly, removing any stains and repairing minor damage.
Find a Buyer for a Wedding Dress
The original owner of the wedding dress reclaims some of the money spent on the garment by finding a buyer. This enables another bride to reduce the cost of her wedding by wearing a secondhand gown. To fetch a good price, owners should look for private buyers or visit several bridal boutiques that specialise in pre-loved wedding dresses.
Donate a Wedding Dress
Registered charities appreciate all donations, including wedding dresses. The proceeds from the dresses help a range of groups that are in need. Theatre companies that use costumes also benefit from donations of wedding gowns. Alternatively, the owner of the garment can donate it to a friend or relative.
Redesign a Wedding Dress
Dyeing the fabric is an easy way to transform a wedding dress into a new creation. With a few nips and tucks, a wedding dress becomes an elegant cocktail dress. More creative owners can make jackets, elaborate skirts, unique tops, or wraps from the garment.
Repurpose a Wedding Dress
Repurposing a wedding dress allows the bride to keep parts of her beloved gown as more manageable keepsakes. All this requires is imagination and a few crafts supplies. The table below lists popular repurposing options from wedding mementos to baby accessories.
Type of Item

Repurposing Idea

Wedding album cover

Framed fabric swatch

Quilt

Baby accessories

Bassinet skirting

Baby shoes

Children's clothing

Fairy princess or ballerina dress

Adult clothing and accessories

Evening gloves or bag

Fabric earrings or flowers

Jewellery bag

Home decor

Padded hangers

Christmas ornaments

Christmas tree skirt

Storage box cover
Repurposing a wedding dress allows a bride to retain some sentimental memories of her big day by creating practical items that are more manageable than a full gown. In addition, the lace trimmings and fabric flowers from the dress make beautiful hair accessories. Owners who enjoy scrapbooking can use wedding dress fabric to create textures, borders, and details. Wedding dresses also make great canvases for artistic brides.
Rock the Frock or Trash the Dress
"Rock the Frock" or "Trash the Dress" photo sessions are increasingly popular in Australia. Brides wear their dresses to the beach, swimming pools, or photo studios, and engage in dynamic scenes that cause irreparable damage to the dress. Brides get creative with everything from mud to paint. Some rip their dresses and others trash them with scissors. Although this is not a particularly responsible recycling method, it creates spectacular photographs that differ from traditional wedding shots. Other entertaining wedding dress recycling methods include hosting a wedding dress party and using a wedding gown as a fancy dress costume.
How to Buy Products to Recycle a Wedding Dress on eBay
eBay sellers offer a variety of crafts supplies that are ideal for recycling a wedding dress. To find what you need, simply type a phrase, for example "fabric dye" or " wedding scrapbook", into the field available on every page. Browse the listings on offer to locate specific products or narrow your results by choosing the most suitable category filters. Remember to check eBay Deals for more great offers. Brides can recycle wedding dresses in numerous ways. Finding new owners allows gowns to stay intact and brings joy to other brides. Redesigning the dress makes it more practical. Repurposing a wedding gown provides keepsakes for the bride and her family. Wearing the dress for a final photo shoot creates spectacular images.