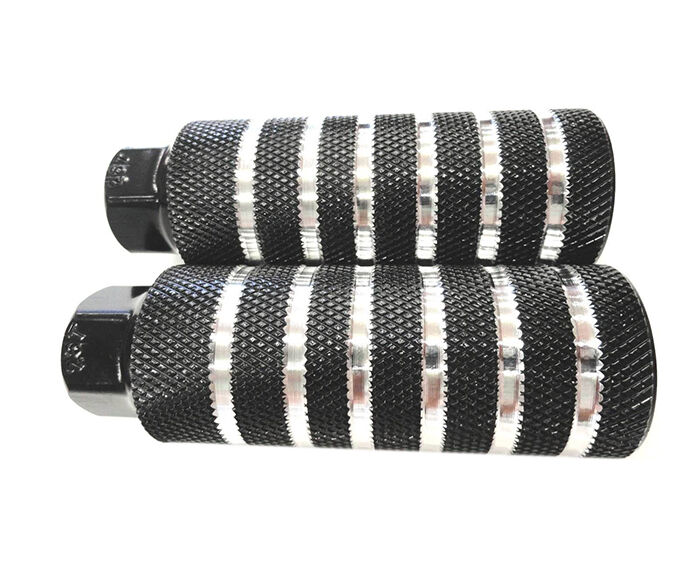 In extreme BMX riding, pegs are the small tubes or rods attached to the wheel axles on a BMX bike. The rider stands on these pegs during stunts or uses them to grind against railings and ledges. When deciding which pegs to put on a BMX bike, or whether to use pegs at all, it is important to note the differences between materials and the advantages and drawbacks of each. It is useful to know how to remove pegs from a bike for the purposes of cleaning, maintenance, or replacement.
Pros and Cons of Pegs
Pegs are vital for performing certain BMX tricks, including grinding or balancing stunts such as 'ice picking' and 'double pegging'. However, pegs do have some disadvantages. For riders who have no interest in these kinds of stunts, pegs are awkward and get in the way. For riders wanting to perform flips, spins, and whips, a lightweight bike is essential. Piloting a lighter bike uses less energy and saves stamina. For this reason, excess gear on a bike must be avoided, and this includes heavy pegs. In addition, some property owners and members of law enforcement consider pegs troublesome because of the damage they can cause to pavement, railings, and ledges.
How to Remove Pegs
The necessary method of peg removal depends on the type of peg and how it was originally attached. Some pegs simply unscrew from the axle counter-clockwise. A screwdriver or ice pick inserted through the two holes on either side of the peg can help to create leverage. For a peg that is solid instead of hollow, use vice grips or a pair of pliers to loosen the peg and then unscrew it counter-clockwise. Replace it with a bolt appropriate to the bike's axle.
Step-By-Step Instructions for Removing Pegs
Use the following steps to remove a hollow peg affixed by a nut to the axle.
Select the correct size of socket to fit over the axle nut.
Attach a socket extender to a socket wrench long enough to reach into the hollow peg.
Insert the socket into the peg and fit it over the axle nut. Turn it counter-clockwise.
After the axle nut is fully removed, slide off the peg. Replace the axle nut back onto the axle.
Types of Pegs
When it is time to replace BMX pegs or to install them for the first time, knowing the differences between peg types is helpful. Choosing the right peg depends on the terrain ridden and the stunts performed. There are several advantages and disadvantages that a buyer must be aware of.
Some manufacturers, such as Demolition, Primo, and Animal, offer plastic pegs with aluminium cores, which are more durable than pegs made entirely of plastic. However, frequent grinding can still wear down the plastic shell. Pegs are available in full sets of four and also individually, which makes it easy to replace only the worn pegs.
How to Buy BMX Pegs on eBay
You can find a wide variety of bikes and gear, including BMX pegs, on eBay. It may be most efficient to search by peg material, such as 'steel BMX pegs', or by terrain, such as 'BMX pegs street' or 'BMX pegs park'. Some sellers also use other modifiers for terrain, such as 'light street', and you can expand your results by searching for these alternative phrases. BMX riding is an extreme sport. New riders, and especially stunt riders, may wish to consider purchasingsafety equipment, such as helmets and gloves, on eBay as well.