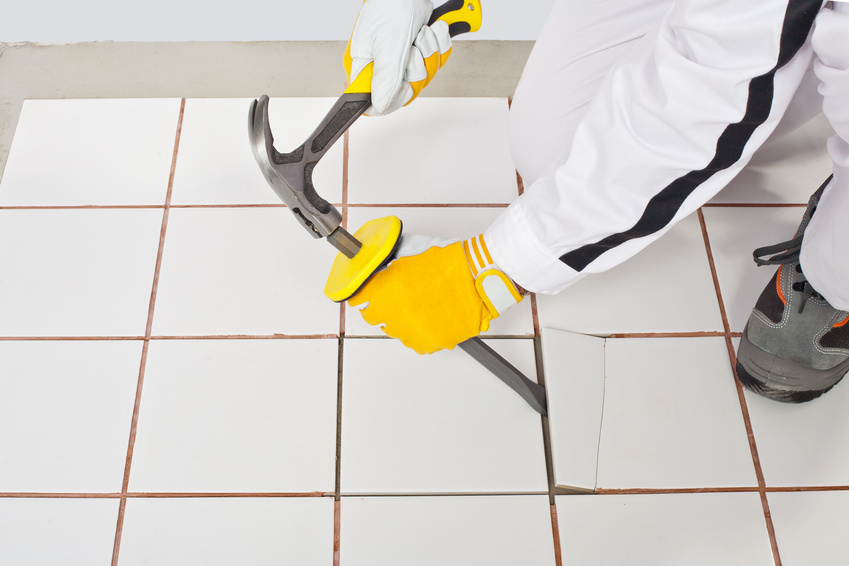 Renovating a bathroom often involves removing old tiles that may be cracked, faded, or simply no longer the desired style. For this reason, homeowners who are interested in improving their bathroom with new tiles on the floor or wall should learn how to remove the old ones the proper way. The process will take a few tools and some patience, but it is generally possible for most people to do it themselves using these steps.
Prepare the Area
The bathroom should be free of anything that will get in the way during this project. This means it is important to remove any trash cans, rugs, and appliances - such as the toilet - that are situated on top of the tile. Keep in mind that turning off the water supply is imperative before removing the toilet. It is also helpful to have a container that can hold the tiles as they are removed. In addition, consider wearing a dust mask and safety goggles in case asbestos or other harmful substances lie beneath the tile.
Use the Right Tools
The tools for this project are rather simple, and most can be found online at sites like eBay. One of the most important tools to have on hand before removing tile is a sharp utility knife, which is essential for cutting into the grout when removing the first tile. If the knife doesn't work to break up the grout, a rotary tool - such as a drill with a cutting attachment that breaks grout - may be necessary. Once that first tile is gone, it should be easy to slip a putty knife under it in order to pry off the remaining tiles. This process may take a while and will require some effort. If necessary, you can hit the handle of the putty knife with a rubber mallet for extra leverage. Most of the tiles will likely break while being removed, so be prepared to toss a mixture of broken and intact tiles into the container.
Clean Up and Prepare to Replace the Tile
Once all the tiles are gone, it's time to simply sweep up or vacuum the mess, since broken tile and grout will likely litter the floor at this point. This is a good time to examine the surface to make sure there are no uneven spots caused by bumps or gouges that need to be sanded off or filled in. This way, the bathroom will be free of the old tiles and ready for a new look.
Conclusion
It may be tempting to grab a jackhammer and have a go at the tiles in the bathroom, but there is a risk of causing damage to the surface behind them. Using a putty knife may take a little longer, but the result will be safer for the home in the long run. For homeowners who do not have the time or tools to remove bathroom tiles from the wall or floor, hiring a professional for the job is another possibility.